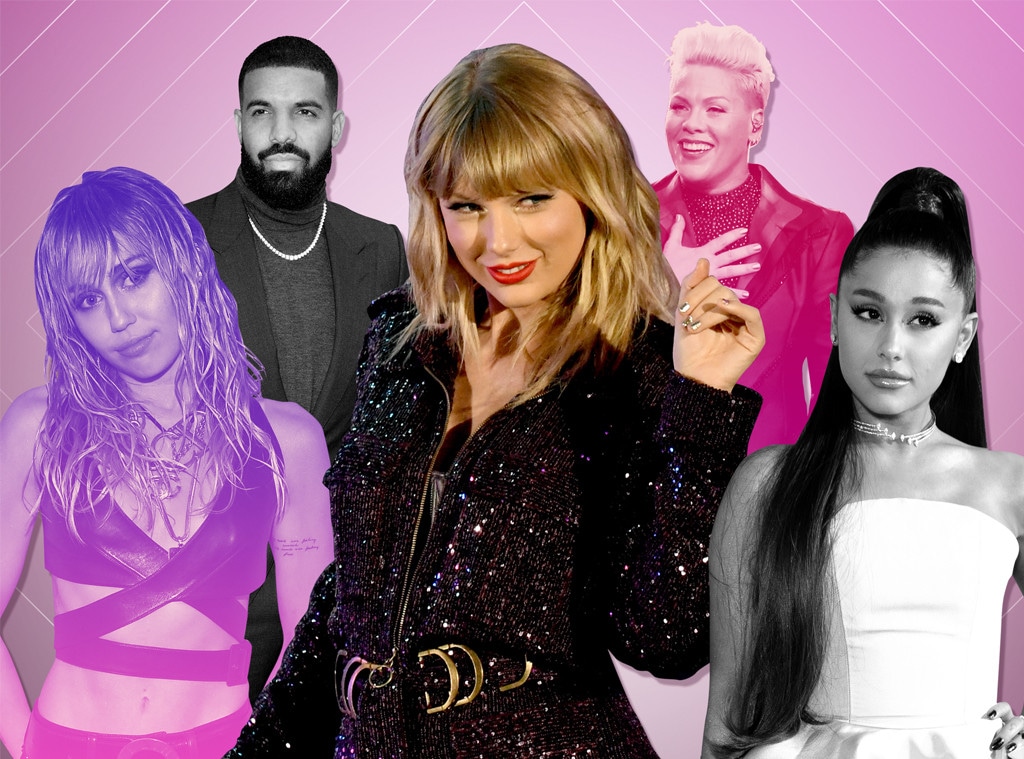 Getty Images
These artists are known around the world for their catchy tunes and exciting performances, but they are doing more than just singing. They are using their voices to create change.
Social media allows the 2019 E! People's Choice Awards music nominees to have an unprecedented connection with their fans. They are not only able to promote their work but also open up to their followers about topics outside of music.
From environment causes to LGBTQ rights, musicians including Shawn Mendes, Miley Cyrus, Imagine Dragons and Khalid have started their own foundations that highlight the issues that matter most to them—and their fans.
Other PCAs music nominees have taken a different approach to giving. Drake, Taylor Swift and Ariana Grande have all discovered fans in times of need on social media and through their travels. They have found ways to personally connect and help these people in addition to donating to larger organizations and causes.
And don't forget, Pink will be honored with this year's PCAs People's Champion Award for her philanthropic efforts including her work with the environment, children and women's rights.
Earlier this year, Mendes launched his own foundation with the goal of highlighting youth-related causes including children's healthcare, mental health, anti-bullying and sustainability. The organization gives power back to his fans by allowing donors' preferences to help determine the causes that the Shawn Mendes Foundation supports.
In a statement announcing the charity, Mendes explained, "For a long time, I've wanted to find a way to amplify the causes that my fans and I care deeply about, and to help make the voices of our generation heard. My goal in launching the foundation is to work alongside my fans, and do everything I can to help provide them with a platform that inspires positive change, and empowers young change-makers."
In the same press release, it was announced that the 21-year-old performer had already raised $1 million through donations and partnerships. One of those partners is REVERB which helped reduce the environmental impact of Mendes' tour by eliminating over 70,000 plastic bottles used on the road.
The four-time PCAs nominee has also used his music to shed light on various issues. He penned "In My Blood" about his struggle with anxiety and it quickly become an anthem to his fans. He and Khalid also invited the Marjory Stoneman Douglas Show Choir to join them for a performance of their duet, "Youth," at the 2018 Billboard Music Awards following the shooting at the Florida high school. A portion of the proceeds from the song's merchandise was also given to March for Our Lives, a movement against gun violence.
Getty Images/Dave Hogan for One Love Manchester
Grande is another artist who used her platform to fight against violence following the suicide bombing that killed 22 people at her show in Manchester, England in 2017. The 26-year-old star, with help of her manager Scooter Braun, organized One Love Manchester, a benefit concert to support the victims of the tragedy.
The show happened just two weeks after the attack and featured musicians including Cyrus, Justin Bieber, Katy Perry, Niall Horan and Pharrell Williams. At the time, Grande told fans that "all the love and unity you're displaying is the medicine the world needs right now." The event raised $13 million for the We Love Manchester Emergency Fund which was launched by the British Red Cross and Manchester City Council.
Before the concert, the six-time PCAs nominee surprised injured fans at the Royal Manchester Children's Hospital. She brought patients sunflowers and stuffed animals.
This year, Grande returned to Manchester to headline the city's Pride to celebrate the LGBTQ community.
Kevin Mazur/MTV1415/WireImage
Cyrus also supports LGBTQ youth through her Happy Hippie Foundation.  
Following the former Disney star's attention-getting performance at the 2013 Video Music Awards, she wanted to put a spotlight on the issues that matters most to her including fighting the injustice faced by homeless youth, LGBTQ individuals and other vulnerable populations.
"I've experienced fame, and money, and all that s--t—and none of it will make you as happy as when you're actually fighting for something," the 26-year-old musician told Out Magazine in May 2015.
Even before launching her own organization, Cyrus, became involved with the homeless youth population of Los Angeles through My Friend's Place, an organization that she highlighted when she invited Jesse Helt, a homeless man, accept her MTV VMA Video of the Year award in 2014.
Additionally, the Tennessee native, who is up for the Social Celebrity and Female Artist of 2019 at the People's Choice Awards, and her ex, Liam Hemsworth, donated $500,000 to Malibu fire victims through the Happy Hippie Foundation after losing their own home in the area.
Swift, who is nominated for four awards at the People's Choice Awards, has also given to communities affected by natural disasters in addition to using Tumblr and Instagram to seek out fans in need.
In 2016, the 29-year-old performer gave $1 million to the Red Cross to help victims of the floods in Louisiana. The next year, she donated to the Houston Food Bank following Hurricane Harvey.
Swift has also taken a more personal approach giving by surprising her fans to aid with everything from medical needs to student loans. She often quietly gives to fans' GoFundMe pages and the donations are only discovered when they are posted about on the recipients' social media pages. Through this under-the-radar giving, Swift has forged a closer bond than most other celebrities with her fans.
But, in recent years, the "Lover" performer has also used her platform to shine a light on foundations supporting sexual assault victims and gay marriage. 
In 2018, the Cats star won her legal battle against radio host David Mueller who she accused of groping her during a concert meet-and-greet. After the victory, she donated to the Rape, Abuse, and Incest National Network to support sexual assault victims.
Swift also advocated for gay marriage and LGBTQ adoption rights in her home state of Tennessee by donating to the Tennessee Equality Project and sharing her views on Instagram. She even gave a shout out to GLAAD in her hit song, "You Need to Calm Down" causing a spike in donations to the organization. She added a message at the end of the video encouraging people to sign her petition for the Equality Act, which prohibits discrimination on the basis of the sex, sexual orientation and gender identity in the United States, on Change.org.
Music with a message is nothing new for Drake who used his "God's Plan" music video to help his fans. The 32-year-old rapper gave away the budget of the video for $996,631.90 to Miami residents. One person featured in the video was Destiny James, a student raised by a single mother in South Carolina, who received a $50,000 check for tuition fees from the star.
The Canadian performer, who is up for The Male Artist of 2019 at the PCAs, also surprised families who lived at the Lotus House Shelter in with $50,000 donation and Target gift cards for all of the residents.
Following the filming of "God's Plan," Drake took to Instagram to reveal how he feels about giving back. He shared, "Last 3 days were the best I have had in a very long time...there's nothing like seeing people experience a joyful moment when you can tell they need it the most."
But, don't think that the Degrassi star's donations have been limited to only three days. He has also returned his hometown of Toronto and provided assistance to its citizens.
From giving to Dixon Hall, a charity providing services to low income individuals in downtown Toronto, to partnering with the Raptors basketball team to refurnish basketball courts throughout the city, Drake has proven that he is a hometown hero.
Khalid is another artist who has shown love to his hometown of El Paso, Texas through his own charity, The Great Khalid Foundation.
"The people of El Paso are really special," he says. "I would not be where I am if my community did not give to me, and I will give back to them any chance I can get," the "Talk" artist told Billboard.
The 21-year-old singer's charity teamed up with the Right Hand Foundation to hold "A Night for Suncity," a benefit concert for the victims of the Aug. 3 Walmart shooting in El Paso.
"Tonight is going to be super special because the best way for me to celebrate life is through song. I can't for everyone, all of the city to come to together and show everyone just how proud we are to be from here," Khalid, who is up for three awards at the PCAs, explained in a video for the event on his charity's website.
The concert raised $500,000 for the El Paso Community Foundation Victims' Fund. In addition providing support after the tragedy, Khalid's charity also awards performing arts scholarships for students, provides Christmas presents for children and gives away school supplies at the start of the academic year.
Ethan Miller/Getty Images
Imagine Dragons, who are nominated for The Group of 2019 at the PCAs, also created an annual benefit concert to support their Tyler Robinson Foundation, a charity which supports families through pediatric cancer diagnosis by offsetting out-of-pocket life expenses.
The charity was inspired by the band's friendship with a fan named Tyler Robinson, who was diagnosed with Rhabdomyosarcoma, a rare form of cancer, at 16 years old.
Throughout his cancer battle, Robinson found inspiration in the lyrics, "The road to heaven runs through miles of clouded hell" from the band's song, "It's Time" which sparked Imagine Dragons to dedicate a song to him during one of their concerts and develop a bond with the teenager.
Following Robinson's death in 2013, the Grammy Award winning band created TRF and the Rise Up Gala, which raised $3.2 million in September. 
In addition to the aid they provide families, the band also took part in the Vegas Strong benefit concert and Imagine Dragons' lead singer, Dan Reynolds, created the LoveLoud Foundation to support LGBTQ youth.
Watch:
Pink: The People's Choice Awards Champion of 2019
In addition to these PCAs music nominees, Pink, will honored with the People's Champion Award at this year's show for her work with No Kid Hungry, Make-a-Wish Foundation, Planned Parenthood, REVERB, Autism Speaks, Human Rights Campaign and UNICEF.
Over the course of her career, Pink has been an outspoken supporter of these organizations which has made her not only been a catalysis for change in her own community but also globally.
"There are so many wonderful organizations and individuals doing extraordinary things in our communities every single day. These are our everyday warriors and champions," the mother of two shared. "They teach us and our children that it's cool to be kind and that change is possible. I feel honored to be a small part of that change and will continue to be a champion for the truth and for open minds and open hearts."
In addition to her philanthropic efforts, many of Pink's songs including"Perfect" and "What About Us" have become anthems for self-confidence, acceptance and fighting injustice.
The 40-year-old performer, who is also nominated for Female Artist and Concert Tour of 2019 at this year's ceremony, will be receive her honor at the People's Choice Awards which airs live on E! this Sunday, Nov. 10 at 9 p.m.
Watch the 2019 People's Choice Awards Sunday, Nov. 10 at 9 p.m., only on E!