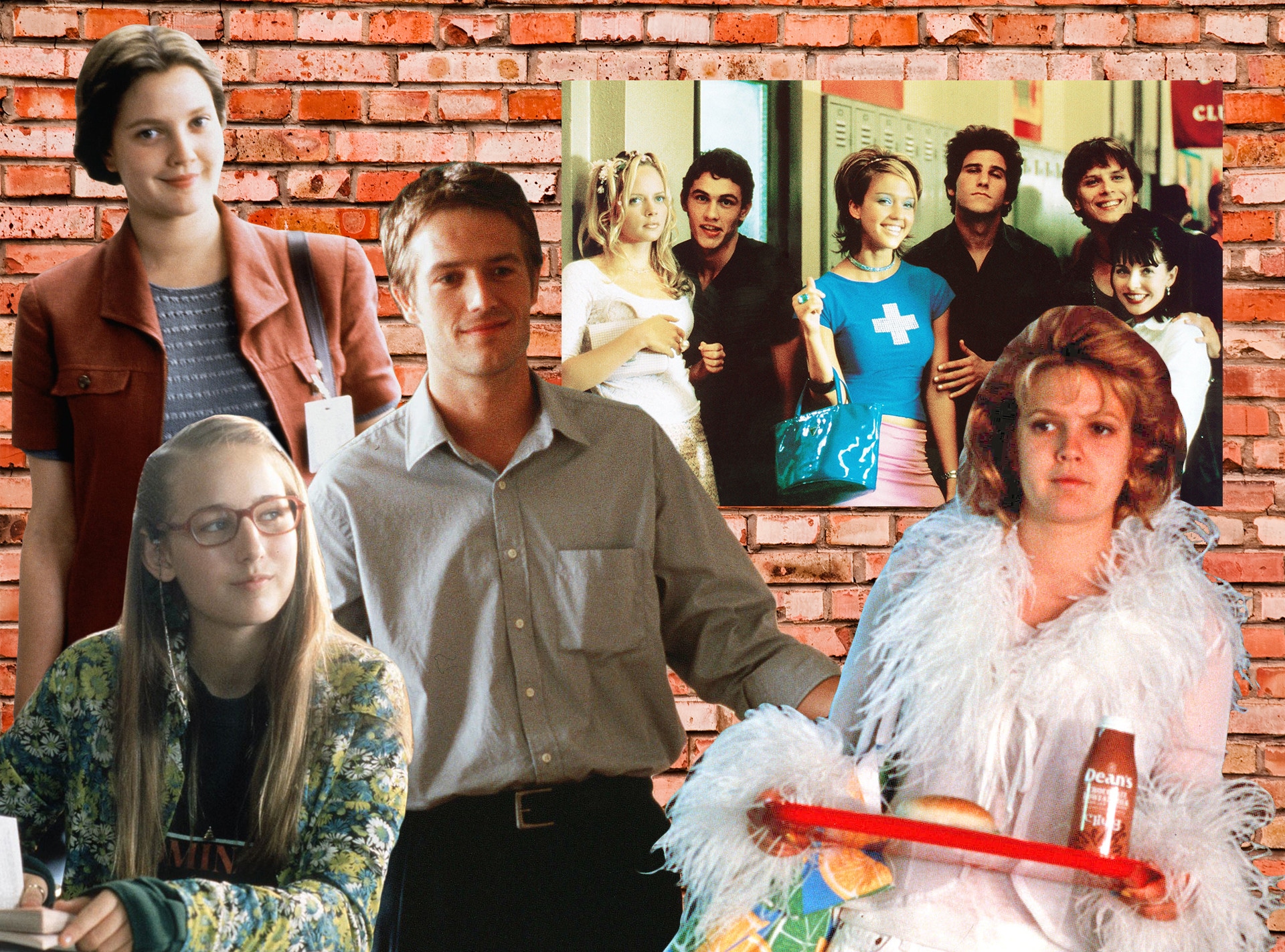 20th Century Fox / E! Illustration
Along with Napster, Harry Potter and Y2K panic, teen rom-coms were all the rage in 1999. 
It's unclear if a certain sect of screenwriters got together and agreed that the waning years of the millennium were the time to churn out delightful fare for the underage set, but between 10 Things I Hate About You, Varsity Blues, Cruel Intentions and She's All That it was quite the time to be in high school and dreaming wistfully of first loves and perfect prom dates. Albeit, somewhat disturbing to realize that a bespectacled Rachael Leigh Cook and a poorly attired Drew Barrymore are what pass for impossibly nerdy in Hollywood. 
Such was the premise for Never Been Kissed. Barrymore's Josie Geller is the youngest editor at the Chicago Sun-Times with a penchant for correcting her colleagues' grammar (which, respect), but, perhaps, not all of the skills necessary to land the reporting job of her dreams. Then, apropos of nothing, her editor-in-chief instructs her to go undercover at nearby South Glen South and write about her semester in high school.  
Watch:
Shocking Truth Behind Jessica Alba's Role in "Never Been Kissed"
The only issue? She didn't exactly have the strongest social game as a teen the first time around. And while she totally has been kissed, she's the type of hopeless romantic that believes she should only be puckering up for "the person you're supposed to kiss for the rest of your life." So basically she's totally going to kill it with her fellow youths. 
Dressed in an unfortunate feather boa-lined all-white ensemble, Josie quickly befriends brainy Aldys (Leelee Sobieski), an aspiring professor, novelist and flautist who's already figured out that her best years lie ahead, and develops a troubling crush on Cool Teacher Sam Coulson (Michael Vartan). But with prom  fast approaching, hanging with the math club (appropriately named the Denominators) and lusting over an English instructor with boundary issues is not going to get Josie the story she's after. 
For that she relies on brother Rob (David Arquette), also going undercover, to gain her entrée into the cool kids group, which includes a pre-stardom James Franco and Jessica Alba. 
With Rob vouching for her—perhaps the truest line uttered in the movie is when he tells Josie, "All you need is for one person to think you're cool, and you're in. Everyone else will be scared to question it,"—she scores a popular date to the big dance, the title of queen and the chance to finally yell out, "I'm not Josie Grossie anymore!" But she blows her own cover when she spies the mean girls trying to douse Aldys with dog food Carrie-style. 
Everyone's a little weirded out, but no one more so than Mr. Coulson who seemingly realizes in tandem that it's suddenly okay that he was crushing on a student and that, whoops, he was totally crushing on a minor. 
We're not saying it's without its troubling moments. The so-called dream guy, whose name is actually Guy (Jeremy Jordan), refers to unpopular girls as "dogs", and the school clearly has very lax admission standards. But the overarching message about how it's cool to be yourself is sweet. And the whole teacher falling for a student storyline is made more palatable by the winning charms of Michael Vartan. 
Watch:
Michael Vartan Says He Almost Didn't Get "Never Been Kissed"
By the end, after Josie has apologized for duping him and asked for a shot at a legitimate relationship with all the trappings of a rom-com, who wasn't rooting for Mr. Coulson to show up at the packed baseball stadium and just kiss her already. 
Coming out 20 years ago today, Never Been Kissed's legacy is such that Bachelor producers were able to employ the concept for a running gag on the most recent season. Not to mention it's served as a vehicle for more than a couple legitimate Hollywood careers (hi, Academy Award-winner Octavia Spencer!) and boasts quite a few behind-the-scenes tidbits you've likely forgotten in the past two decades.