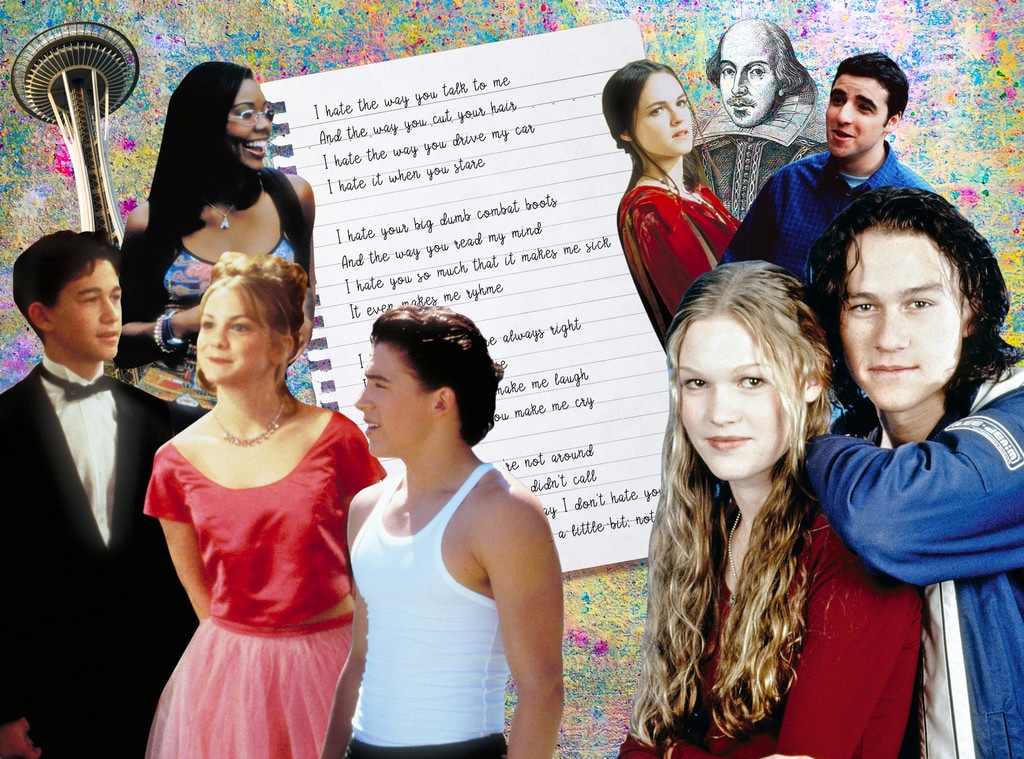 Touchstone Pictures; Melissa Herwitt/E! Illustration
Remember the 1990s, when Shakespeare was all the rage?
Not that he's ever gone out of style, but a slew of his most famous works made their way to the big screen during that decade, and in 1999—a banner year for teen rom-coms if there ever was one—the Bard was given an update for the ages in the form of 10 Things I Hate About You.
Based on The Taming of the Shrew, the scene shifts from Padua in northern Italy to Padua High School in Seattle to tell the tale of the Stratford sisters—the younger one, Bianca, who enjoys fitting in and being popular while the other, Katarina, or Kat, is totally over it and ready to go far away to college. Their protective single dad, who as a gynecologist has seen far too much teen pregnancy, says that Bianca can't date until Kat does. 
Bianca has two potential suitors: Cameron, a chivalrous sweetheart, and Joey, a rich d-bag jock. Cameron and his nerdy but ballsy friend Michael conspire with Joey to pay the mysterious and conveniently hunky Patrick Verona to woo Kat, thinking that'll clear the way to date Bianca (who doesn't quite yet realize that Cameron is better than Joey).
Kat, of course, spurns Patrick's advances until he shows her what he's really made of, starting with his unabashedly corny, endlessly romantic rendition of "Can't Take My Eyes Off You" in the football stadium.
All the while, prom is imminent.
The setting is idyllic and glossy and one boy is paying another to take a girl, whom they all say awful things about because she marches to the beat of her own drum, out on a date. But Kat, who pines for a guitar and bemoans the lack of feminist writers on the curriculum, is the queen of the woke comeback ("I guess in this society, being male and an a--hole makes you worthy of our time") and it all holds up.
As the story has for 400 years, since translated from the original misogyny.  
Watch:
"10 Things I Hate About You" With Heath Ledger: E! News Rewind
But 10 Things I Hate About You wouldn't be nearly as watchable—and rewatchable—if the cast wasn't impeccable. Julia Stiles and Larisa Oleynik play the sisters. Susan May Pratt and Gabrielle Union are the best friends. Joseph Gordon-Levitt is the sweetie, David Krumholtz is the nerd, Andrew Keegan is the jerk and, forever in our hearts, Australian newcomer Heath Ledger is the misunderstood bad boy who falls head over heels for the intelligent, untrusting and delightfully tempestuous girl he's hired to romance. (Not to mention, Allison Janney is the guidance counselor who's writing an erotic novel on the side, and Daryl Mitchell is spot-on as the English teacher who rolls his eyes at the woes of the suburban privileged.)
It's much ado about everything, featuring more than a few star-making performances and toting its fair share of behind-the-scenes secrets.
Heath pretty much left comedy behind after this film, going on to do some incredible dramatic work—he would have made a compelling Hamlet one day—and won a posthumous Oscar for his haunting turn as the Joker in The Dark Knight.
But the list of reasons to love 10 Things I Hate About You, in all its light teen romance glory, will always start with him.
10 Things I Hate About You is streaming now on Disney+
(Originally published March 31, 2019, at 3 a.m. PT)