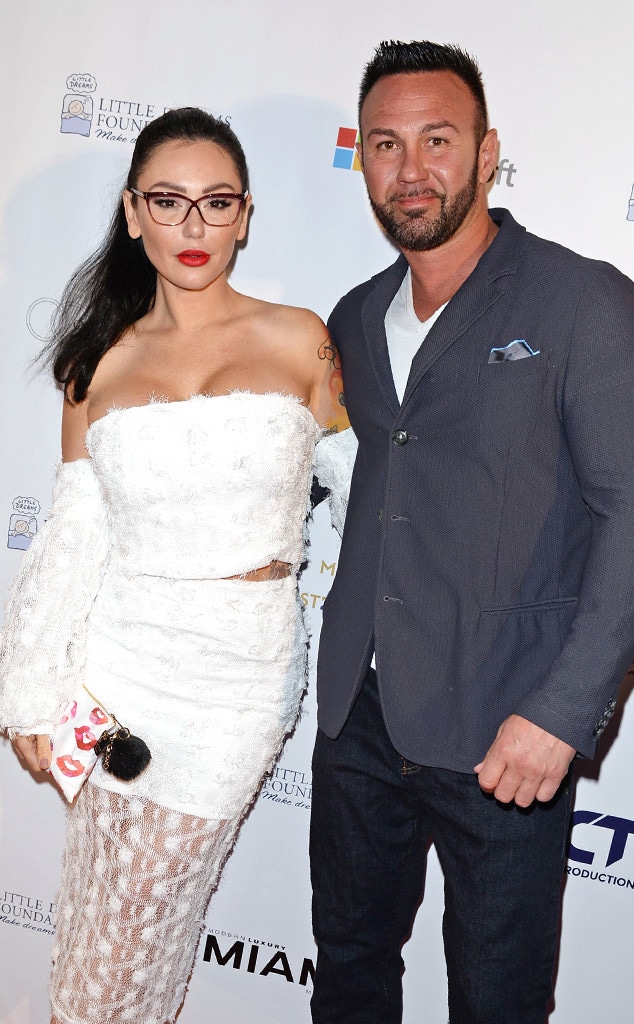 Larry Marano/Shutterstock
All aboard!
Jenni "JWoww" Farley and Roger Mathews were joined by a special someone during their family outing on Saturday: the Easter Bunny.
The Jersey Shore stars and parents of 4-year-old Meilani Mathews and almost-3-year-old Greyson Mathews spent the day in Pennsylvania on the "Easter Bunny Express" train.
While on the train, the kids enjoyed storytelling, high-fives from the Easter Bunny itself and taking in the scenery that they rode past. Just like most kids celebrating Easter, Meilani and Greyson played with some plastic eggs that were filled with fun surprises. According to the Easter Bunny Express' website, the ride is a 45-minutes journey and each kid on the train receives "a special bag of Easter candy, an Easter egg with jelly beans and Easter trinkets."
Both Roger and JWoww posted videos and photos on social media from their day on the Easter Bunny Express. Roger captioned his set of videos and photos, "Good day with the Easter Bunny today in New Hope PA aboard the Easter Bunny Express."
The 43-year-old shared updates throughout the day as the family got an early start in order to head to the train.
Meilani even channeled some of her energy and excitement into a set of push-ups on Roger's bed in the early hours of the morning. "6 am and someone is excited for our Easter Bunny Train ride today," he captioned another series of videos. "Meilani said Daddy has cat s--t breath. Bubby said 'Get out of here with the morning excitement, I need sleep !!'"
From the looks of it, this is the first time in the last few months that JWoww and Roger have reunited on social media in a positive light. JWoww filed for divorce from her husband of three years in September, citing "irreconcilable differences."At the time, Roger asserted on social media that he was going to "win my wife back" and that he was "not done fighting" for their marriage.
"I'm going to win her affection back, I am going to win her love back. I have no intentions on being a single dad. We're in counseling so there is hope. It ain't over 'till the fat lady sings," he said in a video on Sept. 27.
Although they went on a romantic anniversary dinner date after their divorce announcement, things turned sour for the parents after JWoww got a restraining order against him in December. The two of them reportedly got in a major argument and he was later escorted out of his home by police officers. Roger posted 10 videos on Instagram documenting the evening.
On Jan. 30, JWoww wrote a scathing letter on social media and her website where she accused Roger of abusing her.
"I can no longer sit idly by while you mistreat and malign me in such an egregious manner. You have presented yourself to the public as a praiseworthy father and a husband who has been suffering by my alleged actions and behavior," she wrote at the time.
JWoww continued later, "Your actions have and continue to place the children in harm's way. Stop, pause and have a true reality check." Mathews denied the allegations made against him.
Meilani and Greyson continue to be the center of their parent's worlds. JWoww even got her sweet son's face tattooed on her hand.