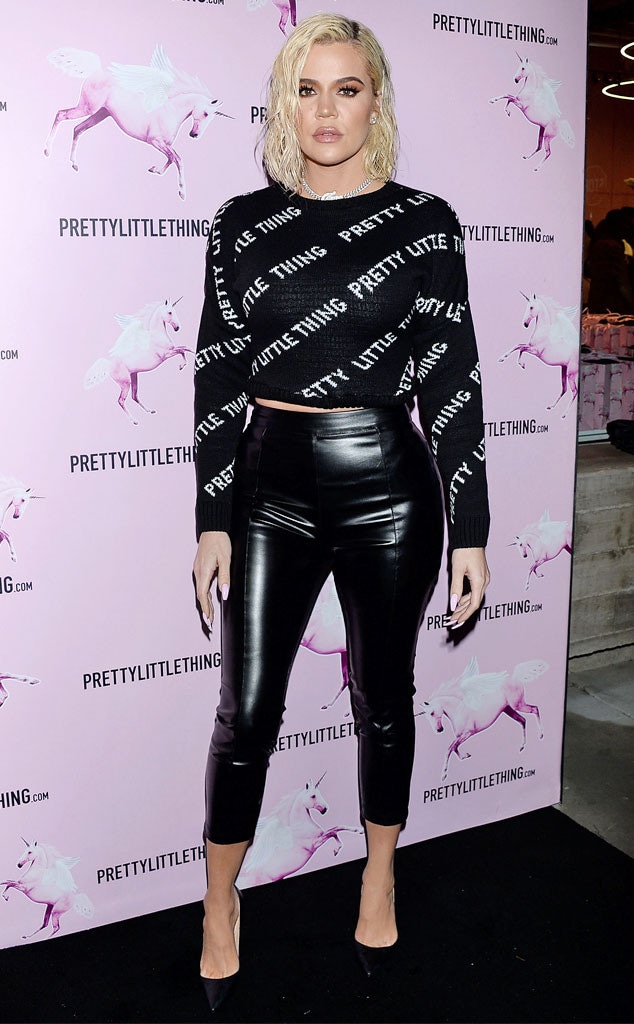 Broadimage/REX/Shutterstock
There's no one way to get over a breakup. Particularly one that the whole world is weighing in on. But Khloe Kardashian seems to be handling it as well as anyone. 
Step one for the reality star, reeling from the news that Tristan Thompson, her boyfriend and father of her 11-month-old daughter True, was once again unfaithful: Share your thoughts first cryptically ("We have to accept that some people are really f--ked up and it's not our job to heal them," she posted in one Instagram story), then explicitly. 
"This has been an awful week & I know everyone is sick of hearing about it all (as am I)," she tweeted to her nearly 27 million followers Mar. 2 after the full weight of the scandal—no matter which take you believe it involves Thompson kissing longtime family friend Jordyn Woods—truly sank in. "I'm a rollercoaster of emotions & have said things I shouldn't have. Honestly, Tristan cheating on me & humiliating me, wasn't such a shock as the first time."
"What's been harder & more painful is being hurt by someone so close to me," she continued. "Someone whom I love & treat like a little sister. But Jordyn is not to be blamed for the breakup of my family. This was Tristan's fault. I have to move on with my life & count my blessings, my family, my health, & my beautiful baby True."
Also key in the Khloe breakup survival guide: keeping your squad close. Following an overnight trip to Palm Springs with sisters Kim Kardashian, Kourtney Kardashian and close pal Malika Haqq, Khloe got dolled up for an impromptu photo shoot with Kourtney and little sis Kendall Jenner. Because nothing says look at what you're missing out on quite like a sheer, bedazzled bodysuit. 
And on that point, Khloe is clear. It is definitely the basketball pro's loss. The first time the 27-year-old found himself caught up in a web of cheating reports (some accompanied by videos of him at clubs and outside a hotel) mere days before Khloe gave birth last April, the 34-year-old reality star and founder of Good American denim line was left shocked. But this time? She's pissed. "Angry more than she is sad," as one insider put it to E! News, she's at peace with what she must do. 
While she won't be cutting him off from True, their relationship going forward will be more professional than personal. Says one source, "She is moving on for good." 
And though the past few weeks have been undeniably painful, Thompson's abhorrent behavior has made her decision easier. She's confident in her abilities to parent True on her own and realizes that she deserves a romance free from any worries of betrayal. "She's still upset about what happened and talks about it a lot," a confidante told People. "But it really seems she is able to see what everyone else has been seeing for so long—that she was always too good for Tristan. She deserves so much better."
Truthfully, their years-long romance never fully recovered from his last misstep and his acceptance back in the fold was always conditional. Understandably hurt, the brand new mom nonetheless made the difficult decision to give him another chance for the sake of their burgeoning family. 
"Things are more complicated now that there is a child involved, but it was causing more stress on Khloe by being in limbo with Tristan," a source explained last May of her choice to move forward. "Khloe decided that the back and forth and indecisiveness on what they were going to do was taking a toll on her."
Her biggest worry, said the source, was not whether she could get past his treachery, but the fear he might dare do it again. "She wants to make sure she is not embarrassed and heartbroken again, but everyone is warning her," detailed the source. "Khloe has a huge heart and once she falls, it's hard for her to give up on someone she cares deeply about. She has been in a rough spot this past month."
To assuage some of her, and her family's misgivings, she made it clear to the Toronto native exactly what type of behavior would not be tolerated, with the source telling E! News, she "definitely set guidelines and boundaries for their new chapter."
A happily ever after, though, remained out of reach. As Khloe grew more comfortable parenting True, a blessing she's said she dreamt about "my entire adult life", and building a life for them near her family in L.A., she saw less of a need to return to the home she'd created with Thompson in Cleveland. 
Their romance "never really went back to normal," an insider told People and she found herself keeping Thompson at arm's length. "The only reason she was still seeing him was because of True." While the trio spent the holidays as a family, in an effort to start new traditions together, and rang in the New Year side-by-side, Khloe hadn't made the trek back to Ohio in two months. And the last time she'd been photographed with Thompson was when the Cavaliers were in town Jan. 13 to take on the Lakers. 
Whether or not the pair split before Thompson's tryst with Woods is a bit murky, but the final result is clear: "She gave Tristan everything she had and she isn't going to do this to herself anymore. She knows she deserves better," an insider told E! News. "She has never trusted him again and its been an awful way to live. She is done."
Months of living in limbo hasn't made it easier to face the reality of her breakup per se. After all, having one's heart broken is enough to send the most steel-nerved of us into a tailspin. "She stayed strong for an entire year and held it together remarkably well. But now she's actually dealing with the emotions of a breakup that she never wanted," a friend explains. "She's figuring things out and taking it day by day."
Of course, as a Kardashian, she's not required to take it on alone. Besties Khadijah Haqq and Malika Haqq, who accompanied Khloe to her first public appearance at the Feb. 20  PrettyLittleThing opening event, have rallied around as have, expectedly, her sisters with Kylie Jenner popping over to Khloe's six-bedroom Calabasas, Calif. spread whenever possible. 
"They mostly blame Tristan for this," says a source, "but it was just more of a shock since Jordyn is involved."
Perhaps her most vocal proponent, though, has been brother-in-law Kanye West. (Because what goes around comes around?) Like wife Kim, who's been the loudest voice among the group, he's expressed his dismay at the situation, feeling understandably angry on Khloe's behalf. Over the past few weeks, an insider tells E! News, the 21-time Grammy winner has invited her over to their nearby Hidden Hills mansion to offering up a distraction from the whole messy situation and necessary pep talks. 
"Kanye has been vocal with Khloe and very encouraging," says the insider. "He's told her she deserves to be treated with respect and that she could do better."
Not that she's on the hunt for the next potential Mr. Khloe Kardashian.  
While a next act as Bachelorette was never a serious consideration (as Khloe put it to her family in a text message, "I mean put some respeck on my name,") nor is stepping a stiletto-clad foot back into the dating scene. For now, the Strong Looks Better Naked author is busying herself in the gym (a place she's called her "sanctuary") and scheduling playdates for True. 
"Khloe isn't thinking about dating again," the friend tells E! News. "She's entirely focused on True and being the best mom she can be."
And that means getting along with her ex. 
"The situation with Tristan is a lot more complicated because of True," the friend notes to E! News. "She will always put True first and will never allow her feelings to taint True's relationship with Tristan. True will never be punished for Tristan's behavior." 
With the Cleveland Cavaliers center in season until at least April, the parents haven't figured out the specifics of their arrangement, "But Khloe will make sure True sees Tristan even if that means flying to Ohio," says the friend. "Tristan is a good dad when he's around and Khloe absolutely wants True to have a great relationship with her dad. Regardless of what happened between Khloe and Tristan, she will help foster a relationship with him for True."
In the immediate future, that means including the Toronto native on the guest list for the tot's upcoming first birthday bash in L.A. "Khloe hopes by the time her birthday rolls around, her and her family will be able to be cordial towards Tristan," says the first source. "She wouldn't take that away from him but isn't sure how her family will react towards his presence in the room."
For better or worse, though, Khloe has some experience in handling such awkward gatherings and she has a whole host of inspirational phrases to fall back on, the likes of which have made their way to her Instagram feed in the past few days. As she shared with her followers yesterday, "Stay positive about everything. Each one of us, is simply trying to figure it all out."