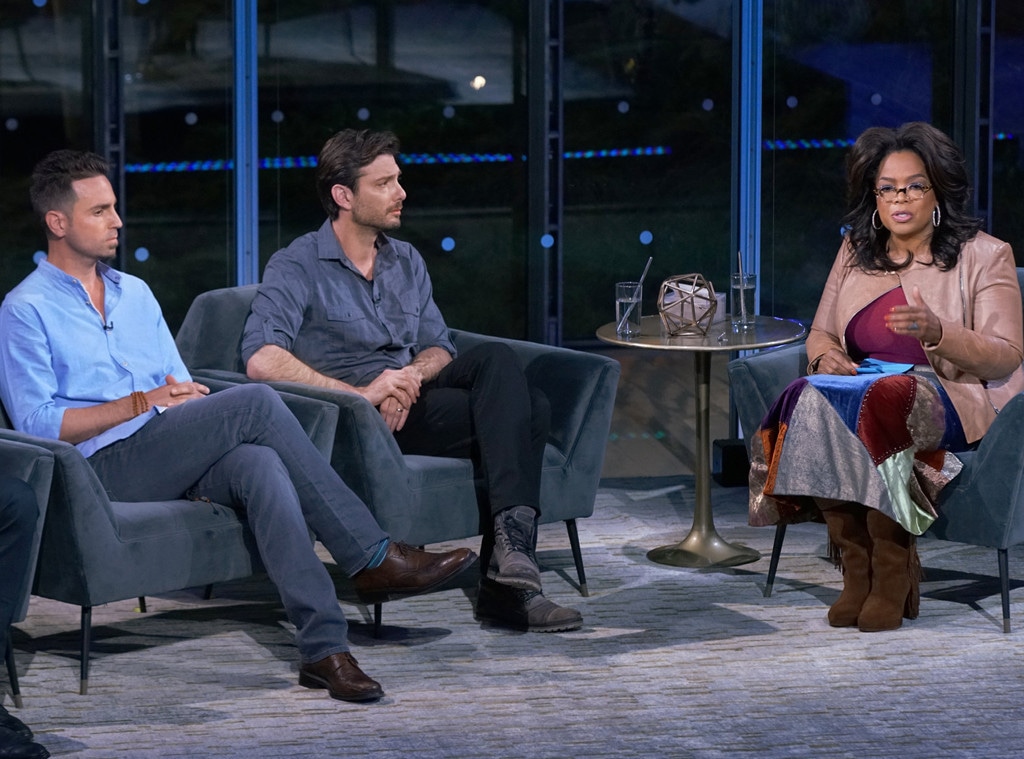 Bennett Raglin/OWN
Amid the conclusion of HBO's controversial Leaving Neverland documentary, Oprah Winfrey sat down for a conversation with the subjects of the film, Wade Robson and James Safechuck.
In Oprah Winfrey Presents: After Neverland, which aired Monday night, the OWN mogul talked to Robson, Safechuck and director Dan Reed about the claims made about Michael Jackson in the documentary. In the film, Robson, 36, and Safechuck, 41, share allegations of child abuse against the late singer, detailing their relationship with Jackson over the years.
Let's take a look at the biggest bombshells from Winfrey's conversation with Robson, Safechuck and Reed in After Neverland.
1. Robson Still Had "No Understanding" of the Abuse Years Later: Robson, who claims that Jackson started abusing him at the age of seven, testified in defense of Jackson in his 2005 sexual abuse trial. In After Neverland, Robson explained to Winfrey that he had "no understanding" of the abuse when he was testifying.
"When the abuse started, when I was 11, and even when I was 22, and later, I had no understanding that what Michael did to me sexually was abuse," Robson shared. "I had no concept of it being that."
"From night one of the abuse, of the sexual stuff that Michael did to me, you know, he told me that it was love," Robson continued. "He told me that he loved me and that God brought us together. And I was this little boy from the other side of the world in Australia, and Michael was a God to me. And now, who was God to me was telling me, 'I love you, God brought us together. And this, this sexual stuff, this is how we show our love.'"
"When I testified when I was 11...from the first night on, started training me right away for what ended up happening when I was 11, when I was 22, with the trials," Robson said of Jackson.
When asked if he could see the pattern of abuse as a little boy, Robson replied to Winfrey, "Absolutely not."
2. Safechuck Says He "Hated" Himself and Didn't Know Why: Safechuck, who claims Jackson abused him starting at the age of 10, was asked when he realized he'd been abused.
"It wasn't until Wade came out," Safechuck told Winfrey, referencing Robson's 2013 Today show interview, during which he shared his abuse claim. "I was really suffering, I couldn't sleep at night, I would sleep for two hours and I'd wake up and my body was buzzing and I'd be up all night. And I hated myself and I don't know why, it's like, 'Why do I hate myself?' This intense feeling of hate, you don't understand it. And then when I see Wade come out, you go, 'OK, maybe there's a reason for this, and if there's a reason for this, now I can figure out what to do about it.' You don't think it's abuse."
3. Safechuck Says Jackson Told Him If They Were "Caught" His Life Would Be Over: After learning of Robson's abuse claim, Safechuck immediately felt "panic" like he was "being caught."
"Michael had just drilled in you over and over since you were a kid, you know, if you're caught, if we're caught, your life is over, my life is over," Safechuck told Winfrey as Robson nodded. "It's repeated over and over and over again. That's just drilled into your nervous system. So, it's panic of being caught. It takes a lot of work to sort through that."
4. Robson Says That His Son's Birth Influenced His Decision to Speak Out: "If my son never would've been born, I think there's a really good chance that I'd still be living in silence," Robson told Winfrey. "I think it wasn't until I gained the perspective of being a father and finally...because I was so cut off, I didn't know that I was at the time...but what I know now, because I was so cut off from Little Wade, that once my son was born, I'm like, 'Oh my God, this is what a child looks like. This is how a child thinks. This is how a child behaves.' That was me."
"And then of course, I'm sure it added to it that this is a little boy who's my little boy...and you know, as I said in the film, I started seeing in my head it happening to my son," Robson continued. "That was the first moment that I ever, ever thought in my life, maybe I need to tell someone about this."
5. Robson Wanted the Michael Jackson Estate to Be Held Accountable: In May 2013, about four years after Jackson's death, Robson filed a claim against Jackson's estate, alleging that he was abused by Jackson from the age of seven to 14. In 2015, a superior court judge ruled that Robson's claim is untimely and should be dismissed.
A year later, Robson filed new negligence claims against MJJ Productions and MJJ Ventures, two companies owned by Jackson. In Dec. 2017, a judge ruled that the groups were not liable for Robson's exposure to Jackson, he did not rule on the credibility of the allegations.
In 2014, The Daily Beast reported that Safechuck had added his name to Robson's May 2013 lawsuit against Jackson. The same lawsuit that went on to be dismissed by a judge.
When asked about his 2013 lawsuit, Robson said it wasn't about the money.
"What it's about is I was trying to figure out...a desire started arising in me, once I was about nine months or so into my healing process after disclosing," Robson said. "A question was, could I do something good with this bad? With this horrible thing that happened to me. What could I do that could maybe turn it into something good? Is there a way, is there a platform, is there a place where I can tell this story that would be a credible, powerful platform to tell it within? Where [the Estate] would have to listen. That they would have to be held accountable."
He went on to say that he wanted to get on the stand again in trial because he's "now able to tell the truth."
6. Safechuck Has Not Forgiven His Mother: Towards the end of After Neverland, Winfrey asked Safechuck and Robson if they've forgiven their moms, who have been criticized for allowing their young sons to spend so much time with Jackson.
"No, right now I'm trying to learn how to communicate with my mom and I'm also trying to get her to get help," Safechuck shared. "Because if you don't help yourself, you can't help other people. So, she needs to work on her own issues so that she can understand what happened."
As for Robson, he shared with Winfrey that his mom has seen Leaving Neverland, but asked the director (Reed) to skip over the sexual abuse details.
When asked how he feels about that, Robson said, "That's a tough one, I wish she was further along in her capability."
Taylor Jewell/Invision/AP/REX/Shutterstock
7: Safechuck Felt Like He Let Jackson Down By Speaking Up: When asked if they've forgiven Jackson, Safechuck said he felt "guilt" before doing the interview with Winfrey and speaking out about the alleged abuse.
"I felt guilt this weekend, like I let him down," he told Winfrey. "It's still there, that shadow is still there."
When asked if they've forgiven themselves, Safechuck admitted, "No, I still struggle."
Robson told Winfrey he has forgiven himself.
After premiering at the 2019 Sundance Film Festival in January, the Michael Jackson Estate denounced Leaving Neverland.
"Leaving Neverland isn't a documentary, it is the kind of tabloid character assassination Michael Jackson endured in life, and now in death," the Michael Jackson Estate said in a statement in January. "The film takes uncorroborated allegations that supposedly happened 20 years ago and treats them as fact."
The Michael Jackson Estate also called Robson and Safechuck "admitted liars" while noting that their claims had previously been dismissed by a judge.
"The two accusers testified under oath that these events never occurred," the statement continued. "They have provided no independent evidence and absolutely no proof in support of their accusations, which means the entire film hinges solely on the word of two perjurers."