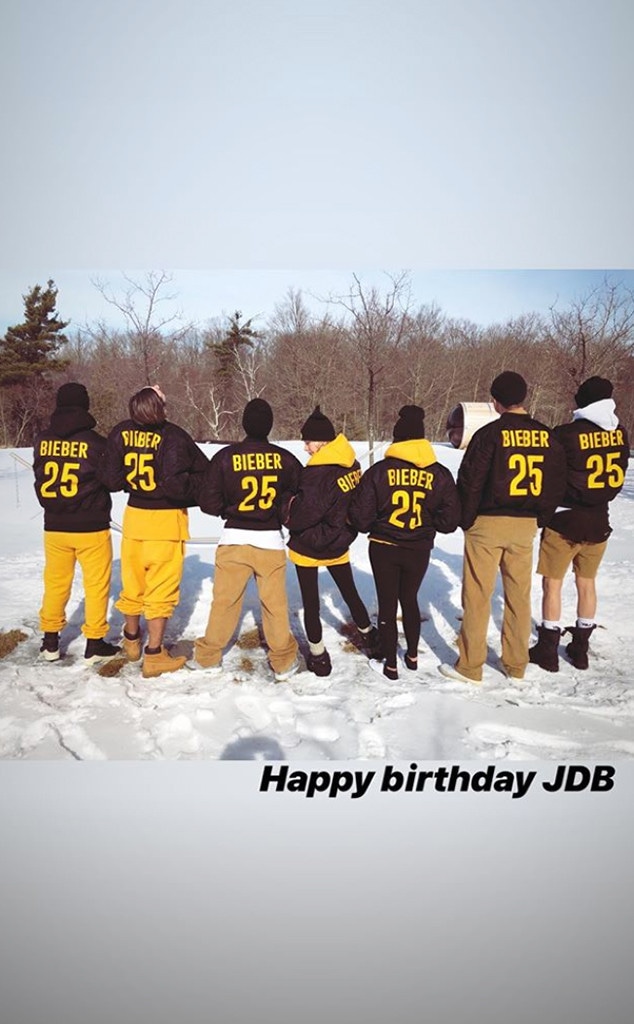 Instagram / Laura Lentz
It seems like a big group of people came down with a bad case of Bieber Fever this weekend.
Justin Bieber rang in his big 2-5 on Friday alongside his wife Hailey Baldwin, stylist and road manager Ryan Good, Hillsong Church Pastor Carl Lentz, his wife Laura Lentz and more.
The "Sorry" singer and his pals enjoyed a day in the snow where they rode around in ATVs and all wore matching jerseys with "Bieber" written across the back as well as the number 25 on it. They also took Polaroid photos, ate nachos and enjoyed a night out on the town together. 
Good shared pics from their celebration, which happened in Stratford, Ontario. Baldwin designed the jackets, too. It's hardly the first time she's repped her new last name on her clothing!
On Friday, Bieber thanked his fans for the birthday wishes and also received a sweet tribute on Instagram from his wife. 
The 22-year-old model shared a Polaroid picture of themselves snuggling and captioned it, "25 sure looks good on u lover.. "
The birthday boy's mom Pattie Mallette also wished her son the best on his big day. "I don't understand how 25 years flew by so quickly, but they were amazing and unforgettable!" she tweeted on Friday. " I'm so proud of the man you have become @justinbieber. I don't know how I got an amazing gift of a son like you, but it's been an honor loving you this far! #HappyBirthdayJustinBieber"
Bieber's manager Scooter Braun shared a photo of the first time they met and it was the ultimate throwback.
Sources told E! News recently that the 25-year-old has been battling depression for a while and is having a "difficult time." 
"He really wants to get better," the source told us in February. "He has been seeking all the help he can get."
While Bieber has been seeking professional help, his home life has become a place of support as well. The source explained that Baldwin has been "very involved in his plan of action and making decisions."
"She's the rock right now and he goes to her for everything. She listens and is always there for him," the insider said. "She doesn't want to see Justin struggle."
These newlyweds are leaning on each other for support through both the good and the bad—embarrassing childhood pics included.
Happy birthday, Justin!