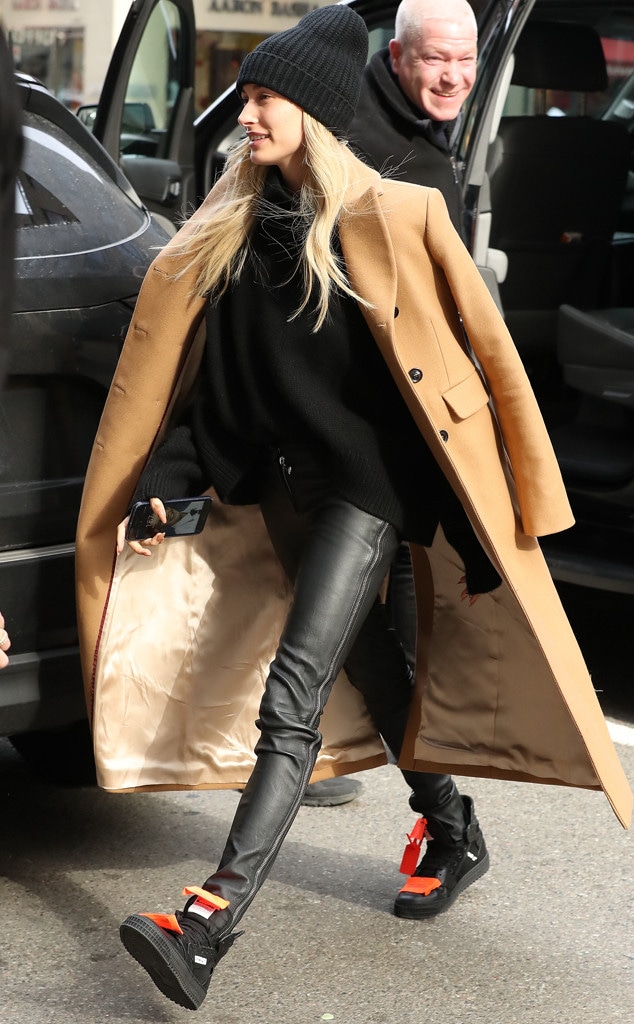 Pap Nation / SplashNews.com
Hailey Baldwin has been caught red-handed!
While hanging out in the Big Apple this Valentine's Day week, the supermodel headed to Barneys New York for a shopping trip.
But while arriving to the store wearing a camel coat, leather pants and black beanie, photographers spotted the newlywed holding her phone with an interesting screengrab.
Look closely and you may just spot a Justin Bieber throwback photo.                    
We zoomed in just for you Beliebers and spotted the "Baby" singer posing for a photo with a white button-down T-shirt and tie. Perhaps we just found a school picture day memory?
Whatever the case may be, it's a sweet touch to a couple who continues to be open about their new status as husband and wife.
Pap Nation / SplashNews.com
While their Valentine's Day plans remain top-secret, the duo recently talked about life as Mr. and Mrs. in Vogue's March 2019 issue.
"It's just that I'm fighting to do this the right way, to build a healthy relationship," Hailey explained to the publication. "I want people to know that. We're coming from a really genuine place. But we're two young people who are learning as we go. I'm not going to sit here and lie and say it's all a magical fantasy. It's always going to be hard."
She continued, "It's a choice...But there's something beautiful about it anyway—about wanting to fight for something, commit to building with someone."
Most recently, the Drop the Mic co-host became Hailey Bieber that was welcomed by her family.
"I remember when I was going to change it, I asked my dad if he was going to be upset and he was like, 'No! I don't care. We love you. All good, everyone still knows you're a Baldwin,'" she recalled to Bustle. "It's true!"