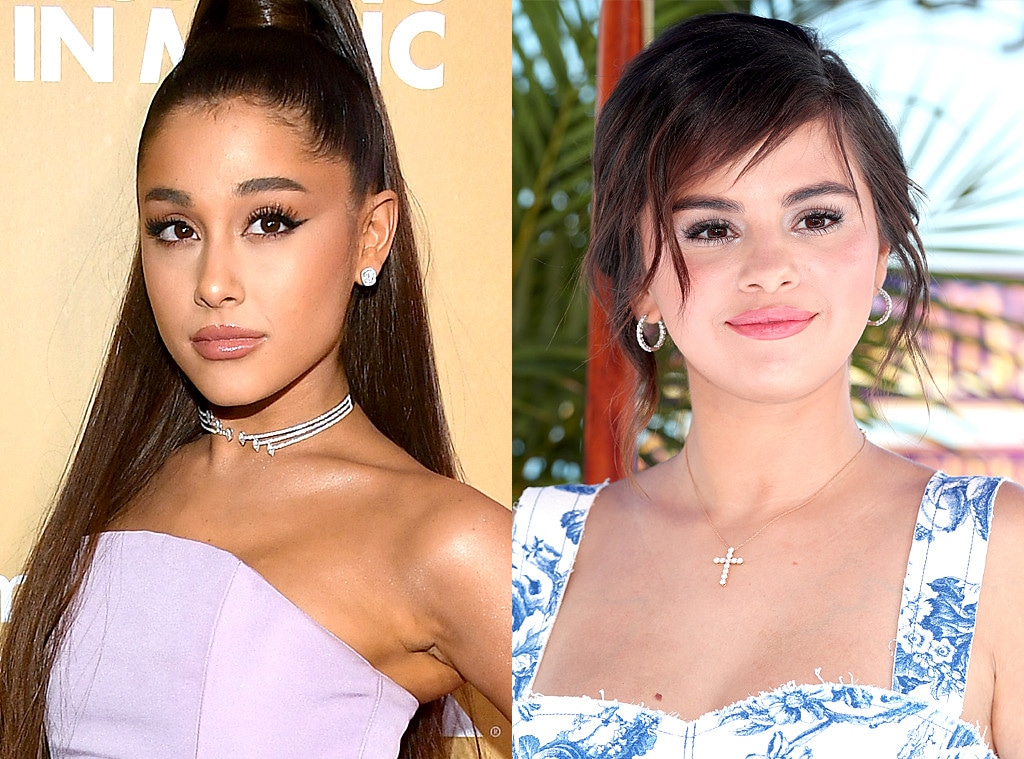 Dia Dipasupil/FilmMagic, Christopher Polk/Getty Images
If god is a woman, then Ariana Grande has just become the chief deity of Instagram.
The "7 Rings" singer has officially dethroned Selena Gomez to become the most followed woman on Instagram, but the results are still tight. According to Billboard, Grande has 146,286,173 followers while the "Wolves" singer follows closely behind with 146,267,801. Those are some extremely remarkable numbers nonetheless.  
Despite Grande's 146 million-plus followers, she still falls behind soccer superstar Cristiano Ronaldo, who has upwards of 155 million followers. Ronaldo surpassed Gomez in October.
Billboard reports that 13 million more people added Grande to their Instagram feeds over the last four months. This timing most likely has something to do with the release of her second studio album in six months, Thank U, Next. It may also be related to her breakup with Pete Davidson, which occurred in October.
The 25-year-old singer frequently uses social media as a means of closely connecting with her fans.
Humberto Carreno/INSTARimages.com
She has 61 million followers on Twitter, which seems to be her favorite platform to drop secrets and hints about her new music and personal life. For instance, she told her fans on Twitter today that she would be returning to Manchester for a show two years after a tragic attack at the Manchester Arena during her concert that left 22 people dead.
"manchester babes, i'm so thrilled to be headlining pride. my heart. i cant wait to see u and i love u so so much," she tweeted on Monday.
Grande also seems to be a fan of Instagram Stories, where she posts a number of updates about her day-to-day life with her friends, family and pets. She also uses it as a means to show how honored she is to break record after record and sit atop the music charts.
While Grande continues to take social media by storm, Gomez has gone quite the opposite route. She took nearly a four-month break in posting to her Instagram from September to January. In October, Gomez entered a treatment facility to help with her anxiety and depression, hence the social media hiatus. A few weeks before that, she opened up on Instagram Live about her anxiety and depression and how the internet plays a role in that.
The "It Ain't Me" artist revealed in her video that she doesn't even "have the damn app on my phone," so she doesn't quite understanding why her numbers are upwards of 146 million. "It's just a number and it's insane that people are so obsessed with a number. It's like chill out. Who gives a f—k?" she said.
She also took a moment to explain why she was going to take a break from it all. "As much as I am grateful for the voice that social media gives each of us, I am equally grateful to be able to step back and live my life present to the moment I have been given," Gomez shared. "Kindness and encouragement only for a bit! Just remember: negative comments can hurt anybody's feelings."
Gomez returned to social media in January with a candid post about her absence. 
"It's been a while since you have heard from me, but I wanted to wish everyone a happy new year and to thank you for your love and support," she captioned some Polaroid photos of herself. "Last year was definitely a year of self-reflection, challenges and growth. It's always those challenges which show you who you are and what you are capable of overcoming."
She concluded, "Trust me, it's not easy, but I am proud of the person I am becoming and look forward to the year ahead. Love you all."
On Feb. 7, Zac Efron started following Gomez on the platform, so truth be told, that's the real win.