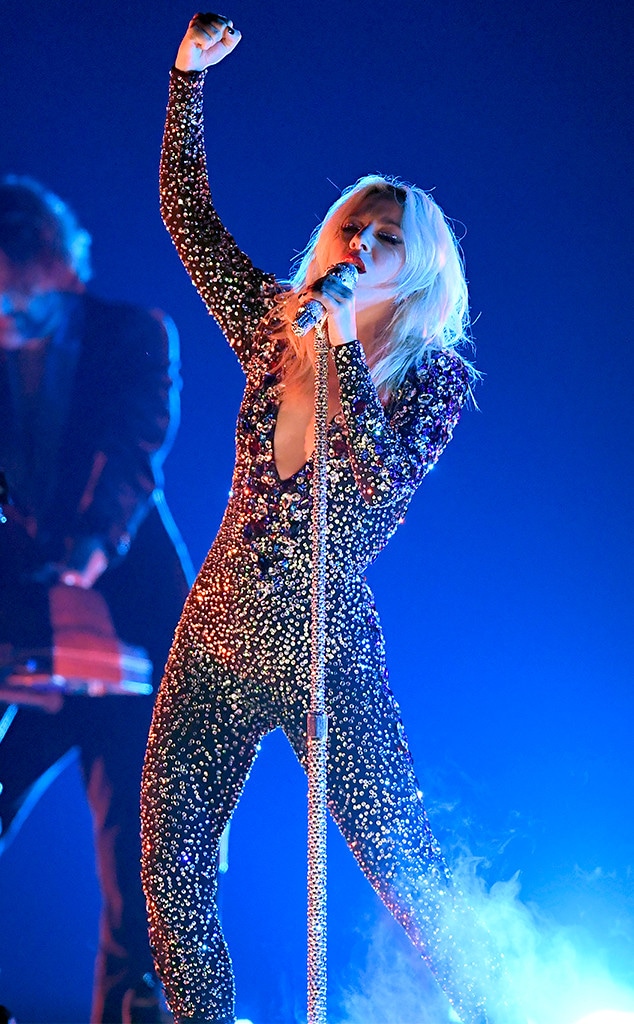 Kevork Djansezian/Getty Images
In case you were wondering why Lady Gaga won Grammys for "Shallow," a live demonstration, please...
Wearing a sparkling, plunging catsuit and matching platform boots and eye makeup and holding a matching mic, the pop star rocked the 2019 Grammys on Sunday with a sizzling performance of her breakout song from Bradley Cooper's A Star Is Born, hours after she and her team picked up two awards for the track.
For her performance, Gaga reunited with collaborator, producer and songwriter Mark Ronson, who was one of her guitarists. He had written part of the soundtrack to A Star Is Born and also co-produced Gaga's 2016 album Joanne.
"Shallow" is an emotional duet featuring both Gaga and Cooper, the two stars of A Star Is Born, which he directed. He was unable to attend the Grammys, as he was in London for the 2019 BAFTA Film Awards.
During her Grammys set, Gaga encouraged the audience to sing along.
Earlier in the night, Gaga appeared onstage with Michelle Obama, Jada Pinkett Smith and Jennifer Lopez.
"They said I was 'weird,' that my look, my choices, my sound, that it wouldn't work," Gaga told the audience. "But music told me not to listen to them. Music took my ears, took my hands, my voice and my soul and it led me to all of you and to my little monsters, who I love so much." 
"Shallow" won the Grammys for Best Song Written For Visual Media and Best Pop Duo/Group Performance, and was also nominated for Song of the Year and Record of the Year.
"I'm not gonna be able to wear any makeup tonight," Gaga tweeted after winning the first award, which was announced before the ceremony. "We just won our first of Grammy nominations for the night. I'm in tears with honor and gratitude. Thank you @RecordingAcad #Grammys #Grammy and my co-writers and Bradley I love you so much thank you."
Watch:
Lady Gaga - 2019 Grammy Awards Glambot
After winning Best Pop Duo/Group performance, Gaga appeared onstage to accept the award, saying, "I wish Bradley was here with me right now. He's over in the U.K., I know he wants to be here, Bradley, I love singing this song with you."
"And I, if I don't get another chance to say this, I just want to say I'm so proud to be a part of a movie that addresses mental health issues," she added. "They're so important and a lot of artists, a lot of artists deal with that. And we got to take care of each other. So if you see somebody that is hurting, don't look away. And if you are hurting, even though it might be hard, try to find that bravery within yourself to dive deep and go tell somebody and take them newspaper your head with you. I love you, thank you so much to the Grammys. Thank you."
Also on Sunday, Gaga won Best Pop Solo Performance for "Joanne (Where Do You Think You're Goin'?)." The award was also announced before the ceremony.
"A Grammy for 'Joanne' is more than me & my family could ever dream of," the singer tweeted. "I sang that version in one take, & poured my entire life & soul into it. Thank you so much for this gift I am completely shocked. 2nd Grammy win of the night I am so overwhelmed by this kindness. #grammys."
Prior to this year, Gaga had six Grammy wins under her belt.
Kevin Winter/Getty Images for The Recording Academy
"Shallow" is also nominated for an Oscar for the 2019 Oscars, which will be held later this month. Gaga and Cooper are also nominated for Oscars for their acting performances and the movie also received a Best Picture nod. 
The actors are set to perform the song at the Oscars ceremony.
"I'm sure I'll be terrified," Cooper told E! News last weekend.
The 2019 Grammy Awards were held at Los Angeles' Staples Center and aired live on CBS.
Check out a full list of 2019 Grammy Award winners.