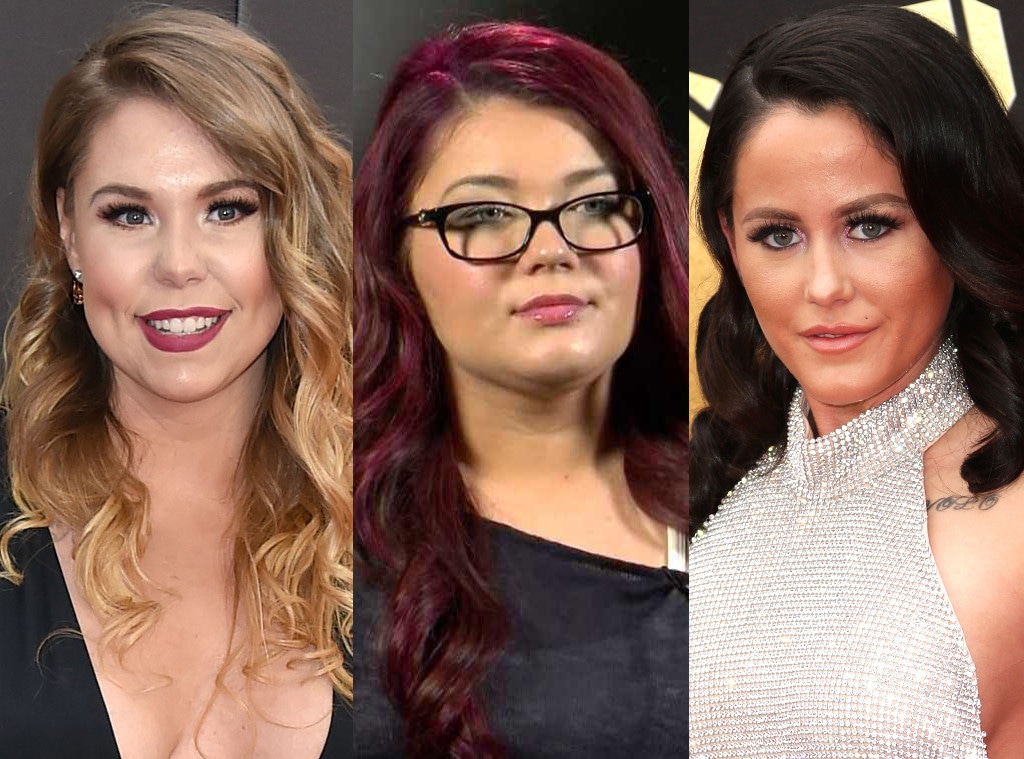 Jim Smeal/Jordan Strauss/Invision/AP/REX/Shutterstock
Perhaps we can all agree that there's no shortage of drama when it comes to the Teen Mom's Jenelle Evans, Kailyn Lowry and Amber Portwood.
In fact, this is the feud that keeps on, well, feuding. In the moments that seem like there could be a detente, the flames are reignited. Kailyn and Jenelle's bad blood goes back a long time and it was escalated even more on Jan. 19 when Jenelle's mom Barbara Evans got involved.
Jenelle, 27, and her mom recorded themselves on an Instagram Live video over the weekend and appeared to be pretty inebriated during the filming. Either before or after the Live, Jenelle posted videos of them drinking wine on her Instagram Story.
At one point in the duo's live stream, Barbara made a "joke" about Kailyn that immediately sparked some backlash. Barbara, Jenelle and fellow Teen Mom star Brittany DeJesus were chatting when Barbara suggested they should all "get lit and kill Kail."
While munching on pizza, Barbara received a phone call presumably from one of the show's producers. Jenelle joked to the camera, "Uh oh, she's in trouble!" and continued to make noises about her mom and the comment she made about Kailyn.
Once the phone call ended, Barbara reappeared onscreen and apologized. "Earlier I was talking to Brittany, Briana [DeJesus]' sister and I said that I wanted to kill Kailyn. Everybody took it out of perspective. That's not really what I meant. It was a joke," she told the camera.
Jenelle then pointed blame at her mom's apparent lack of internet savvy. "The old generation, you just got to give them the benefit of the doubt. They don't know what they're talking about, they don't know that this s--t will be taken seriously if they say it," she said.
Barbara added, "I was being sarcastic and everyone freaks out like I want to go kill the girl. C'mon I've known the girl for 10 years. That's crazy s--t."
When all of that was said and done, Kailyn posted about the video on Twitter. "I heard barb wants to kill me," she wrote. "Are drunk words sober thoughts?"
She later responded to Jenelle and her mother in more detail on her podcast Coffee Convos with Kail Lowry & Lindsie Chrisley.
"I don't know what the f--k happened for Barbra to say, 'Let's get lit and go kill Kail.' I don't know what I did to her and I've always gotten along with her," she said.
She also said, "I'm really just tired of-I'm hurt, in a sense, I am a part of a franchise that's not protecting it's cast mates, I guess. It's a slap on the wrist for their producer to call them and say, 'You have to issue an apology to Kail.' I'm not looking for an apology. It's just the principle. If this were an everyday situation or if it was me threatening them, all hell would break lose but because its them and it's supposed to be a joke and they were drunk and not a big deal. I'm supposed to be to not take it seriously. I'm not up in arms about it, I am not yelling, I'm not crying, I'm not any of that. I just simply don't want to film if they are going to continue to do these behaviors that completely go unnoticed."
Kailyn said she is afraid to attend a Teen Mom reunion with Jenelle and her husband.
"And even if they are there in the same city on the same weekend on a different day, I'm not protected off set," she said. "I'm not protected if I am walking in a store, at my hotel, they don't send security with us."
In December, any hope of reconciliation literally went up in flames. Kailyn sent Jenelle a box of her Pothead hair care line, but the only thing that got smoked was the product itself. Jenelle posted a video herself dousing the gift with oil and then lighting it on fire.
"Kail Lowry , for years you've been super jealous and envious of all us girls on the show. You try to make your way into the group, then turn into a mean ass person when it came down to me. You apologize on/off, claim I need to be apologizing sometimes, then talk s--t constantly about me and my husband to the tabloids?!" Jenelle captioned the video. "THEN you had the balls to send me a PEACE GATHERING GIFT?! Don't send me gifts and then go talk s--t AGAIN!!! Wow, you're an idiot cuz this is what I do for gifts sent from fake ass bitches like you. Stay our [sic] of my life, go worry about your own."
Kailyn fired back in a statement to E! News at the time. "On behalf of Pothead, thank you so much, Jenelle! We really appreciate the free advertising. Don't burn yourself!" she told us.
Jenelle and Kailyn's feud also involves Jenelle's husband, David Eason. On Jan. 2, Kailyn tweeted that she will "not be attending any type of reunion" that Jenelle and David are at and referred to a different tweet that said Teen Mom crew members refused to work with Jenelle because they're afraid of David.
Kailyn previously called David "unstable" and "a danger to people, all people, his children and wife included."
On Tuesday, Amber and Jenelle's feud amplified when Amber recorded an Instagram Live video of her own. Their rocky relationship was back on the bad side a few weeks ago when Amber subtweeted David and Jenelle and insinuated he was "a disgusting clown" and needed "a couple interventions from some good friends." 
Jenelle reportedly told Amber to "shut the f--k up," which prompted the 28-year-old to go on Instagram Live on Monday. "Jenelle, you say anything about me again, I see your ass, I'll bust your f--king ass just like I was gonna do every other motherf—king time. You scared-ass f--king c--t," she said according to Us Weekly. " You scared-ass bitch. I'll beat your motherf--king ass. Don't f--k with me. Don't say a f--king word."
In regards to Barbara's comment about "killing" Kailyn, Amber said, "You're a p--y. You're too damn old to be acting like that."
On Tuesday, Amber said she was "disappointed in myself" after the prior day's video. "I know a lot of s--t," she told the camera. 
She continued, "I feel embarrassed for how I acted so I'm apologizing to my fans and you guys for how I acted because I should not have went that route. That was me maybe 10 years ago but that's not me how I am today."
Amber admitted she "has a problem with anger at times" but "that's not an excuse." She added, "There's no excuse to act like that because I am a mother. And I know a lot of you guys said on there you know you oh it was deserved it was deserved you know and I understand that but for me as a mom I shouldn't go there."
The mom of two said in the Live that she "doesn't give a damn" about what Jenelle has to say about it all. "I'm done with it," she shared. "I'm really just done with all that bulls--t now."
In November, Amber tweeted that she was sick of Teen Mom and the impact it has had on her. "I can't do this anymore," she wrote. "I have to quit this show."
She wrote in another tweet, "My name will not get smeared anymore. I hope everyone is resting easy with the money they've made off of heartache and pain that I've endured."