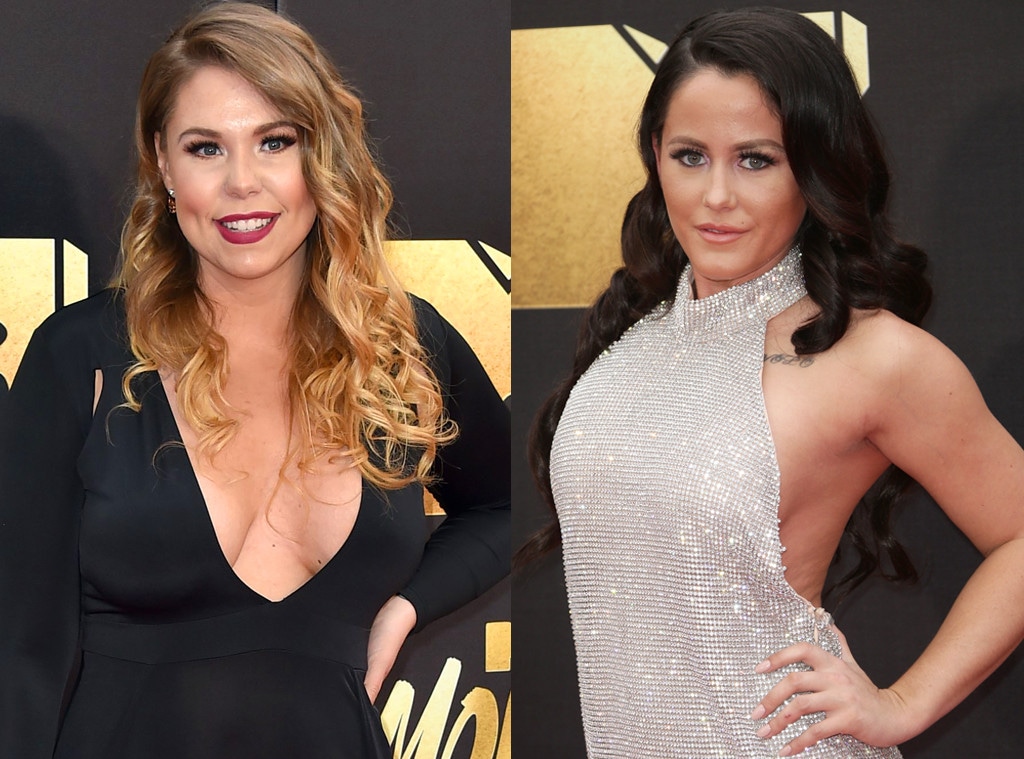 Jim Smeal/Jordan Strauss/Invision/AP/REX/Shutterstock
There's another mom involved in the long-running feud between Teen Mom 2's Kailyn Lowry and Jenelle Evans.
On Saturday, Jenelle and her mom Barbara recorded an Intstagram Live video where they sat at their kitchen counter eating pizza. Either before or after the recording, Jenelle posted videos on her Instagram Story of them drinking wine and dancing along to a rap song.
At one point in the live, Barbara apparently said she and Jenelle should "get lit and kill Kail." Evans responded, "You can't say that s--t."
Later on, Barbara received a phone call about the comment and her daughter joked to the camera, "Uh oh, she's in trouble." Jenelle continued to use different voices about her mom being "in trouble" and that Kailyn was "probably watching this right now."
Barbara came back to the counter after the phone call and attempted to justify the remark.
"Earlier I was talking to Brittany [DeJesus], Briana [DeJesus]'s sister and I said that I wanted to kill Kailyn," Barbara said. "Everybody took it out of perspective. That's not really what I meant. It was a joke."
Jenelle chimed in, "My mom has not been on Instagram or Facebook in a long time. I mean come on."
She continued, "The old generation, you just got to give them the benefit of the doubt. They don't know what they're talking about, they don't know that this s--t will be taken seriously if they say it."
"It was only a joke," Barbara said again. "I was being sarcastic and everyone freaks out like I want to go kill the girl. C'mon I've known the girl for 10 years. That's crazy s--t."
Not long after Jenelle and Barbara's Instagram Live, Kailyn took to Twitter and responded to the "joke." 
"I heard barb wants to kill me," she wrote. In another dig at Jenelle and her mom seeming pretty intoxicated in the video, Kailyn tweeted, "Are drunk words sober thoughts?"
Kailyn and Jenelle's feud was reignited once again a few weeks ago when Kailyn commented on a tweet that said the show's crew won't work on Jenelle's shoots because "they're afraid of her husband [David Eason]."
"I will not be attending any type of reunion on the same day or weekend as Jenelle & David for the same reasons," Kailyn tweeted on Jan. 2.
Jenelle replied in an Instagram video of her own. "My husband DOES NOT interfere with filming. Producers get angry when David is going to be at my child's soccer games, or if I go to LA to do business, etc….they CHOOSE not to come," she said.