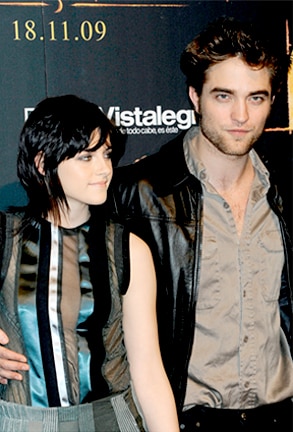 Fotonoticias/Getty Images
Dear Ted:
Hi Ted, I recently saw a picture of R.Pattz at a hotel in LA. Does this mean he's not hanging out with K.Stew? What's been going on with them? Are they still together and cute as can be? I've been having my Robsten withdrawals!
—Stephanie
Dear Chilax:
Just 'cause they aren't together every second of every day, doesn't mean they aren't together. Don't worry, they're on. Where is Rob supposed to stay, by the way? With Kristen's folks? Don't think so.
Dear Ted:
Do women sleep with the famous so they can only blackmail them or use them for fame later on? It sure seems like it!
—Sweet
Dear For the Love of Fame:
That's usually the case, huh. They all just want their 15 minutes of fame…then there are those rare cases where it's actually love, and that's just weird for Hollywood.
Dear Ted:
I've been reading your column for a couple of years now and I think I finally have all of the lingo down! Totally love you. Anyway, when reading about Toothy and all of the other beards out there in H-Wood, there's something I just don't get. Are all the photos showing the "happy couple" together just staged photo ops? Do they actually live together but go do their "thing" with somebody else each night? Do they meet up once a week for a jog and/or requisite tall latte for a good paparazzi encounter so they can have photos posted of them with the opposite sex? And does the public/industry really care if Toothy et al swing the other way? I care more that they live a lie in the public eye instead of just coming out with it—is that not the general consensus? And why?
—Mh