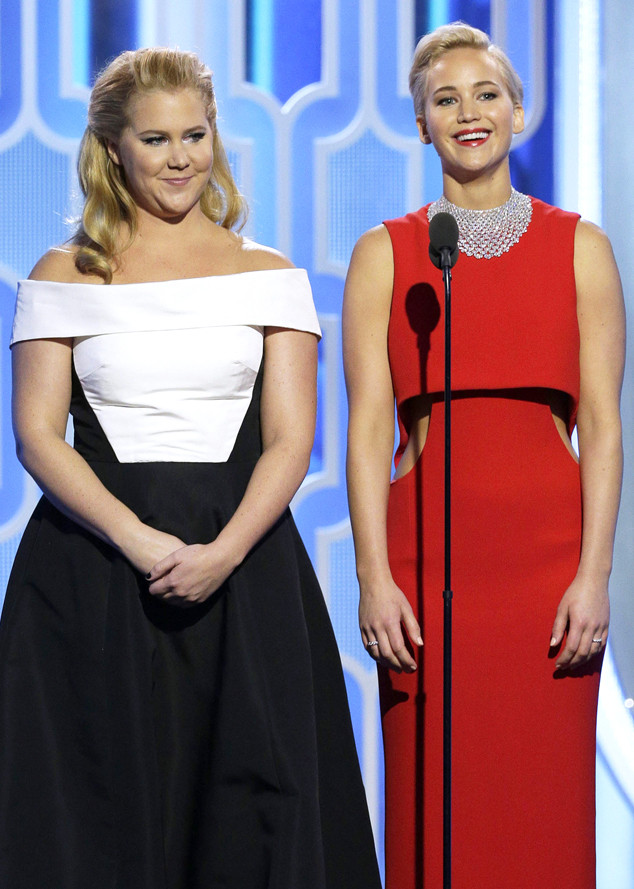 Paul Drinkwater/NBCUniversal via Getty Images
2015 was the year of Jennifer Lawrenceand Amy Schumer's newfound friendship, and it seems that mutual girl crush isn't going anywhere this year. Exhibit A? Tonight's Golden Globe Awards.
The show's producers may have done their best to keep the two off-camera (seriously, couldn't we have gotten a few more cut-aways?), presumably for fear of the two causing distracting (and amazing) hijinks, but that didn't stop them from drumming up some much-needed raucous. After all, it's not in their nature to stand idly by—especially at an awards show with unlimited booze.
It all started on the red carpet. Kind of. Schumer showed up with her sister (or #RoadManager as she's tenderly known on social media) Kim Caramele, and Lawrence hit the interview line with her Joy director and general life mentor David O. Russell. Sure, we were all collectively hoping that Jen and Amy would walk the carpet together (possibly while wearing some type of conjoined-twin outfit), but they did manage to give each other a few shout-outs.
Our favorite? Amy's excitement at seeing her new BFF in a decidedly glammed-up setting. "It'll be weird to see her in a Hollywood setting," she joked. "We're usually in sweatpants and bras and writing."