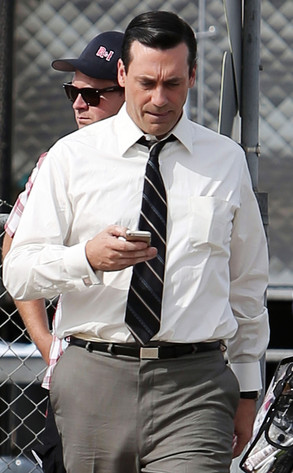 © PacificCoastNews
Breaking news, folks. Jon Hamm appears to be going commando. Again.
The 42-year-old actor was spotted walking around the Mad Men set on Thursday, Nov. 7, in Los Angeles and opted to skip his underwear for this particular wardrobe choice and scene.
The always dapper star, who portrays Don Draper on the AMC hit series, was sporting light gray formfitting dress pants, which, if we're being frank, showed off his package.
Accompanying the slacks, he wore a white crisp dress shirt, a black tie and a black belt. His hair was slicked back and he was holding his phone.