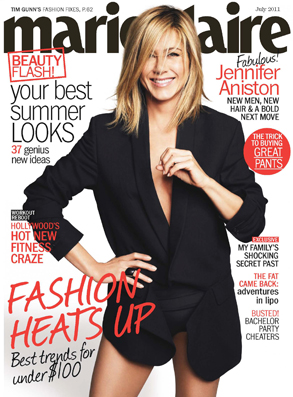 Marie Claire
Just kidding.
Everyone knows Jennifer Aniston is comfortable taking almost all of it off and flaunting that fabulous bod for the glossies—remember these GQ, Rolling Stone and Vanity Fair covers?
So for the latest issue of Marie Claire, the actress looks totally cool, natch, going pantsless in a pair of Gucci briefs and a tuxedo coat, flashing that adorable grin.
Inside she gets up close and personal with Jason Bateman, nuzzling her costar in that same getup as the two promote their comedy Horrible Bosses...