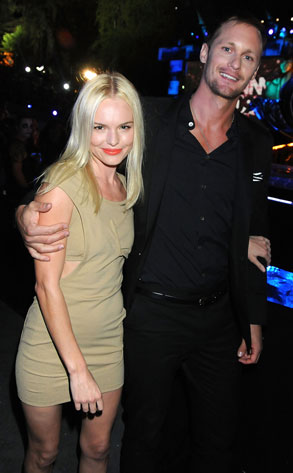 Jeff Kravitz/Getty Images
Besides R.Pattz, our fave vamp hottie is, no doubt, True Blood's delicious and dangerous Alexander Skarsgård. Though it's starting to seem like A.Skars may be as much of a lady-killer in real life as he is on TV.
Earlier this year, Alex told us he was totally single and was spotted around town with a bevy of buxom babes. All the while rumors of a relaysh (or a fling, at least) with Straw Dogs costar Kate Bosworth persisted. But this week, the two blond beauts were caught canoodling at Doughboys Cafe & Bakery Restaurant in Los Angeles, a big smile plastered across K.B.'s puss as the two partook in some hand kissing and light petting.
So, are the two just trying to round up a bit of publicity for their (now delayed) remake? Or is the dashing duo H'wood's next power couple?