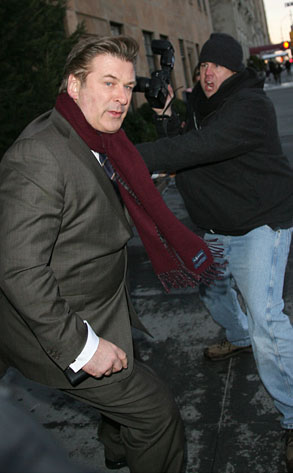 Mauceri/Donnelly/INFphoto.com
One headline-grabbing "misunderstanding" is bad enough. But two in a single day may be some kind of record…even for Alec Baldwin.
As if the 30 Rock scene stealer wasn't having a bad enough day following his brief hospitalization Thursday, the actor returned home to his NYC apartment after a long day of shooting to find a throng of media waiting for him. One bottom-dwelling paparazzo in particular, Tim Wiencis from the New York Post, began peppering Baldwin with questions as to the current emotional state of daughter Ireland, who reportedly called 911 on her father the night before.
Well, that was all it took for Mount Baldwin to erupt.