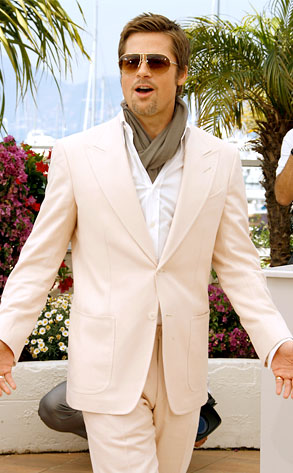 Jeff Vespa/Getty Images
Dear Ted:
Every so often, Brad Pitt appears on the red carpet with a scarf or some other accessory around his neck. Is this accessorizing purely for fashion reasons, or is his sex life with Angelina leaving him with visible signs of their passion?
—DaringMiss
Dear Inglourious Hickeys:
Well, given that Brad and Angie are spilling the secrets about their supposedly fabulous sex life, you would think that. But we all know that Jolie-Pitt Island is in the midst of a tropical storm right now, duh. Them scarves ain't fooling anyone, Pitt baby!
Dear Ted:
Do you have any info on Desperate Housewives' Drea de Matteo? I heard some weeks ago that she was going to be a troublemaking vixen, and have an Edie-like personality, but the newest spoilers suggest she's nothing like Edie, and is in fact sweet and kind, but her son is the troublemaker. What do you know about her character? Do you know if she will indeed be a bitch?
—Andres
Dear New Bitch on the Block:
You heard right, love. As I blabbed last week, Drea's son (played with fresh-faced adorableness by Beau Mirchoff) will be the real coffee-brewer on the Lane. As for Drea's character, Angie, remember: Even if she isn't the troublemaker, this is still Desperate Housewives, and who isn't a bitch?
Dear Ted:
As we all know by now, Kristen and Rob are definitely and firmly together. In your opinion, what is keeping them somewhat in hiding? Is it the insane media pressure that will certainly only get crazier with their outing themselves, or is it Summit wanting them to keep quiet? In my opinion, wouldn't them being together only make for more interest in the movie? I loved Twilight before Robsten and love it more now! Secondly, knowing that Rob and Kristen are somewhat private people, do you think they ever regret getting involved with the Twilight phenomenon?
—Chad
Dear Yawn:
Sweet pea, I feel like I've answered this question at least a dozen times by now. Rob and Kris are under the harsh rule of big bad Summit, and aptly so: If they broke up before the movies ended, there goes the franchise. And please...privacy aside, these two are the luckiest youngsters in the world right now. They should be so happy to be involved with everything Twi.
Dear Ted:
Is there any drama offscreen happening on the set of Mischa Barton's new show The Beautiful Life? Also, any cast hookups yet?
—The Gossip Fan