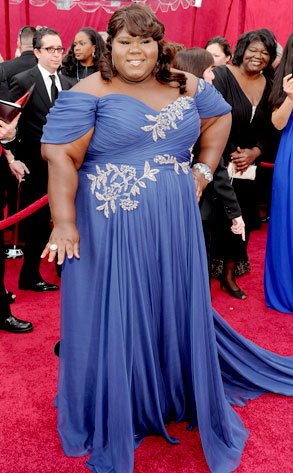 Alberto E. Rodriguez/Getty Images
You gotta love a girl with confidence!
Throughout the entire awards season, Precious star Gabourey Sidibe has proven time and time again that she is nothing like the troubled teen featured in her movie. And tonight's red carpet was no exception.
Not only did the Best Actress nominee look stunning in her blue Marchesa gown, but she added the ultimate accessory—her upbeat personality.
"If fashion was porn, this dress is the money shot, and you know it!," she said directly into the camera during her interview with Ryan Seacrest.
So check out Gabby's O-spot gown, as well as what other celebs wore, by way of our GlamCam.
And while we love to tease, we promise there's nothing NSFW at the link!