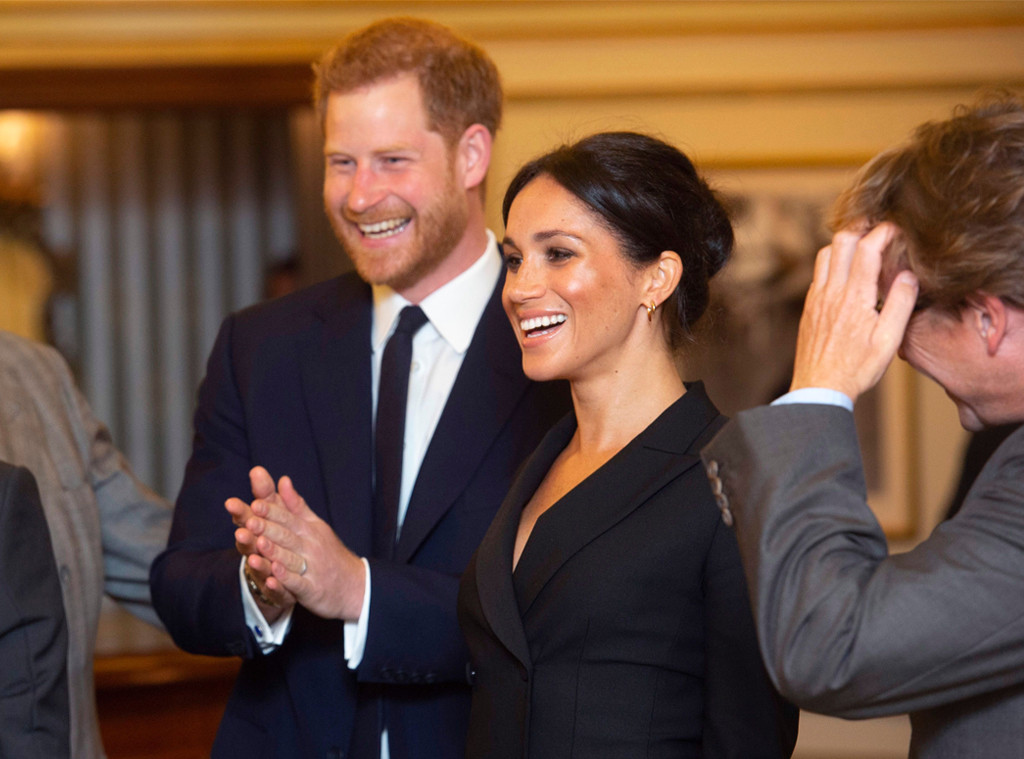 REX/Shutterstock
These royals are about to get a new set of titles: mom and dad!
Early Monday, Kensington Palace confirmed the exciting news that Meghan Markle and Prince Harry are expecting their first child together. The news comes just days after the Duchess of Sussex sparked pregnancy rumors on Friday at Princess Eugenie's wedding, with speculation stemming from her buttoned Givenchy coat throughout the entire event and questions over whether she would actually visit Fiji during their first official joint tour because of Zika concerns. 
Well, the rumors were officially put to rest by the end of the weekend. "Their Royal Highnesses The Duke and Duchess of Sussex are very pleased to announce that The Duchess of Sussex is expecting a baby in the Spring of 2019," Kensington Palace said in a statement on Instagram. "Their Royal Highnesses have appreciated all of the support they have received from people around the world since their wedding in May and are delighted to be able to share this happy news with the public."
The news also comes on the heels of the couple's Sunday arrival in Australia, which naturally eases any pressure Markle may have felt to hide her bump before the official reveal. 
With a baby on board, so begins the next chapter of the newlywed's life together—a chapter both have been looking forward to separately and together for years. It was less than a year ago that the couple revealed their engagement and sat for their first joint interview. Naturally, the topic of future kids came up. 
"Of course, you know I think you know one step at a time, and hopefully we'll start a family in the near future," Prince Harry said at the time with Markle smiling beside him. 
However, the number of children in their future remains less clear. Back in July during their trip to Dublin, a woman told Prince Harry that her husband has red hair and gave her five children and proceeded to ask when they were going to start a family. "He laughed and said, 'five children?—too many,'" the woman recalled. 
Eddie Mulholland/Daily Telegraph/PA Wire
It's a subject that—along with marriage—has long trailed Prince Charles and the late Princess Diana's younger son. "There have been moments through life, especially when we do a tour abroad, when I think, 'I'd love to have kids now'...And then there are other times when I bury my head in the sand going, 'All right, don't need kids!' There's no rush. I think...I tell you what: There's been times I've been put off having children," he admitted to People back in May 2016, shortly before meeting his future wife. 
It seems the royal has also wanted to let life take its course. "I don't think you can force these things. It will happen when it's gonna happen," he told Sky News back in 2015 when asked if the birth of his niece Princess Charlotte made him think about settling down. "Of course, I would love to have kids right now, but there's a process that one has to go through."
In a 2012 interview with Katie Couric, Harry candidly admitted, "I've longed for kids since I was very, very young. And so, I'm waiting to find the right person, someone who's willing to take on the job."
That right person eventually came along. It seems Meghan has been looking forward to motherhood for years—but like her husband, all in "due time."
As she told Best Health in 2015, her "bucket list items" included: "I want to travel more and I can't wait to start a family, but in due time."
Years ago, she even made a purchase with her future daughter in mind. "I've always coveted the Cartier French Tank watch. When I found out Suits had been picked up for our third season—which, at the time, felt like such a milestone—I totally splurged and bought the two-tone version," she recalled to Hello! in 2015. "I had it engraved on the back, 'To M.M. From M.M.' and I plan to give it to my daughter one day."
That day may be closer now as the couple's little one is expected to arrive in the new year. Congratulations to the new parents-to-be!