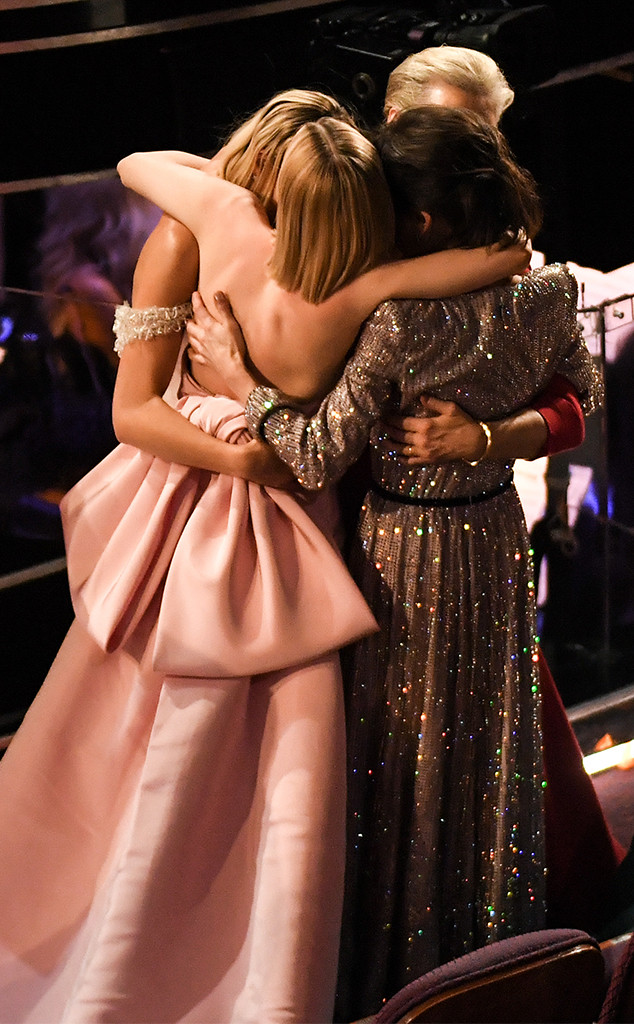 Rob Latour/REX/Shutterstock
Hollywood's biggest night, the 2018 Oscars, did not disappoint!
E! News was there, on and off the red carpet, to give you a special insider's look, with behind-the-scenes insights and other moments not seen during the live TV broadcast.
During the Show:
After Frances McDormand won Best Actress for Three Billboards Outside Ebbing, Missouri and walked off stage, fellow nominee Saoirse Ronan got up and ran over to fellow nominee Sally Hawkins and also summoned remaining nominees Meryl Streep and Margot Robbie. The four Best Actress nominees then had a group hug in the aisles during the commercial break.
McDormand later returned to the ballroom and Oscar in hand, hugged people as others cheered.
While en route to her seat, Sandra Bullock greeted Mary J. Blige by grabbing her face and kissing her on the cheek. She then knelt on the floor to talk to the actress and singer.
Bullock and Nicole Kidman sat together and were spotted pulling out the Oscar snack boxes from under their seats. They contained a handwritten note from host Jimmy Kimmel, Listerine, chips, gummy bears, a snack bar and a napkin. Their boxes contained titles of Best Picture-nominated films.