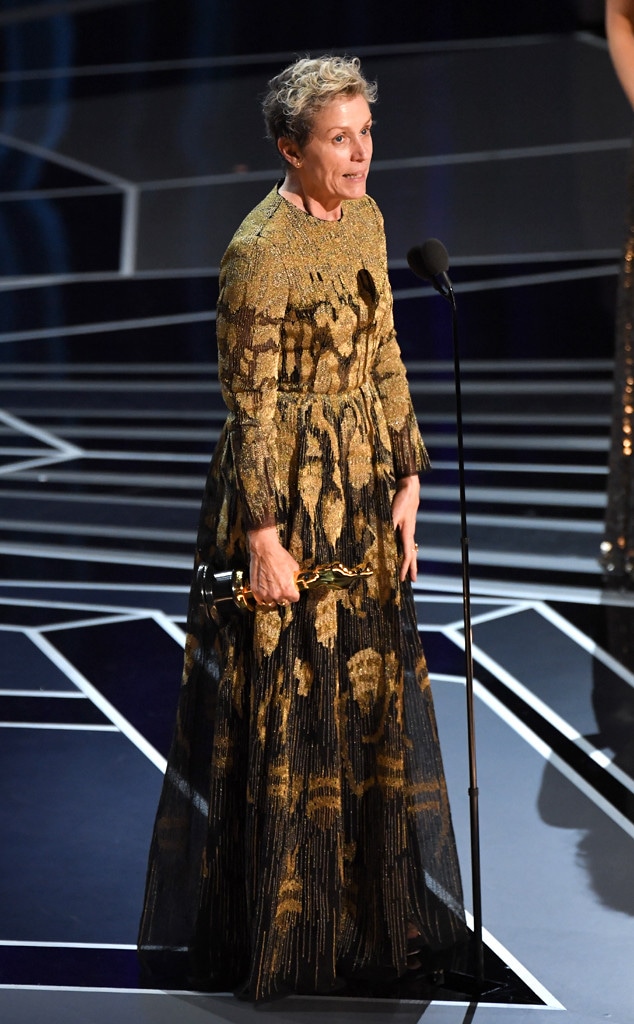 Rob Latour/REX/Shutterstock
And the Oscar goes to...
Frances McDormand won Best Actress in a Leading Role for Three Billboards Outside Ebbing, Missouri! The competition was steep this year, but ultimately it was Frances' performance that moved the Academy at the 2018 Academy Awards. Not only did her performance move audiences, but her incredibly poignant speech brought the room to its feet. 
"I'm hyperventilating a little bit. If I fall over, pick me up 'cause I've got some things to say," Frances shared before giving her standard thank you's to those who supported her. Then, as promised, she got a few things off her chest. 
"Now, I want to get some perspective. If I may be so honored to have all the female nominees in every category stand with me in this room tonight," she asked the entire auditorium. "Meryl [Streep] if you do it everybody else will."
It wasn't long until she had every woman being honored tonight standing and cheering her on. "Okay, look around everybody, look around. Because we all have stories to tell and projects we need financed," she shared with the remaining seated guests.
"Don't talk to us about it at the parties tonight. Invite us into your office in a couple of days or you can come to ours, whatever suits you best, and we'll tell you all about them. I have two words to leave with you tonight, ladies and gentleman: inclusion rider."
For those unfamiliar, an inclusion rider essentially means putting requirements in contracts that allow for racial and gender diversity. Well said, Frances. 
Be sure to watch E! News Monday for more Oscar coverage at 7 and 11 p.m., only on E!