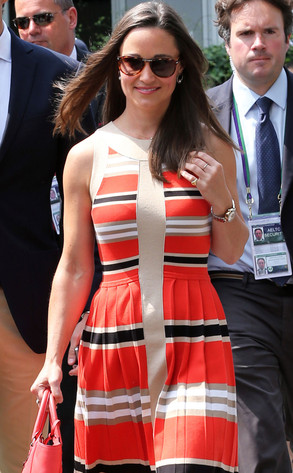 Stephen Lock / i-Images, PacificCoastNews.com
Happy 30th birthday, Pippa Middleton!
The new aunt is celebrating her milestone birthday today, and in honor of the big 3-0, the brunette beauty is taking a look back on her days of playing school sports, sharing some of her "fondest memories" of her early athletic endeavors.
And while the party planner was undoubtedly a fierce competitor, she couldn't help but confess her innocent crush on her coach, as well as her biggest defense mechanism: her derriere.
"When I close my eyes and think about school sports, I envisage myself on the hockey pitch, stick in hand, a luminous gumshield locked on to my chops and a bandana across my forehead. (Bandanas were all the rage back then)," the always-fashionable star writes in The Spectator. "I can also hear the booming voice of Mr Markham, our fierce but undeniably fanciable coach, urging us all on."