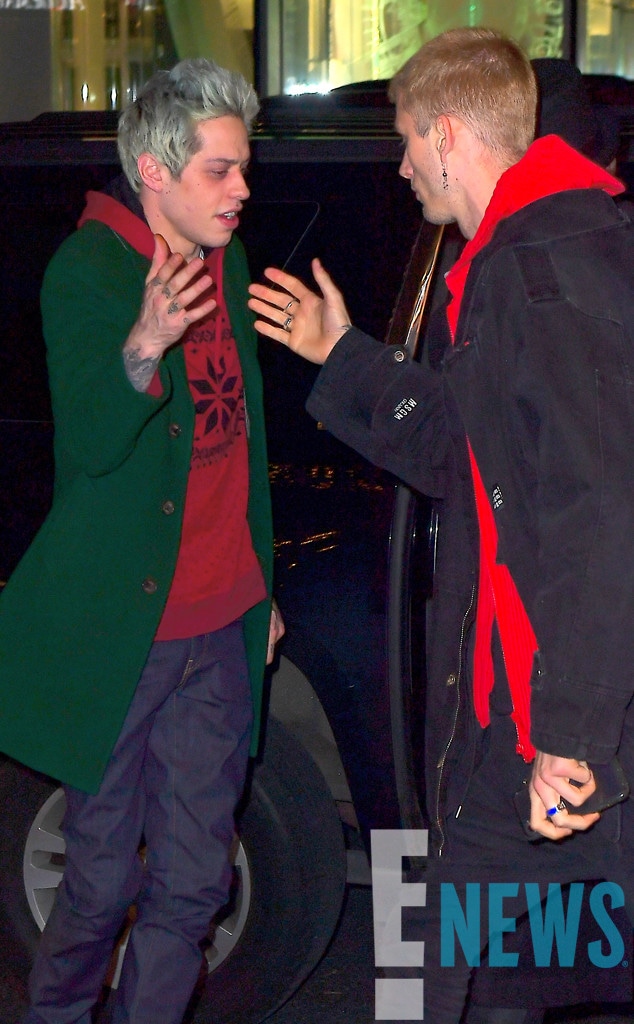 Splash News
Pete Davidson got a prime seat at his friend and co-star Machine Gun Kelly's latest concert, almost a week after the SNL star scared fans with a seemingly suicidal Instagram note.
The 25-year-old comedian and actor was spotted sitting on a platform onstage at the rapper's show at the Wolstein Center at Cleveland State University on Saturday night. Several fans posted pics and videos of him on social media. 
Nodding to the music and waving his arms, Davidson wore a black hoodie appeared to be sporting dark hair, after showcasing a pastel blue look for more than a month following his October breakup from now-ex-fiancée Ariana Grande. The comic, whose hair is naturally brown, had dyed his hair bleached blond in July, a couple of months after they began their relationship and just before he and Kelly started filming the movie Big Time Adolescence in central New York.
User @Xononame1, who captured video of Davidson, told E! News the comic was "chilling and rocking out" to Rap Devil, adding that he remained on the platform for a few songs before leaving.
"One of the most beautiful things last night was seeing @machinegunkelly and @Petedavidson on the same stage together," tweeted user @Abby_ltfu. "They have a beautiful friendship and it made my heart happy!"
"He seemed to be enjoying the show with everyone on stage and it was nice to see him smiling with everyone," she told E! News, regarding Davidson. "He was only on stage for about two songs but it just showed the type of friendship that him and MGK have together. It was honestly a beautiful thing that everyone was in awe of."
User @yuhasz13 tweeted, "Good seeing pete Davidson with a genuine good smile on his face tonight. @machinegunkelly is the friend we all aspire to be #xxmas #idol #realfriend."
Kelly and Davidson had bonded while filming their movie and the comic also starred in the rapper's music video "LOCO," released this summer.
Last Sunday, Kelly jumped on a plane to New York City to see Davidson, who has been open about his mental health struggles, after he posted on Instagram, "I really don't want to be on this earth anymore. I'm doing my best to stay here for you but I actually don't know how much longer I can last. All I've ever tried to do was help people. Just remember I told you so." The comic later deleted his account.
Following a welfare check by police, Davidson made a brief appearance onstage during the live broadcast of SNL, then left NBC's studios and hung out with Kelly and two women.
Davidson avoided another woman, Grande.
She had reached out to him on Twitter following his alarming Instagram post, saying she was unable to reach him by phone because she did not have this number. Grande tried to see Davidson in person at NBC's studios before SNL but he "didn't want to talk to her," a source told E! News.
—Reporting by Beth Sobol