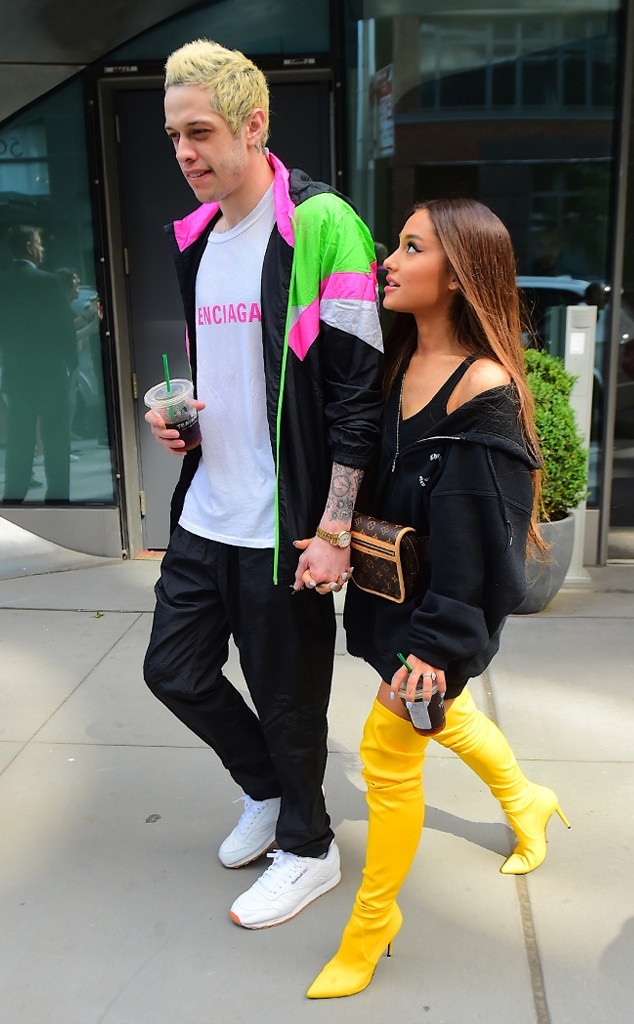 247PAPS.TV / SplashNews.com
Even the most thrilling joyrides end at some point.
And when you're careening along at 100 mph, it's all the likelier that someone is going to be forced to slam on the brakes.
That appears to be what happened with Ariana Grande and Pete Davidson, who have ended their engagement after four very eventful months, not one of which went by without Davidson joking that it was Grande's house of cards, and he was just living in it.
"I'm a very, very lucky guy," the Saturday Night Live star said on The Howard Stern Show barely three weeks ago. "Yeah, I don't know what's going on."
After the by turns sweet and raunchy (instigated more by Howard than Pete) interview, Grande, who had been out in the green room listening, came in and plopped down onto her fiancé's lap for a kiss. However, according to Robin Quivers as they discussed the encounter in hindsight on Monday, the singer didn't look particularly pleased with Stern's line of questioning.
But engagements don't just end because of a little kissing and telling.
A source tells E! News that Grande and Davidson had been having conversations about the future of their relationship and Ariana ended up calling off the engagement at the end of last week. However, she was at SNL on Saturday night and they were packing on the PDA, looking as involved with each other as ever, so that contributed to the shock when TMZ reported Sunday afternoon that they had broken up. 
Our source says that the pair still have high hopes that they can work things out and get back together, but for now they're taking time apart.
"Pete has really been there for Ariana," the source says, "and she will always have a special place in her heart for him, but told him that right now is not the best time."
It's unclear what that means for their living arrangement, which Davidson had also made clear in multiple interviews was a case of his magnanimous fiancée letting him live with her in her $16 million Chelsea apartment. It's also still unclear where his relentless self-deprecation, a part of his comedic persona long before he and Grande got together, started and stopped and where the actual give-and-take of their relationship began.
"I'm still convinced she's blind or hit her head really hard," Davidson cracked in an interview with Variety in August. "Something is going to happen, and she's going to be like, 'What the f--k is this thing doing around?' For right now, it's rocking."
What is clear is that, at the end of the day, Grande—who had canceled her scheduled performance at a cancer benefit on Saturday—wasn't ready to take the next step. We're told that she's been staying elsewhere since the breakup and the fate of the apartment hasn't been decided yet.
Evan Agostini/Invision/AP/REX/Shutterstock
"She has been struggling emotionally and is not in a situation where she should plan a wedding," another source tells E! News. "She had to take a step back and just breathe for a minute. She's been completely overwhelmed and wants to slow down."
It has indeed been a roller-coaster 2017 and 2018 for Grande, with any one of the things that happened seemingly enough to want to send anybody scurrying for cover, let alone someone with a demanding career who's constantly feeling the pressure to maintain a public presence and a certain image for her millions of fans.
And after she had already taken a bit of a break to recharge, everything seemed to be on such a positive trajectory. 
"I have no wish," Grande wrote on a photo of Davidson on her Instagram Story on June 25, the night before her 25th birthday. "I have everything I ever wanted hi."
Grande's fourth studio album, Sweetener (featuring the much talked-about track "Pete Davidson"), debuted at No. 1 on the Billboard 200 in August and she was once again on a roll of appearances (not least of them her lauded performance of "Natural Woman" at Aretha Franklin's funeral in Detroit that got caught up in a web of controversy) and planning for her upcoming Sweetener Tour. 
"It's so crazy. It's been a wild ride," she said on Aug. 25 at the L.A. edition of her Sweetener Sessions. "I don't know what the f--k I did to get so lucky." Davidson echoed that sentiment when he told Howard Stern, "I'm just f--king lucky and I hope I don't wake up."
But on Sept. 7, Grande's ex-boyfriend Mac Miller was found dead of an apparent overdose. They had dated for almost two years before breaking up in May. Days later he was in a DUI crash and a depressing number of people unloaded on Grande on social media, as if she didn't have every right in the world to extricate herself from what she called a "toxic relationship." Some trolls weren't particularly forgiving after he died, either.
Grande is "truly hurting from the death of Mac and feels very overwhelmed with her life right now," the first source tells E! News. "Ariana hasn't given herself enough time for the grieving and healing process, and feels like her emotions are out of control."
She's "truly devastated," the source adds. "She's been battling her feelings and knows that she needs to take time for herself right now."
Subsequently, she's been spending a lot of time in the studio—her "happy place"—working on new music, which provides a distraction, the insider tells us. "She wants to pour her heart and soul into her music, and being in the studio really helps her deal with her emotions."
Nicholas Hunt/Getty Images for MTV
Again, the second source tells E! News, Davidson has been "supportive and understanding" while Grande's been going through this tough time.
"Neither of them know what's going to happen in the future. She just felt she had to slow it down."
And until this weekend, they had been on the fast track.
Davidson opened up to Stern about how he and Grande finally got together, a couple of years after first meeting when she hosted SNL. He thought he had acted like a complete goober when Grande sat in on a writers meeting one day. Instead, as Grande recalled on The Tonight Show in August, she had quipped to her tour manager about Pete after that meeting that she was "'marrying him, 100 percent."
Fast-forward to 2018, and Grande's manager Scooter Braun was visiting a down-in-the-dumps Davidson at SNL when he mentioned that Grande was interested.
"I thought he was just full of s--t," Davidson recalled to Stern.
But no, the two hit it off over game night at her place, and when most of the guests had left, Davidson stayed.
"I'm so stupid and unaware of how chemistry and all that stuff works, I was literally, 'Hi, can I kiss you, please?'" he said.
Grande confirmed on Nicki Minaj's Queen Radio last month that Davidson did indeed ask permission—and it was "really sweet." Davidson called a jeweler to order up an engagement ring a couple of weeks later.
When word first got out that they were dating, the couple were faced with skepticism from every corner: it was too soon for both of them, he was too fragile, she was too fragile... There were no good reasons for them to be together, according to the collective force known as The Internet.
"People don't realize what a great sense of humor she has. It makes them a good match," a source explained back in May. "They're having a good time."
Internet trolls were heaping their 2 cents on the situation, though, questioning whether it was possible for someone with borderline personality disorder (Davidson has been touchingly honest about his battles with depression, living with Chrohn's disease and getting diagnosed with BPD last year) to have a successful relationship.
"Normally I wouldn't comment on something like this cause like f--k you," Davidson wrote on Instagram in May. "But I've been hearing a lot of 'people with BDP can't be in relationships' talk. I just wanna let you know that's not true. Just because someone has a mental illness does not mean they can't be happy and in a relationship. It also doesn't mean that person makes the relationship toxic." 
He eventually ended up scrubbing his Instagram page in July and is off social media for now.
The exponential increase in attention that came with just even dating Grande was admittedly strange for Davidson, who would generally try to ignore his new paparazzi escort but always at least felt like giving them a hard time. A brief return to Instagram last month involved a video in which he's telling some paps angling for a picture that they're looking great. His caption: "@nbcsnl back next week. f--k the internet tho.." 
He poked fun at all the hype throughout the season premiere of SNL on Sept. 29, quipping during "Weekend Update," "I got engaged and no one could believe it. I can't believe it and I get it. She's number one pop star in the world and I'm that guy from SNL everyone thinks is in desperate need of more blood."
When they got engaged in June, a source told People, "They're just two people who found love quickly and make each other happy all the time."
But no one can actually make each other happy all the time. That's not their fault, that's just the way it is.