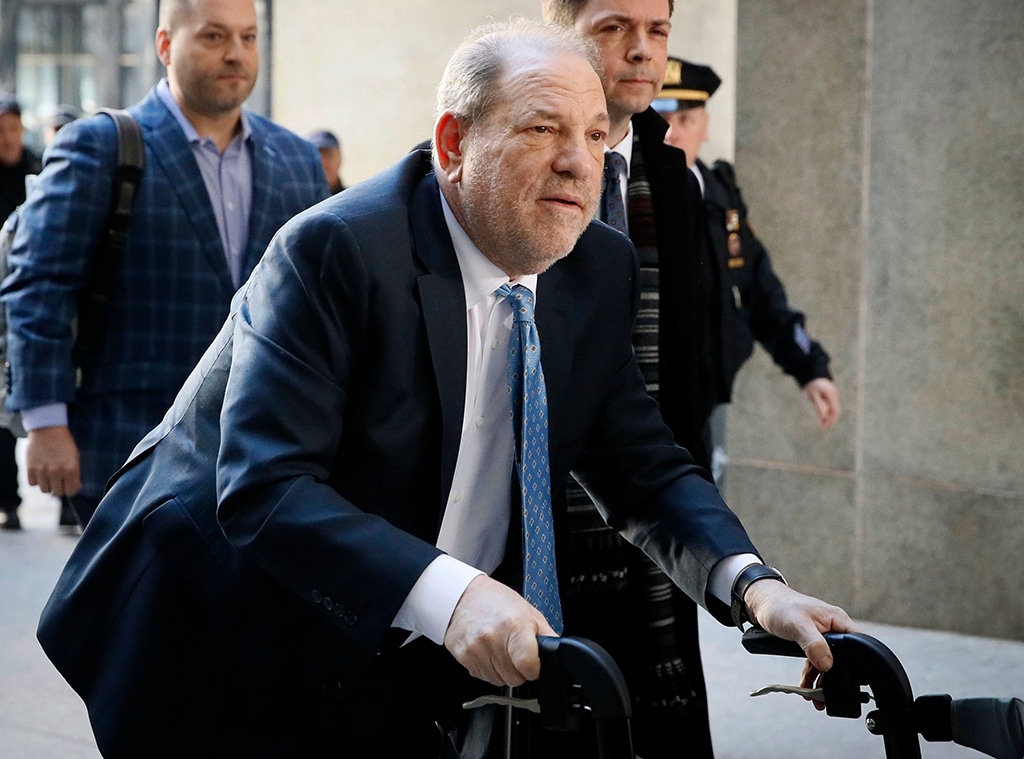 John Minchillo/AP/Shutterstock
A verdict has been reached in the yearslong case against Harvey Weinstein. 
On Monday, a jury of seven men and five women came to a verdict in the 2-year trial, five days since deliberations began on Tuesday. The disgraced Hollywood producer, who has been the subject of dozens of various public sexual misconduct allegations since The New York Times and The New Yorker published sequential reports in 2017, was found guilty on two counts, rape in the third degree and criminal sexual act in the first degree. He was found not guilty on two counts of predatory sexual assault and one count of rape in the first degree. 
Weinstein, who has continuously denied all allegations of non-consensual sex, was handcuffed and taken out of the courtroom after a request from his attorney for him to remain on his current bail package was denied. He will be sentenced on March 11. According to District Attorney Cyrus Vance Jr., the 67-year-old faces no less than five years and up to 25 years in prison for criminal sexual act in the first degree.
"It's a new day because Harvey Weinstein has finally been held accountable for crimes he committed," Vance said while speaking before the press. "The women who came forward courageously and at great risk made that happen."
"This trial—and the jury's decision today—marks a new era of justice, not just for the Silence Breakers, who spoke out at great personal risk, but for all survivors of harassment, abuse, and assault at work," Tina Tchen, president and CEO of the TIME'S UP Foundation, said in a statement. "We owe a debt of gratitude to Mimi Haley, Jessica Mann, Annabella Sciorra, Dawn Dunning, Tarale Wulff, and Lauren Young and all the Silence Breakers for their bravery and resolve as they faced this man in court. We continue to believe them—all of them—and continue to be in solidarity with them."
FOR MORE BREAKING NEWS COVERAGE TEXT "ENEWS" TO 44144 TO DOWNLOAD THE E! NEWS APP
"The jury's verdict sends a powerful message to the world of just how much progress has been made since the Weinstein Silence Breakers ignited an unstoppable movement. In two short years, TIME'S UP helped pass new laws to help survivors achieve justice, helped thousands of individuals take on harassers and abusers in court, and changed the game when it comes to how matters of safety and equity in the workplace are understood," her statement continued. "While we celebrate this historic moment, our fight to fix the broken system that has allowed serial abusers like Harvey Weinstein to abuse women in the first place continues. Abusers everywhere and the powerful forces that protect them should be on notice: There's no going back."
Prosecutors rested their case on Feb. 6, after the court heard testimony from six women, two of which Weinstein is alleged to have sexually assaulted and for which he was facing the charges. The remaining four women were asked to testify to prove Weinstein acted in a "pattern of sexual predation." 
The defense, on the other hand, tried to discredit his accusers, claiming they were willing participants in the sexual acts. One defense witness even claimed accuser Jessica Mann "spoke highly" of Weinstein.
Weinstein's team rested its case without the 67-year-old taking the stand to testify. In doing so, the prosecution was not given the opportunity to cross-examine him. 
"Weinstein may be able to avoid testifying in the criminal trial, but he will not be afforded that right in his civil trials," attorney Douglas H. Wigdor, who represents several of the alleged victims, said in a statement. "I relish the day when I get to cross-examine him and ask him to answer for the wrongs he has committed against so many women."
Weinstein's legal battle began in May 2018 when he was arrested and charged in New York City and, days later, indicted by a grand jury. In June 2018, Weinstein pleaded not guilty to three of the charges and pleaded not guilty to additional charges the following month. 
Anabella Sciorra later said in a statement, "My testimony was painful but necessary. I spoke for my self and with the strength of eighty-plus victims of Harvey Weinstein in my heart. While we hope for continued righteous outcomes that bring absolute justice, we can never regret breaking the silence. For in speaking truth to power we pave the way for a more just culture, free of the scourge of violence against women."
Seth Wenig/AP/Shutterstock
Legal expert Lance Fletcher tells E! News Weinstein will serve at least 5-years in federal prison since the "most serious" charge he was found guilty of was of committing a criminal sex act in the 1st degree. He explains that's a B Violent Felony which carries a maximum of 25-years and a minimum of 5-years. "Given that he's 67 its about as bad as it gets. Its actually the same sentence that the Rape 1 would have had, so while it looks like he dodged a bullet he really didn't," Fletcher states.
Fletcher adds the lesser charge will be "lower than five years", but the "judge could give him consecutive sentences in New York on all of the counts, but he probably won't." Based on all the charges, Fletcher says Harvey could potentially be sentenced to up to 29-years. However, the legal expert warns, "This is unheard of."
In addition to a lengthy prison sentence, he will have to register as a sex offender. 
With this case now closed, Weinstein is facing four sexual assault charges in Los Angeles. He is accused of allegedly raping an unidentified woman in her hotel room and allegedly sexually assaulting a different woman in a Beverly Hills hotel suite the following evening. Both acts allegedly took place in February 2013.