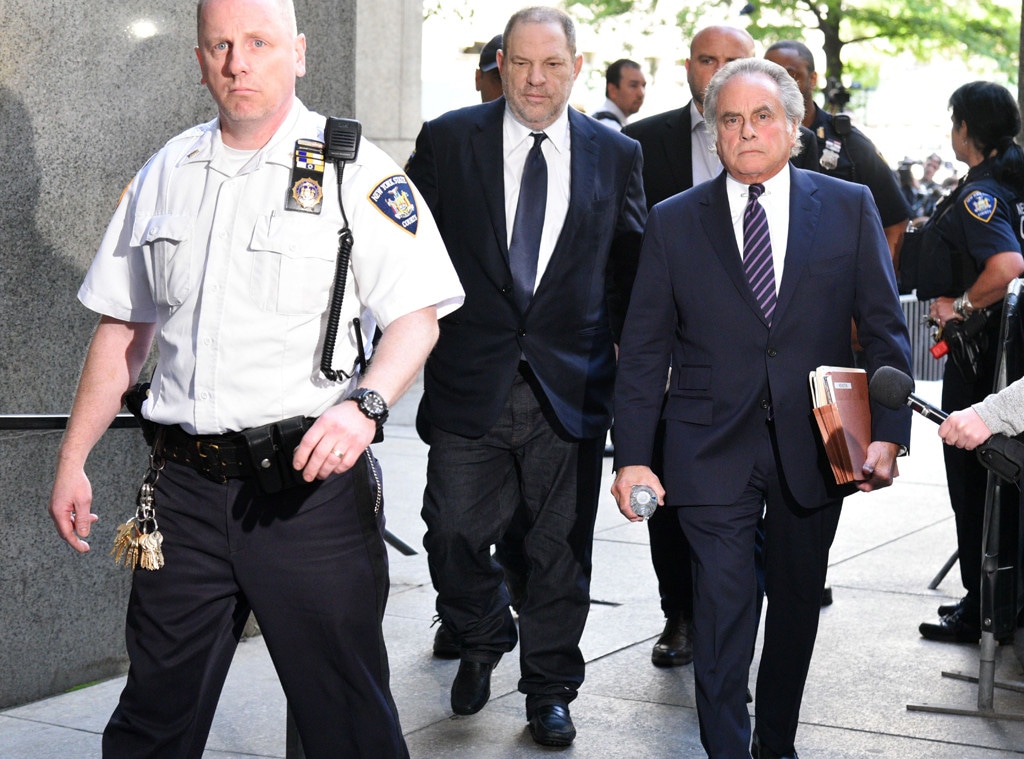 Erik Pendzich/REX/Shutterstock
Harvey Weinstein has spoken. 
The Hollywood producer accused of a range of sexual misconduct pleaded not guilty to charges of rape in the first and third degrees and criminal sexual act in the first degree during an arraignment in a New York City courthouse before Judge James Burke on Tuesday. 
Weinstein, who has been the subject of ongoing allegations since The New York Times and The New Yorker published sequential exposés last fall, did not respond to shouted questions from the press as he arrived to court alongside his lawyer Ben Brafman and escorted by police officers. The movie mogul sported a suit jacket, tie and loose-fitting jeans as he walked inside among a sea of onlookers holding up cell phones and documenting the moment. 
Several sources familiar with the investigation previously told NBC News the rape charges stem from a complaint made by an anonymous woman. According to the District Attorney's office, the alleged incident took place in 2013 while the criminal sexual act is dated to 2004 .
Lucia Evans previously told The New Yorker's Ronan Farrow that Weinstein had assaulted her in his Miramax office in Tribeca in 2004. "He forced me to perform oral sex on him," she told Farrow last year. "I said, over and over, 'I don't want to do this, stop, don't,'...I tried to get away, but maybe I didn't try hard enough. I didn't want to kick him or fight him...He's a big guy. He overpowered me."
However, neither women have been formally identified in the case as of yet. 
Last week, Brafman spoke out about the rape accuser in this case. "This is an extraordinary case in my judgment, where the only rape victim that Mr. Weinstein is accused of raping is someone who he has had a 10-year consensual sexual relationship with," he told reporters via the New York Times. "There is a confluence of concerns that make me concerned that it's going to be difficult for people who are judging this case to keep an open mind and be fair."
In court on Tuesday, Weinstein confirmed he understands that if he fails to appear in court, the hearings and trial will go on without him and, if he voluntarily agrees not to show up, he won't be able to testify on his own behalf. If he is convicted, he will be sentenced despite his absence. Brafman assured that won't be an issue as his client intends to vigorously defend himself in this case. 
Weinstein also agreed to waive any potential conflict in light of recent allegations from accuser Melissa Thompson against Brafman. Thompson alleged in a lawsuit that Brafman's former associate from his firm, Alex Spiro, communicated with her about preparing a case against Weinstein and she allegedly shared video and audio evidence while the firm was representing Weinstein. She claimed Spiro used "deceptive tactics" to get the evidence.
Brafman said Spiro left the firm before he took Weinstein as a client and that there was nothing disclosed from Spiro to him or vice versa.  Brafman said he never discouraged and never would discourage anyone who contacted him from contacting the District Attorney's office and said he never met or spoke with Thompson. 
Brafman insisted that the case be tried in the courtroom and not the press after Thompson's recent visit to the District Attorney's office was publicized in the press. The attorney also said he believes there are leaks within law enforcement, a claim the prosecution called presumptuous. 
Brafman also said he will never use the term "casting couch" again after he used it in a previous press conference. While prosecutor Joan Illuzzi told the judge that use of the phrase was making light of the serious nature of the charges, Brafman said he was trying to explain the difference between inappropriate behavior and illegal behavior.
Before the arraignment concluded, Brafman asked for at least 45 days until the next hearing to allow for the amount of preparation required and people's summer holidays.The next court hearing was set for July 15 and another for August 27. Weinstein is required to attend one on September 20.
It was just over a week ago that Weinstein emerged at the New York Police Department's 1st Precinct on May 25, where he surrendered, was arrested, fingerprinted and photographed. He later attended a hearing handcuffed, during which he turned in his passport, agreed to wear a monitoring device and acknowledged he needs consent to travel outside of Connecticut and New York. Weinstein paid bail with a $1 million cashier's check and subsequently left through an employee door at the back of the courthouse. 
The following Wednesday, Weinstein was formally indicted by a grand jury. "This indictment brings the defendant another step closer to accountability for the crimes of violence with which he is now charged," Manhattan District Attorney Cyrus R. Vance, Jr. said in a statement. "Our office will try this case not in the press, but in the courtroom where it belongs. The defendant's recent assault on the integrity of the survivors and the legal process is predictable. We are confident that when the jury hears the evidence, it will reject these attacks out of hand."
In response, Brafman released a statement on behalf of his client, in which he expressed the producer's intention to plead not guilty. 
"The announcement of Mr. Weinstein's Indictment, does not come as a surprise," the statement began. "Indeed, it was predicted by me this morning in an earlier statement we issued. We also note of course that the Indictment merely mirrors the same charges in the criminal court complaint and does not add anything to the case we did not already know."
"We asked the District Attorney for more time so that Mr Weinstein's attorneys could gather the material needed to properly prepare him for his grand jury testimony but that request was denied," the statement continued. "We remind everyone that an Indictment is merely a formal accusation. Mr Weinstein intends to enter a plea of Not Guilty and vigorously defend against these unsupported allegations that he strongly denies. We will soon formally move to dismiss the indictment and if this case actually proceeds to trial, we expect Mr. Weinstein to be acquitted."
While this is the first criminal case to be brought against Weinstein after more than 80 women have come forward with a range of sexual misconduct allegations against him in the past year, a class action lawsuit was also recently filed against the producer, including three women who accused him of sexual assault and harassment. 
Weinstein has denied all allegations of nonconsensual sex. 
—Reporting by Beth Sobol