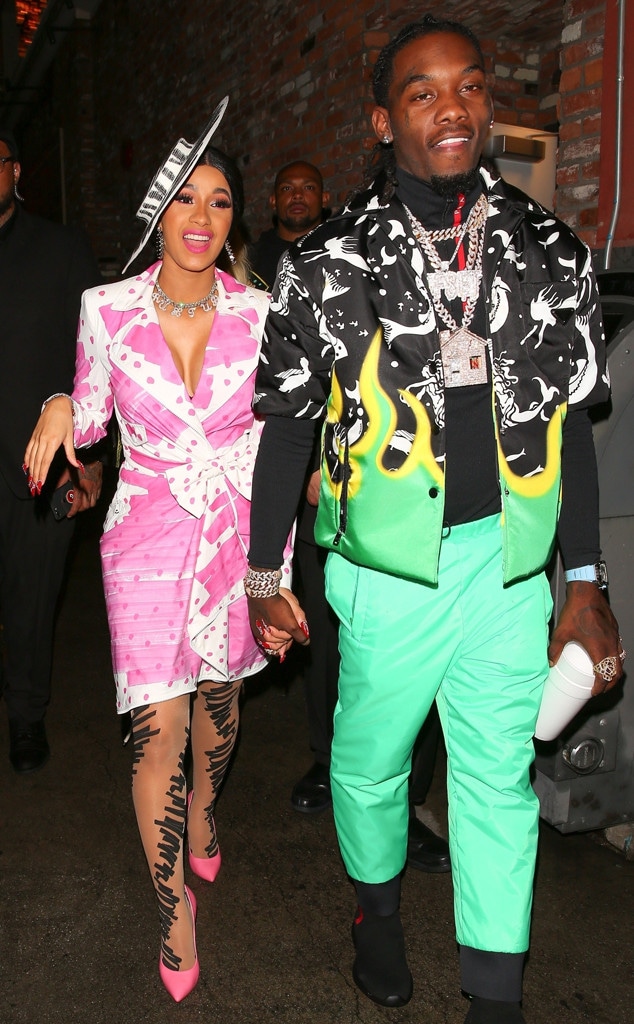 Maciel-Twist / BACKGRID
Offset is trying to right his wrongs. 
The Migos rapper revealed his "one birthday wish" in a lengthy video posted to his Instagram on Friday evening. His hope, he expressed, is to win Cardi B back and move on from the cheating scandal that caused them to split earlier this month. 
Addressing Cardi directly, Offset shared, "We're going through a lot of things right now, a lot of things in the media. I want to apologize to you Cardi. I embarrassed you. I made you go crazy."
The rapper attempted to hold back tears as he confessed to his infidelity, adding, "I was partaking in activity that I shouldn't have been partaking in, and I apologize. You know what I'm saying? For breaking your heart, for breaking our promise, for breaking God's promise and being a selfish, messed up husband."
He continued, "I'm trying to be a better person. I want to get this off my shoulders. I want to get this off my back. I apologize to you Cardi. I love you."
Offset then mentioned the couple's 5-month-old baby girl, saying, "Kulture, I want to spend Christmas with you."
"I want to be able to spend the rest of my life with you," he then said. "I apologize. I am sorry for what I have done to you. I didn't f--k that girl, but I was entertaining her, you know what I'm saying? I apologize, and I love you, and I hope you forgive me. My birthday wish is just to have you back."
As it stands, Cardi has yet to address her ex's latest public plea. 
Drama between the hip-hop stars made headlines when an alleged video of Offset and a woman by the name of Summer Bunni surfaced online. Cardi took to Instagram in the late hours of Dec. 4 to announce their sudden split, saying at the time that she and Offset "grew out of love" but we're focused on co-parenting their daughter. 
As recently as this week, a source told E! News the "I Like It" was "very torn" over the possibility of getting back together with Offset. 
"She has her up and down moments where she thinks there could be a chance they can salvage their relationship," explained the insider, "but then Cardi is also very upset over the cheating situation... She doesn't want to have to co-parent Kulture, but isn't quite sure if they can make their relationship work."
Only time will tell what the future holds for this on-again, off-again pair.