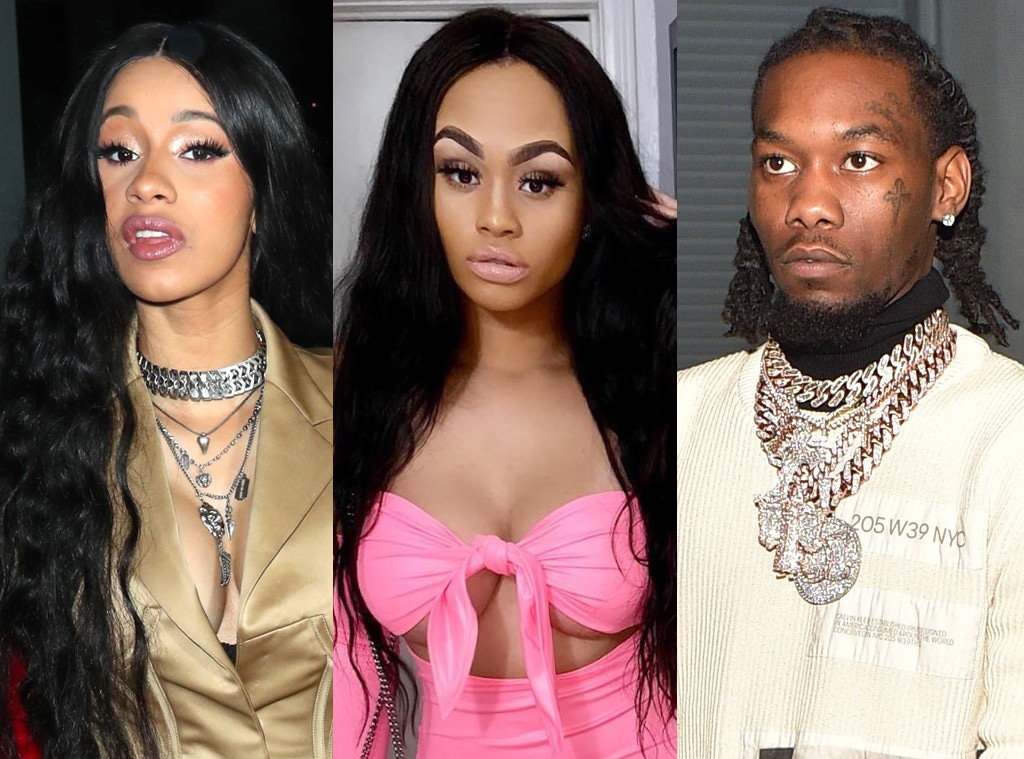 Shutterstock, Instagram, Getty Images
The woman accused of coming between Cardi B and Offset's relationship has spoken out.
The woman, who goes by the name Summer Bunni, wrote a note on Instagram and apologized for her actions. "Goodmorning, a quick letter to the fans, followers and social media outlets. During the last 48 hours, I haven't enjoyed the social media frenzy," she typed out. "Not only is it draining but humbling. I will always be woman enough to admit when I'm wrong, and in this situation I was. Seeing another woman's pain does not bring me joy, nor do I think it's funny. I've always been for women supporting each other but in this situation not only myself but others have failed."
Summer added, "I separated myself from certain situations and people for a reason. This is not a letter for sympathy but acknowledgement to everyone whom has questions. Going into 2019 focused and dedicated to becoming a better me. Thank y'all- Summer."
She added notes to her Instagram story that gave a glimpse at the scrutiny she was under. "Praying for peace, and happiness," she wrote in one update. "I really need it right now."
Another note said, "Mentally not ready for this."
The Instagram account The Shade Room posted a video allegedly of Summer and Offset on FaceTime together, which is why she broke her social media silence. 
Cardi B announced in an Instagram video Tuesday night that she and the Migos rapper were splitting up after one year of marriage. They have an almost five-month-old daughter together, Kulture Kiari Cephus, who was born in July.
The "Bodak Yellow" rapper acknowledged her marital troubles in her video and explained the situation. "So everybody been bugging me and everything and you know, I've been trying to work things out with my baby father for a hot minute now and we're really good friends and you know we're really good business partners," she said.
Cardi continued, "He's always somebody that I run to to talk to and we got a lot of love for each other but things just haven't been working out between us for a long time and it's nobody's fault. I guess we grew out of love, but we're not together anymore. I don't know. It might take time to get a divorce and I'm gonna always have a lot of love for him because he is my daughter's father."
Just before revealing her breakup with Offset, Cardi was seen shooting a music video in Miami and not wearing her 8-carat engagement ring. Instead, she was dressed like her rival Nicki Minaj, which could be a clap back at Minaj's recent music video casting of her own that is sure to keep the flames of their feud lit.
Cardi and Offset have dealt with cheating rumors throughout their relationship. A sex tape involving Offset evidently leaked after an iCloud hack in December. Cardi wrote at the time in now-deleted tweets, "I'm going to make a decision in my own times with my heart and mind. I don't need to be rushed or be told what to do. Its my life! I belong to me not to the world."
Time after time the "I Like It" rapper pledged her loyalty to Offset. She did, however, allude to cheating in her rap "Be Careful" and sent a very strong message with those same words. She raps, "Poured out my whole heart to a piece of s--t / Man, I thought you would've learned your lesson / 'Bout liking pictures, not returnin' texts / I guess it's fine, man, I get the message."
In "Be Careful" she continues, "You keep in contact with certain exes / Do you, though / Trust me, n---a, it's cool, though / Said that you was workin', but you're out here chasin' culo / And putas, chillin' poolside, livin' two lives / I could've did what you did to me to you a few times."
In February, she discussed her husband's cheating in an interview with Cosmopolitan. "It's like everybody is coming down my neck like, 'Why are you not leaving him? You have low self-esteem.' I don't have low self-esteem," she told the magazine. "I know I look good. I know I'm rich, I know I'm talented. I know I could get any man I want—any basketball player, football player. But, I want to work out my sh-t with my man, and I don't got to explain why."
She added, "It's not right, what he f--king did—but people don't know what I did, 'cause I ain't no angel."
Cardi offered similar words to W magazine in October. "Every single day there's rumors about me and my dude. And it almost drives me crazy, because I start to believe them. I don't have no proof. I don't have receipts," she explained. "But I just got to know my man. We practically on the phone 24 hours a day. If I can't find him, I'm going to find his friend. Somebody going to answer the phone."