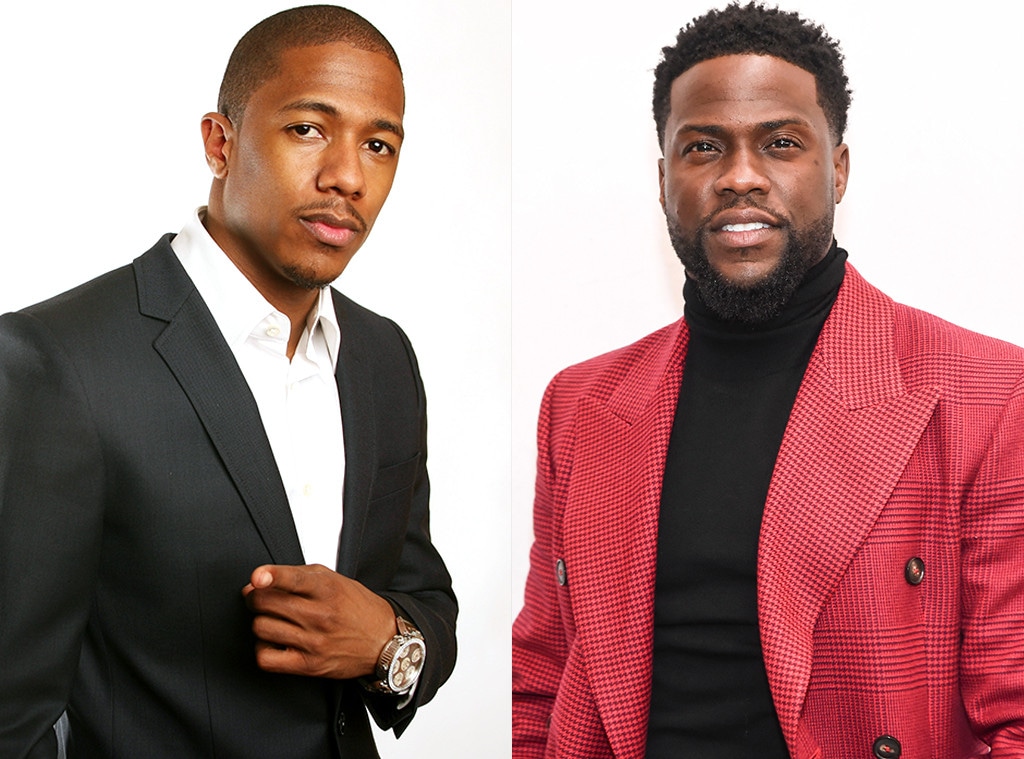 Getty Images
Nick Cannon is sticking by Kevin Hart. 
The former Nickelodeon star appeared on Wednesday's episode of The Wendy Williams Show and defended his friend. 
Last week, Hart stepped down from hosting the 2019 Oscars after fans called him out for attempting to discretely delete past homophobic tweets. Less than 24 hours later, Cannon called out Amy Schumer, Sarah Silverman and Chelsea Handler for also posting homophobic comments on social media in the past.
"Honestly, I know how much it meant to him, and I had to stand up for my best friend and just to show the selective outrage and hypocrisy that's out there," Cannon said.
The former America's Got Talent host claimed Hart "learned from his mistakes" and has apologized for them. Hart also claimed he'd addressed the tweets "several times " in the past and refused to do so again after the Academy allegedly threatened to revoke his hosting duties unless he said he was sorry.
Cannon then said the moment should have served as a learning opportunity.
"In moments like this, as a community, we can all grow—because there's a lot of pain in a lot of communities—and it's really focused on not about who's right but about what's right," he said. "If we can focus on the understanding and growing through this pain, that's what it's all about. So, I commend Kevin."
As for the comediennes he called out on Twitter, Cannon said he "truly respect[s] them and their craft;" however, he claimed there was a "double-standard." He also said the industry should hold the Academy accountable for their past wrongdoings.
"If the Academy wants to step up and say, 'You are going to be held accountable for your past,' they should be held accountable for their past," he argued. "They treated us wrong for so long. Hattie McDaniel had to sit in the back corner at the Oscars the night she won an Oscar for Gone With the Wind. It had to be segregated. We didn't get an apology for that."
Cannon also said he's been an advocate of the LGBTQ community for "quite some time." When Wendy Williams asked him if he'd ever host the award show, Cannon replied, "They're going to find something that I said that's crazy because I'm so outspoken."
In addition to talking about Hart, he talked about his relationship with Pete Davidson. Cannon claimed he discovered the Saturday Night Live star when he was 15 years old and even let him open for him. He also said Davidson talked to him before he proposed to Ariana Grande. 
"I said, 'Rumble young man rumble,'" he said.
However, like Cannon's relationship with Mariah Carey, the two eventually split. 
"He called me and was like, 'I'm walking in your footsteps for real.' I was like, 'Slow down, Paco. It can get a little crazy,'" Cannon recalled. "But he's dealing with it in, I would say, such a poised way. I commend him. He's a great comedian, a great talent and he's going to go on and be a big star and his relationships are going to be a small footnote in his career."
He also briefly mentioned his tiff with Kanye West that started after Cannon made a comment about Kim Kardashian's butt. However, he said she's an "upstanding, beautiful, amazing" person and didn't want to say anything disrespectful about the family.
Watch the video to see Cannon's interview.