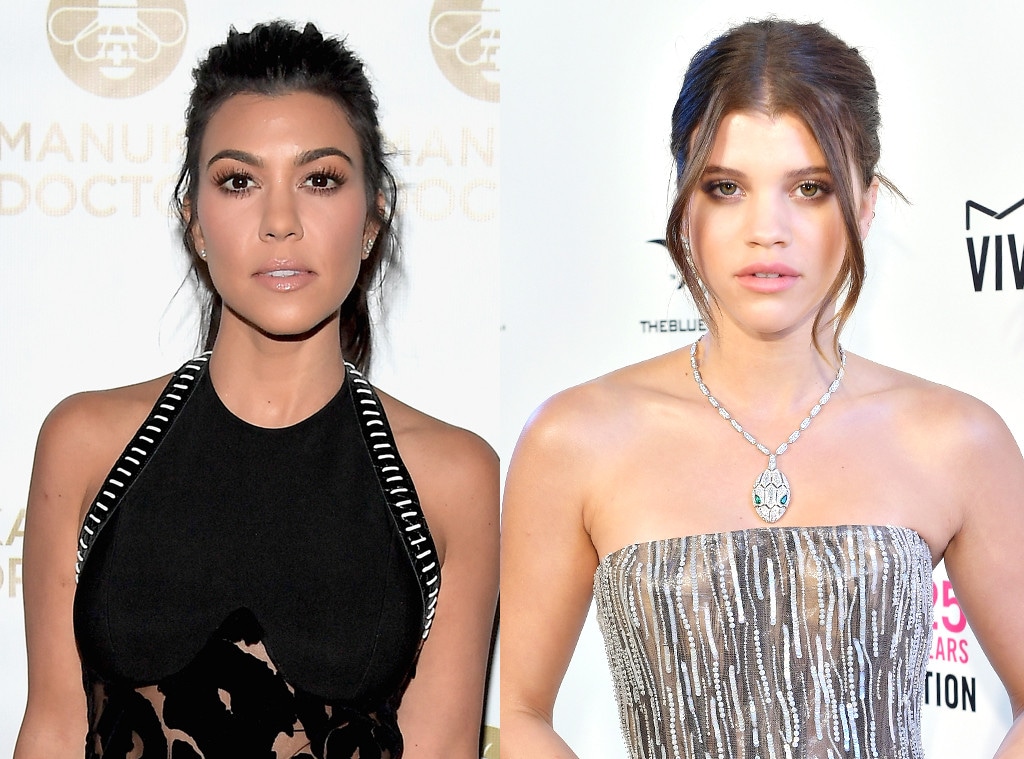 Getty Images
Kourtney Kardashian is keeping it cordial.
As the Keeping Up With the Kardashians star continues to co-parent with Scott Disick, there's one lady that has entered the picture and isn't going away. Yes, we're talking about Sofia Richie.
While the model has been dating Scott for more than a year, we haven't exactly seen Kourtney hanging out with Sofia on the regular.
Sure, there was a dinner at Nobu in Malibu last month. They also found themselves checking out the ArtLife Gallery's Street Dreams exhibition at the same time later in the month.
But for those wondering just how close—or apart—these two are, E! News may have some answers.
"Kourtney has accepted the dynamic of Sofia being Scott's serious girlfriend, but isn't interested in having a close relationship with her. Kourtney is only interested in co-parenting with Scott and their dynamic with the kids," a source shared with E! News. "Kourtney likes to do activities with the kids with Scott only and doesn't usually love to have Sofia around. She is fine now with Sofia being with the kids when she is with Scott, but doesn't feel they need to all do group things together."
Over the weekend, Kourtney and Scott got into the holiday spirit by visiting Universal Studios Hollywood.
The reality star also recently posted a photo with Penelope Disick and her father when they were hanging out at home.
"Scott and Kourtney have a great relationship right now and have been spending a huge amount of time together with the kids recently. Kourtney is aware that it's definitely been bothersome to Sofia, but she does not care," our source continued. "Scott and Kourtney are really getting along and there hasn't been an issue between the two in a long time."
Watch:
Kourtney Kardashian Gets Mistaken For Sofia Richie in Khloe's Pic
While Sofia and Scott's romantic relationship remains strong, another insider says it "definitely bothers" the model when she sees her man spending so much time with Kourtney.
"It's tough for her dealing with the fact that Scott has to interact with Kourtney often," a separate source shared. "Sofia and Scott's relationship is solid right now and they do spend a lot of time together, but Sofia does get insecure at times and Scott has to reassure her."
One thing working to Sofia's benefit is her blossoming relationship with Penelope, Reign and Mason Disick. 
With the help of time, Kourtney has realized that it's okay for her kids to hang out with Scott's leading lady.
"Sofia has a really nice relationship with Scott's kids and she has gotten to know them well. Kourtney has warmed up to Sofia a little bit more than in the beginning and they are all trying to make it work," another source shared. "It's definitely challenging for Sofia. Kourtney has a lot of rules and expectations she wants followed."
The insider added, "She's always felt that Kourtney is Scott's one true love. Being around her is not Sofia's favorite thing. But she loves Scott and wants to be with him so she knows this is part of the deal."
While the family's Christmas plans aren't being revealed just yet, it's hard to ignore the fact that Kourtney and Scott celebrated Thanksgiving together at a house in Palm Springs, Calif.
As for Kris Jenner's infamous Christmas Eve party—that will now be held at Kim Kardashian and Kanye West's house—fans are wondering if Sofia will receive an invite.
Keep up and stay tuned!