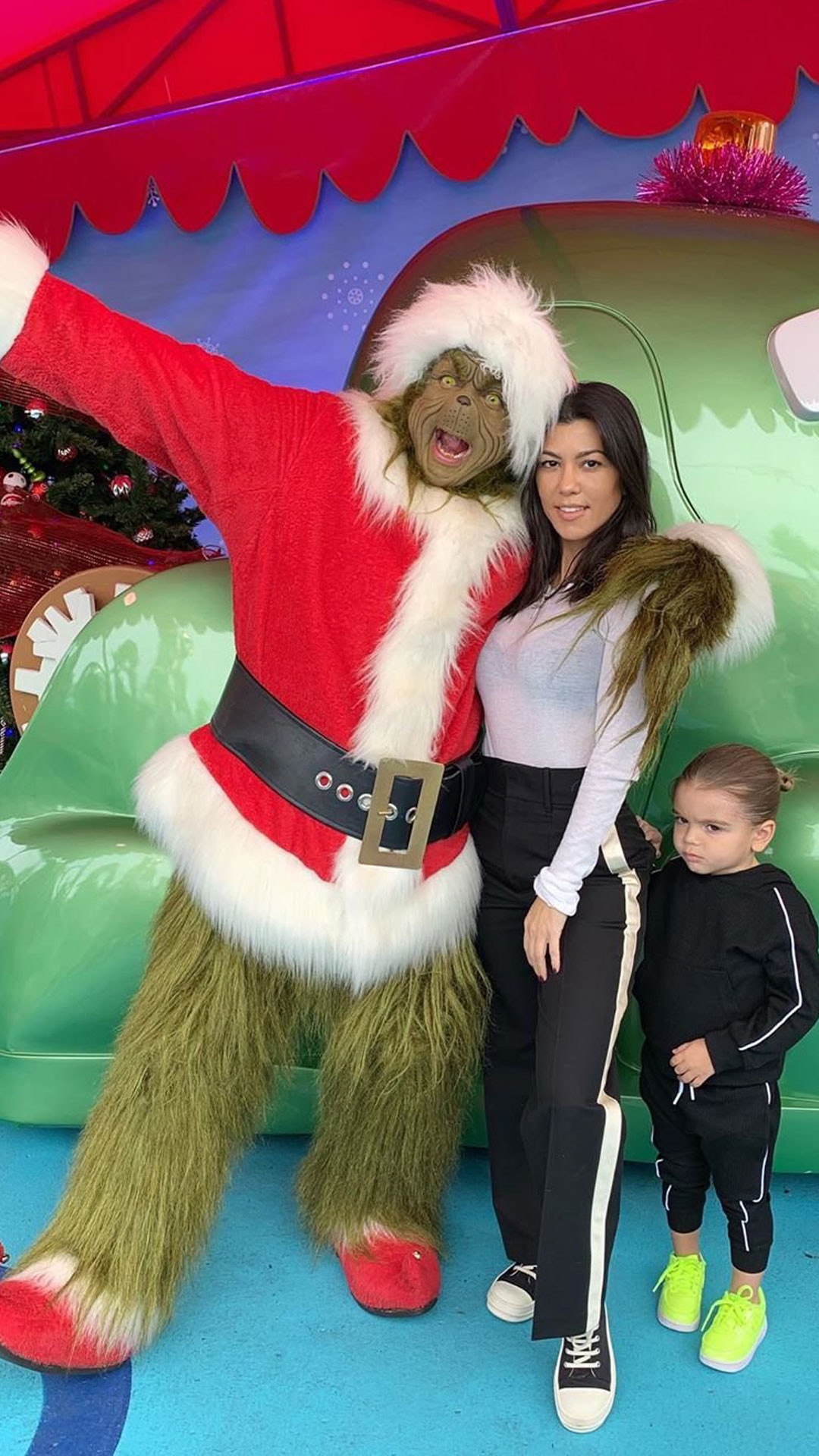 Instagram
Sometimes the youngest kids ask the most profound questions.
On Sunday, Kourtney Kardashian shared photos from her day at Universal Studios with her kids and her nieces and nephews, where they enjoyed a day at the park and met some pretty influential movie characters. One picture showed Kourtney with her son Reign Disick posing next to The Grinch.
The Keeping Up With the Kardashians star revealed in her caption that her son wisely asked Mr. Grinch, "Why did you steal Christmas?"
That's the million dollar question!
For someone who likes to burgle Christmas, The Grinch seemed pretty happy to be there. Reign, on the other hand, was the exact opposite. He appeared less than amused and seemed like he want to bolt as soon as possible.
The almost 4-year-old matched his mom clothing-wise in black and white pants, although Reign stood out with his neon yellow shoes.
Other pictures from the adventure to Universal Studios depicted Reign and Saint West (who just had a joint birthday party together that was out of this world) striking a pose on one of the Christmas sets. A third photo showed the kiddos with Penelope Disick (who just had her own "date day" with her dad, Scott Disick), North West and others looking more than ready to say, "1-2-3 cheese."
Mason Disick went all in on his pose as he dabbed on the side.
Lest we forget the Christmas card calamity of 2017 when Kim and Kourtney got into a full-fledged fight that was spicier than some spiced eggnog? Kim yelled at her sister at the time, "No one wants you in the f--king shoot. I'm planning it. I'm planning the shoot, so we don't want you in the shoot."
Kim added, "She's the least exciting to look at, so she can be out. She doesn't do s--t. She doesn't know what it's like to actually have f--king work to do."
Perhaps that foreshadowed enough?
The KKW Beauty owner informed E! News on Tuesday why the tradition has ended. Kim admitted their fight was "so dramatic" and it "really did just f--k us over."
But there's more. The real reasoning for canceling the card wasn't solely in the hands of the daughter. Instead, we must look to the KarJenner matriarch. Kim revealed, "Kris Jenner has given up. She just is like, 'I don't have the energy to wrangle all my kids anymore, and their kids.'"
Not all holiday traditions are over. Kim told E! News that she and her husband Kanye West will be hosting their own Christmas Eve fête as they take the reins from Kris.
At least their yearly ritual wasn't stolen by The Grinch.