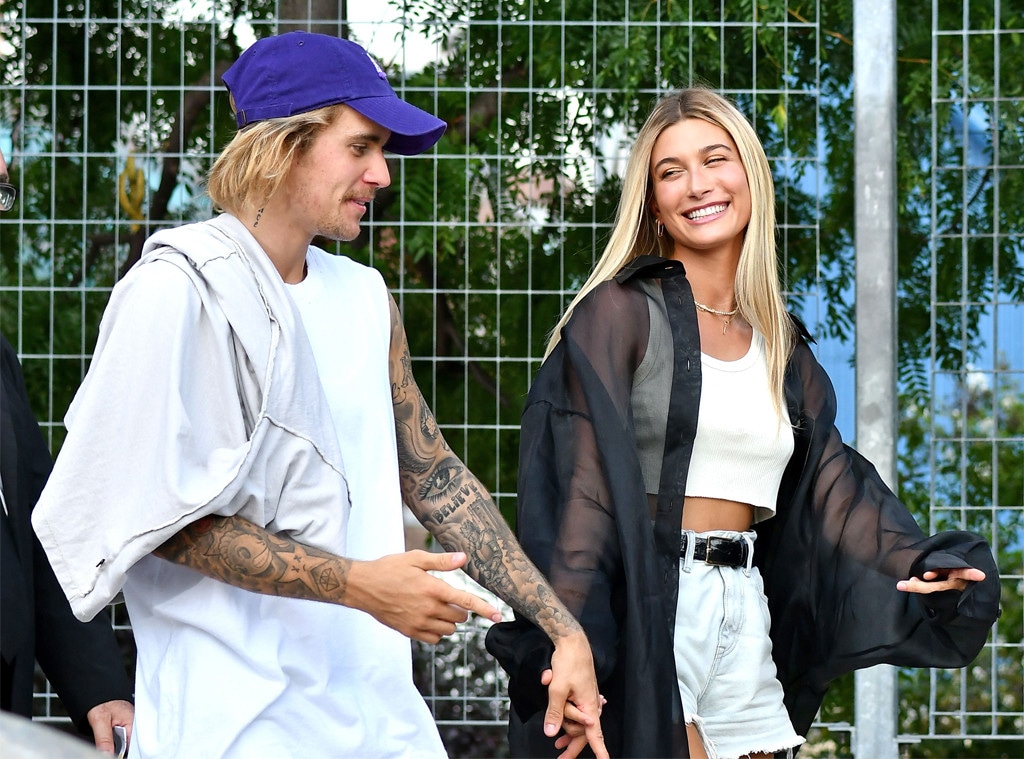 Rodin Banica/WWD/REX/Shutterstock
Not even Hailey Baldwin is immune from feeling the effects of social media negativity.
On Saturday, the model penned a few notes on her Instagram story that discussed the "immediate anxiety" she feels when she opens the social media platform. "Being off Instagram is the best thing ever," she wrote. "Whenever I take breaks from it I feel so much better so much happy [sic] as a person.. the second I come back on I get immediate anxiety, I get sad and I get worked up."
In another slide, she named some of the benefits of Instagram, including the ability to "stay in touch and interact with others," but sometimes, the ends don't always justify the means. "The negativity screams so loud," she typed.
The 22-year-old continued to discuss why Instagram takes a toll on her and her relationship with others. She explained, "It's hard to focus on your well being and mental health when each time you open Instagram someone is tearing apart your job, or your relationship or essentially any of the things in your life that are positive."
She and Justin Bieber tied the knot in September at a courthouse in New York City, and she has undoubtedly faced scrutiny over her marriage to Bieber and her career path.
Mrs. Bieber then offered her own advice and perspective on letting the negative noise impact her. "I just don't believe we're called to live a life where we're so easily caught up in strangers opinions on something they have NOTHING to do with," she opined in another slide. "We need to take a step back and realize we need to express more love and encouragement to one another instead of consistently tearing people down and judging."
To top it off, she added, "I won't let people make me feel like I'm doing something wrong by enjoying my life and being happy."
You tell 'em, Hailey!
She concluded with a broader statement about the state of affairs at large and how making disparaging comments about someone isn't productive. "The world has enough hatred, hurt and pain as it is, the last thing we need is more negativity, hate, and division."
Since getting married to the "Sorry" singer, Baldwin has unabashedly been displaying her new name to the world. She changed her Instagram handle to Hailey Bieber and wore a customized jean jacket with the world "Bieber" emblazoned on the back.
The model turned 22 on Thanksgiving and she celebrated with her husband and his family up in Canada. It also happened to be Bieber's first ever Thanksgiving and the day meant a lot to him. He posted a photo on Instagram of the snow and trees and wrote, "First thanksgiving as a married man, first time hosting thanksgiving. First time both sides of the family has come together. Relationships are hard and love isn't always easy but thank you Jesus for showing me how! Every day is a learning process, trying to be more like him, patient, kind, selfless, boy I got a long way! "
Baldwin recently talked about social media and its effect on her overall well-being in an interview with Vogue Arabia. She told the magazine, "I try my absolute best to be removed from [the spotlight]. And I spend increasingly less time on social media. This has really helped me balance everything that comes with this life."
Another tidbit of information she shared with the magazine was whether or not she and Bieber were gearing up for some babies. She explained, "I love kids and I can't wait to have my own. I would say now that's a closer reality, but definitely not anytime soon."