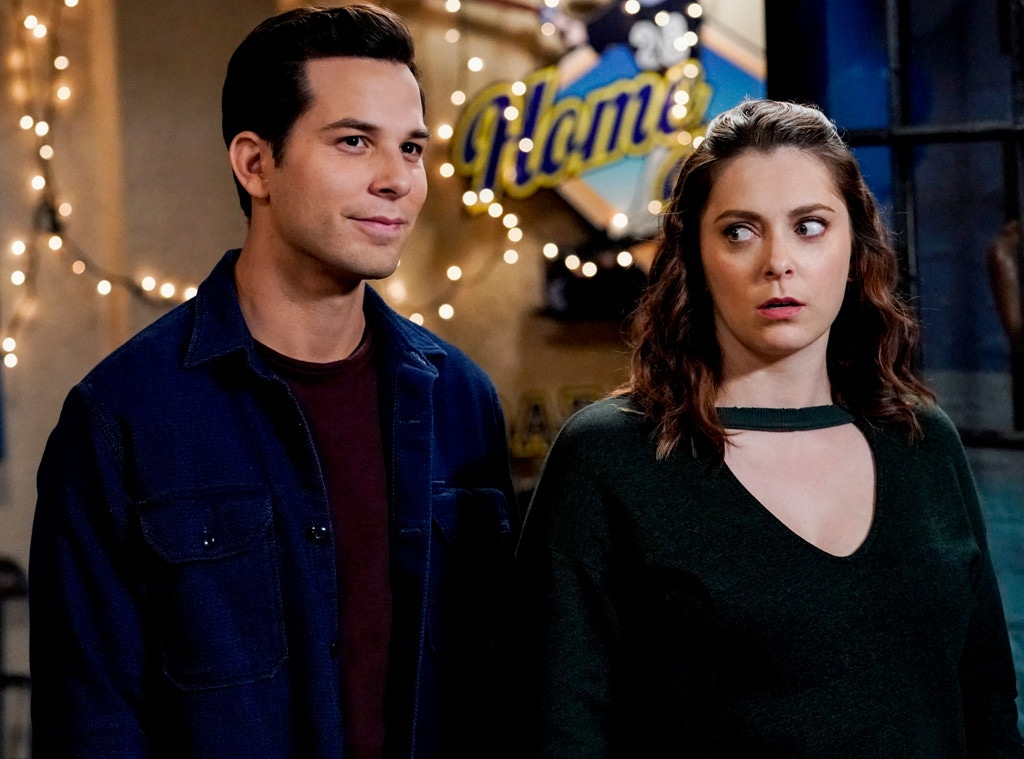 CW
Crazy Ex-Girlfriend, one of the most subversive shows on TV, is doing it again. The CW musical comedy reintroduces viewers to Greg during the Friday, Dec. 7 episode. But Santino Fontana, an original cast members, isn't back. In his stead is Pitch Perfect star Skylar Astin. And the recasting is part of the story—but wasn't always part of the plan.
Fontana left the show early in season two, the writers, including co-creators Rachel Bloom and Aline Brosh McKenna, knew he had a short deal. But they didn't know they'd be bringing the character back for the fourth and final season.
"We knew Santino had a one-season contract, and then when he left in season two we were given, actually, a very small timeline to write him out of the show," Bloom told E! News when Astin's casting was announced. "So, it was an interesting writing exercise: How do you write a character out of a show in three weeks? Or in like, three or four episodes basically. We met that writing challenge and we wrote him out so finitely, we put such a bow on it, that when we were thinking about how to come back full circle for the past year and a half we were like, 'Greg should come back. He just should. It feels incomplete.' So, we've been mulling it over about how do we have him come back, but not undo all the things we wrote."
After the character left West Covina, California for school, Brosh McKenna told E! News he was asking purgatory of sorts, and likely wouldn't be back because it would undo the ending he deserved.
"It's true, it's true. We wrote him out very, very definitely. But in terms of the show as a whole, it just felt incomplete to not have him back, but something had to change…It's really fun and interesting," Bloom said. "Life throws you these curve balls, I think it's very exciting. I'm very excited."
At the 2018 Television Critics Association press tour, Brosh McKenna acknowledged the original plan was for Greg and Rebecca (Bloom) to breakup, but Greg to stick around, like the show did with Josh (Vincent Rodriguez III).
"So Rachel and I had always been exploring bringing back that character and sort of trying to figure out a way to do it that suited our show and also because we felt like we had taken the resolution we wanted for Greg and kind of jammed it into those first four episodes of the second season," she said. "We felt like we had completed his arc a bit. So now bringing the character of Greg back, it is part of our storytelling. It's a plot point in the story that the character's reimagined, so he's going to be played by a different actor, which is Skylar."
The new Greg is sober and has changed, he's grown while being away from Rebecca.
"We don't want to spoil it too much, but we're so excited. It is not only like a big leap and feels experimental and playful like our show, but as you will see, when the show airs, it's a great it will be kind of a great statement on how our perception of people changes. And Greg is sort of a barometer of how many Rebecca has changed, because she will not have seen him for two years, and Skylar's lovely. We're so excited," Bloom added.
And for the record, Bloom and Brosh McKenna spoke with Fontana and he gave them his blessing.
The final season of Crazy Ex-Girlfriend airs Fridays, 9 p.m. on The CW.