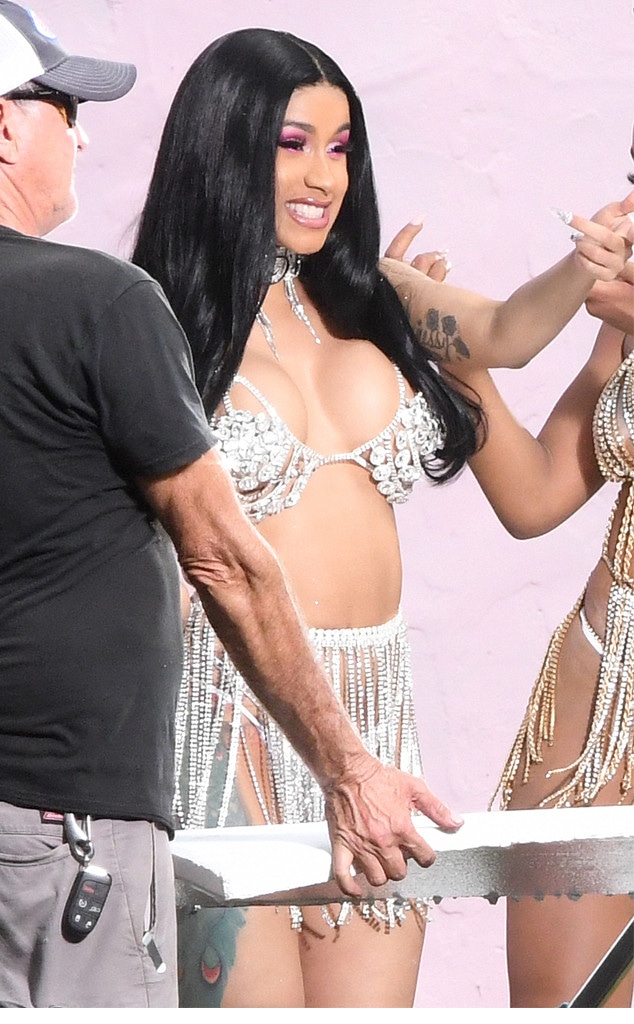 MEGA
Cardi B has removed her wedding ring.
The "I Like It" rapper was spotted on the set of her latest music video in Miami on Tuesday, hours before announcing her split from husband Offset. The photos show Cardi without her wedding ring on her finger.
"So everybody been bugging me and everything and you know, I've been trying to work things out with my baby father for a hot minute now and we're really good friends and you know we're really good business partners," Cardi told her fans on Instagram late Tuesday evening. "He's always somebody that I run to to talk to and we got a lot of love for each other but things just haven't been working out between us for a long time and it's nobody's fault."
"I guess we grew out of love, but we're not together anymore," she continued. "I don't know. It might take time to get a divorce and I'm gonna always have a lot of love for him because he is my daughter's father and yah."
Cardi and Offset, who secretly tied the knot a year ago, welcomed their first child together just months ago. The duo's daughter, Kulture Kiari Cephus, was born on July 10.
While Cardi wasn't wearing her ring on set of her music video, she was wearing an outfit that is raising some eyebrows.
Photos show Cardi wearing a rhinestone ensemble that has fans comparing it to the outfit Nicki Minaj wore in her and Future's "You Da Baddest" music video in 2017. These photos of Cardi come days after Minaj dropped the music video for her song "Good Form," featuring the two strip club bartenders who Cardi has been accused of ordering an attack on.
Back in September, Minaj and Cardi got into a fight at the Harper's Bazaar Icon party during New York Fashion Week. After that incident, the drama and the tension between the two artists continued to build. Then in late October, Minaj went on Twitter to seemingly call a truce. But the feud might be heating back up once again.