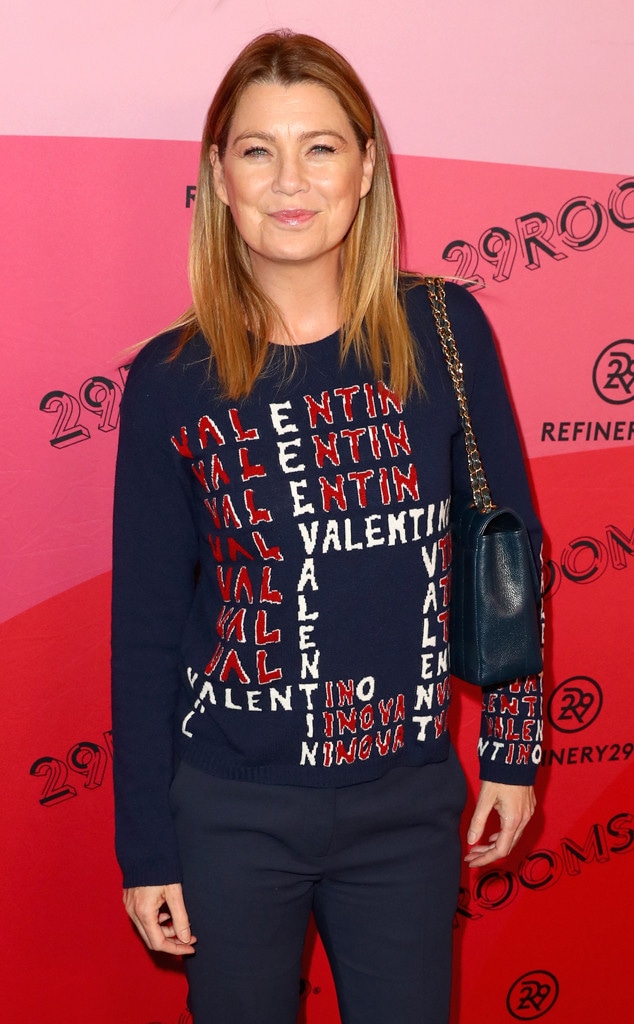 Joe Scarnici/Getty Images for Refinery29
Ellen Pompeo, who has a mixed race family, credits her compassion with being able to withstand racially charged criticism.
The 49-year-old Grey's Anatomy actress and husband Chris Ivery, who is black, share daughters Stella, 9, and Sienna, 4, and son Eli, who will turn 2 this month. Over the years, Pompeo has spoken out against racism and lack of diversity in Hollywood.
"Ellen, through all the ups and down you've had, people calling you a 'white bitch,' and people telling you don't use the black power fist, and you marrying a black man and that probably being an issue at some point, that could create a lot of insecurity, that could create a lot of instability in a person," Jada Pinkett Smith tells Pompeo on her Facebook Watch show Red Table Talk, in an interview airing on December 10. "What I've seen in you is that it's only created deeper character."
"So I suffered trauma at an early age. My mother died when I was 4," Pompeo responded. "And I think that when you suffer any kind of trauma, especially as a child, I think you learn compassion, and I think that that makes you a more compassionate person. At the root of it, compassion is a great practice."
In 2016, Pompeo ignited an online backlash when she used black emojis on Twitter. It intensified after the actress noted that she is a "white lady with a black husband and black children."
"Don't be a hater I do it because racism is not just a black problem it is all of our problem get it???" she wrote in response to the criticism.
"Not sure what this means but reverse racism isn't real. White people don't experience racism," another user wrote.
"Ummm I've been called a white bitch and countless other things 50000 times today what would you call it?" Pompeo replied.
"I'm so sad that people attacked me over standing up for equality," she wrote. "I'm sad that people chose anger and I'm sorry if I offended anyone."
Earlier in 2016, Smith famously vowed to boycott the Oscars over a lack of diversity, following the nominations of an all-white group of actors. Last month, at NET-A-PORTER's The Big Television Debate panel discussion, Pompeo talked about lack of diversity in the media world.
"This day has been incredible and there's a ton of women in the room, but I don't see enough color and I didn't see enough color when I walked in the room today and I had a meeting with a director of another endorsement project that I'm doing," she said. "I said, you know when I show up on set I would like to see the crew look like the world that I walk around in every day and I think it's up to all productions to make sure that your crew looks like the world we see."
"As Caucasian people, it's our job, it's our task, it's our responsibility to make sure that we speak up in every single room we walk into, that this is not OK and that we can all do better," she said. "It's our job because we created the problem."
"Ellen Pompeo shows what being an ally looks like," wrote the staff of Grey's Anatomy creator Shonda Rimes' Shondaland website.