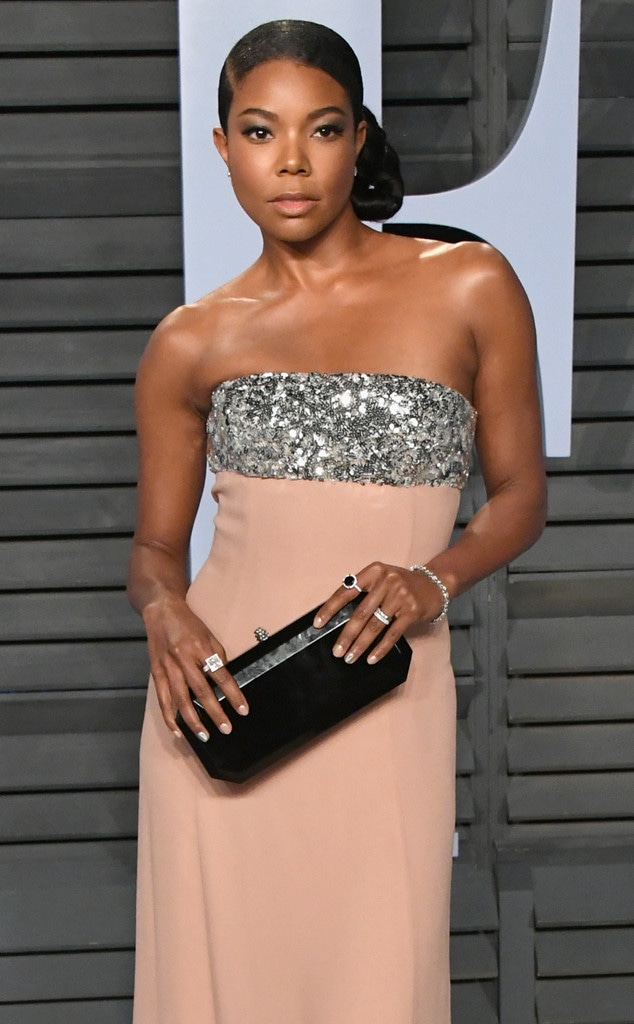 Jon Kopaloff/WireImage
Everyone, take a seat, get comfortable and take notes because this is a master class you're not going to want to forget. 
Ellen Pompeo, Gabrielle Union, Gina Rodriguez and Emma Roberts recently sat down for NET-A-PORTER's "The Big Television Debate" panel discussion and the results were unforgettable. Seemingly no crucial issue was left untouched in the course of the incredibly candid 24-minute segment as the four stars addressed pay equity, diversity and inclusion in raw and real terms. 
At one point, Union spoke frankly of being paid what she deserves on a project, especially when she might be blamed if it fails. "I'm not going to feel good on set if I feel like I am undervalued and my money doesn't match my level contribution because when it comes time to sell this piece of art, you're going to have me prancing around the country and the world like a show pony, but all these other people that don't have to do all the selling work of it are making way more and I'm not gonna get the credit. If it's a win, it's not going to be because of me and if it's a failure, it's my face that's everywhere."
The Grey's Anatomy star shot back at the "lure of awards" instead of rightful payment. 
"F--k creatively fulfilling—give me my money," Pompeo exclaimed. "As long as they can divert our attention and lure us with the creative carrot—we don't care about a carpet, I don't care about a statue. I care about sending my kids to college."
"For people of color, when has an award ever paid off financially later?" the Big Mary Jane star asked. As Union noted, it was only until women in Hollywood began meeting and organizing that they gained the knowledge to uplift themselves and each other. For example, she was offered a part a friend turned down because she was being low-balled. Union, in turn, asked for the same amount her fellow actress asked for and then turned it down and told two more actresses down the line to do the same. "I lose nothing by making sure you get your money," she said. 
On the topic of diversity, Union also pointed out that we can't properly amplify other marginalized voices if we don't actually have and know those voices in our lives. "I walked out of my friend's house the other night—she had a political event and I saw not one person of color at that event," Pompeo shared. "I turned around and I walked out and I sent her a text and I said, 'I love you, but..."
The conversation reached a palpable height when Pompeo gave the room an unfiltered dose of reality that left her in tears. 
"This day has been incredible and there's a ton of women in the room, but I don't see enough color and I didn't see enough color when I walked in the room today and I had a meeting with a director of another endorsement project that I'm doing. I said, you know when I show up on set I would like to see the crew look like the world that I walk around in every day and I think it's up to all productions to make sure that your crew looks like the world we see," she told everyone. "As Caucasian people, it's our job, it's our task, it's our responsibility to make sure that we speak up in every single room we walk into, that this is not ok and that we can all do better. It's our job because we created the problem."
The comment visibly struck a chord with Union, whose facial expression was re-shared all over social media. 
"@itsgabrielleu's smirk is giving us, 'Black women been telling y'all this but I know y'all will listen to my white colleague over here,'" one Twitter user commented. "I am LIVING FOR @itsgabrielleu's REACTION," Busy Tonight staff writer Jenny Yang added. 
Meanwhile, Union urged everyone to "please take the time to watch the entire video. Whooooooooaaaanelly."
We'll leave you with Pompeo's final comments. "It's the right thing to do. It's been too long and the right thing is never done," she said, wiping up tears. "Live your life in the correct way and if you give a shit, if you care, you will change the people in your life."