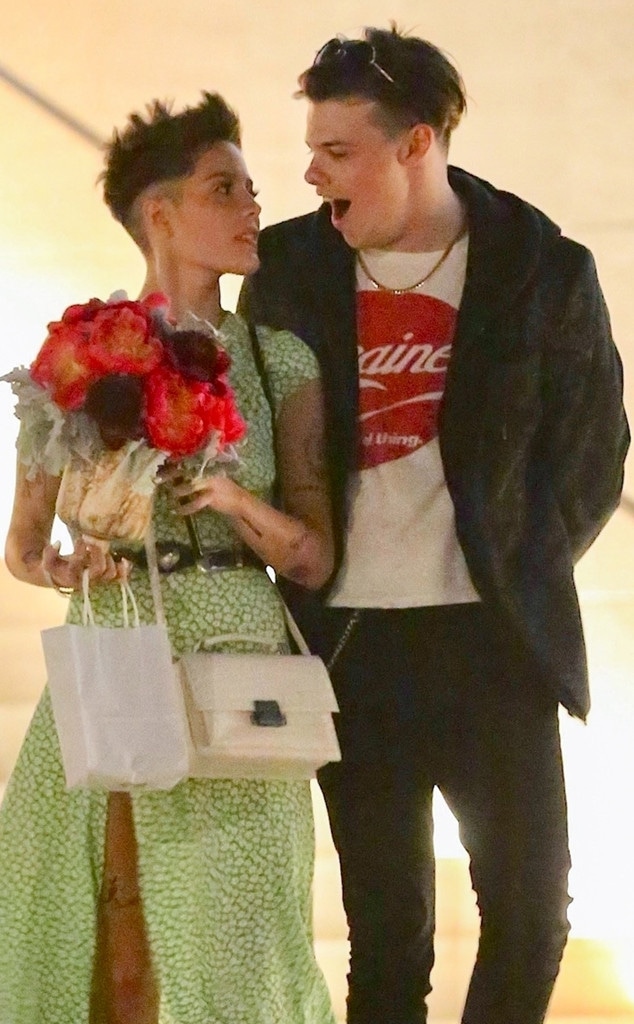 W Blanco / BACKGRID
Halsey is sparking romance rumors with British musician Yungblud.
The 24-year-old "Without Me" singer and the 20-year-old rocker, née Dominic Harrison, were photographed leaving Milk Studios in Hollywood on Tuesday night. In the pictures, Halsey can be seen carrying what appears to be an arrangement of flowers as she locks eyes with Yungblud.
"There was a limo outside Milk Studios and at about 6:30 Halsey came out," an eyewitness tells E! News. "It was so obvious there was something going on, they were so close. She was definitely feeling him, from what I could see it definitely seemed there was an attraction."
The eyewitness adds, "They went to In-N-Out Burger, picked up food through drive-through and headed to her house."
This sighting of the duo comes amid their recent flirty exchanges on social media.
Last week, Yungblud posted a photo of himself holding a guitar on Instagram, telling his social media followers, "last day in la man ... ive been writin so much lately, haven't put down the pen. i know i been a little illusive on here. i just wanna make this next shit the absolute best it can be."
Halsey commented on his post with a baby angel emoji, which he then responded with a heart.
It was also just days ago that Halsey took to Twitter to share a video of Yungblud performing "California," along with a heart emoji.
Halsey was later asked by a fan on Twitter how she's "genuinely feeling," the singer replied "incredible."
Earlier this week, Halsey took to Twitter to write, "you make me see the world in different colors," which Yungblud then liked.
Though there's speculation surrounding the talented duo, it's possible they're just pals. And, seeing as they were leaving a studio together, they could be working on new music! It was just weeks ago that Halsey responded to those John Mayer romance rumors.
"I just had a ground breaking idea. What if...we let female artists...have friends...without assuming that they are sleeping together?" Halsey tweeted. "I know I know. It's like, completely ambitious but like, imagine if we like, tried?"
E! News confirmed in late October that Halsey had split with her on-off boyfriend G-Eazy. The rapper has seemingly moved on following the breakup, as he was just spotted packing on the PDA with a 29-year-old blond Arizona woman named Christina Roseann Ray during a dinner date in Los Angeles last week. Photographers captured the duo kissing inside his Mustang and also embracing outside.
"They pulled up in his classic Mustang and before they even got out, they hopped in the backseat together," an eyewitness told E! News. "They starting making out. She was in his lap and kissing his face over and over. It was steamy and lasted about 20 minutes before they finally got out."