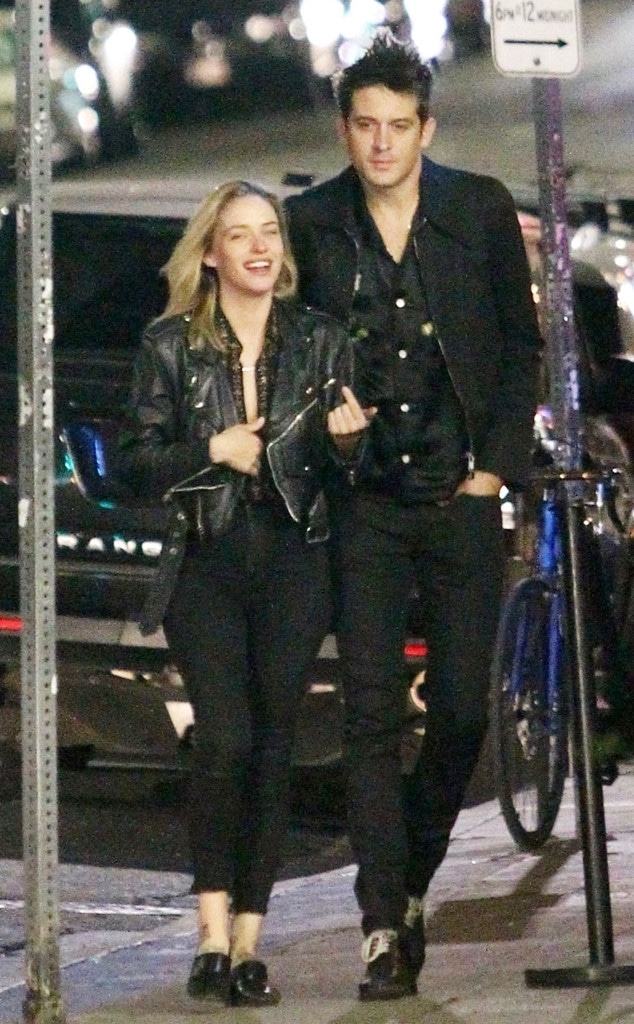 Roger / BACKGRID
G-Eazy appears to have moved on just fine after his split from Halsey.
On Tuesday, he was spotted packing on the PDA with a 29-year-old blond Arizona woman named Christina Roseann Ray during a dinner date in Los Angeles. The two were photographed kissing inside his Mustang and also embracing outside.
"They pulled up in his classic Mustang and before they even got out, they hopped in the backseat together," an eyewitness told E! News. "They starting making out. She was in his lap and kissing his face over and over. It was steamy and lasted about 20 minutes before they finally got out."
"She seemed very excited about being with him," the eyewitness said. They both had big smiles on their faces. She was busy straightening her collar and her jacket after their make-out session. They both looked at each other and laughed. Then they stopped to hug on the street corner and she put her arms up inside of his jacket to stay warm. They had a two-hour dinner and left together at the end."
While the two appeared cozy, "G-Eazy isn't dating one person exclusively," a source told E! News.
"He has been playing the field and enjoying being single again," the source said. "G always enjoyed his freedom and is having a lot of fun. Christina and G-Eazy had a past friendship and knew each other from mutual friends in the industry. It's nothing serious, but this isn't the first time they have seen each other. They had a great time on their date together and Christina is definitely interested in dating him seriously."
Watch:
What's Going On With John Mayer and Halsey?
E! News learned late last month that G-Eazy and Halsey have called it quits for the second time, following a month-long split over the summer.
Following the breakup news, Halsey fueled romance rumors with John Mayer with some flirty Instagram posts. She later put the rumors to rest, writing, "I just had a ground breaking idea. What if...we let female artists...have friends...without assuming that they are sleeping together? I know I know. It's like, completely ambitious but like, imagine if we like, tried?"