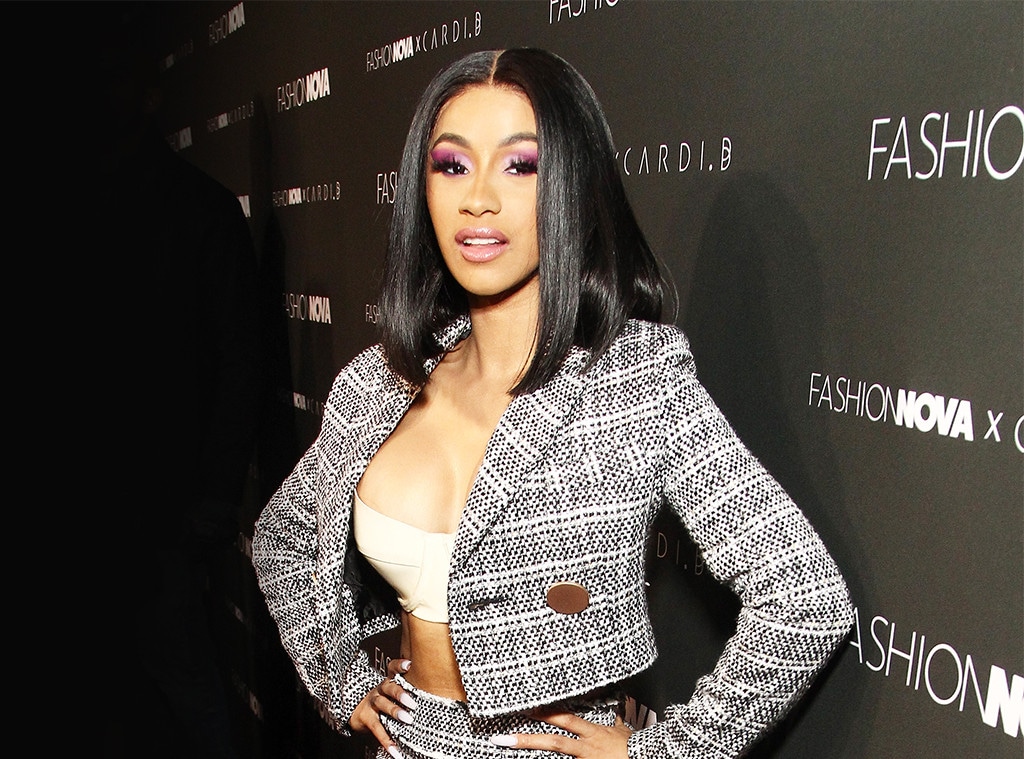 Tommaso Boddi/Getty Images
Cardi B is "depressed" that she's lost too much baby weight for her liking since she gave birth to daughter Kulture.
The 26-year-old rapper welcomed the child, her and Offset's first child together, in July. She said in October that she lost all her baby weight and had to "gain some back."
"I've been very depressed because I cannot stop losing weight," Cardi said on Instagram Live on Thursday. "And it's so crazy because when I first gave birth, I did everything to lose my baby weight. I was drinking Teami [tea] so it could curb my appetite and now that I lost all the baby weight...I don't like looking too skinny."
"I used to look too skinny as a teenager and I used to hate it and I hate it now," she said. "It's been really depressing me, making me sad. My weight. You know what I'm saying."
Cardi also said her breasts have become "saggy" and that her appetite is "just terrible."
"S--t is so stressful, not having no appetite at all," she said. "I want to gain weight so bad." 
"I just really want to gain my weight," she continued. "I'm really trying to gain weight ya'll and it's been hard and I don't know how. After I gave birth, I was so thirsty to lose all the baby weight and now it's so hard for me to gain weight and I hate it. Then my parents...the more they force me to eat, the more I don't want to eat."
Watch:
Cardi B & Offset Pack On PDA On a Yacht
During her time on Instagram Live, Cardi talked about caring for her daughter.
"When I get home, it's Kulture time and she goes to sleep," she said. "Sometimes I give her milk and she goes to sleep right away and sometimes she's up for five hours...'Bitch, my stomach hurt, rub my tummy. Bitch my teeth coming out, rub my gums.'"
"I don't have a babysitter yet, I really gotta get a baby sitter and a nanny but I just don't trust nobody with my kid yet," she added. "My family help me take care of my kid but they have a life so I really have to depend on myself. But I love it though, I love motherhood. I love learning everything. When my baby cries, I know her gums are hurting, she's constipated or she sleepy. I love being a mom more than anything."
Cardi and Offset have yet to show their daughter's face on social media.
Cardi said Kulture "is just too gorgeous," adding, "Like, damn I made this s--t? They took my best egg...Yo, her lips is crazy...her lips is a mix of Offset, [my sister] Hennessy and Rihanna's lips. This might be Rihanna's baby! She's just so exotic looking. She just like...I don't know. She don't even look like me. Then her eyes, they just so—wow! They so big. And it's like, what the hell? I don't got big eyes and Daddy don't have big eyes...she looks like a doll."
Cardi also complained about not getting to have sex with her husband.
"I haven't got f--ked in like, two weeks," she said. "That last week we were supposed to f--k and I got my f--king period. That s--t was heavy as f--k."
Offet later called her to get off Instagram Live.
"He always calling me to get off Live," she said. "He's so fine to me. I'll f--king suck his toes."