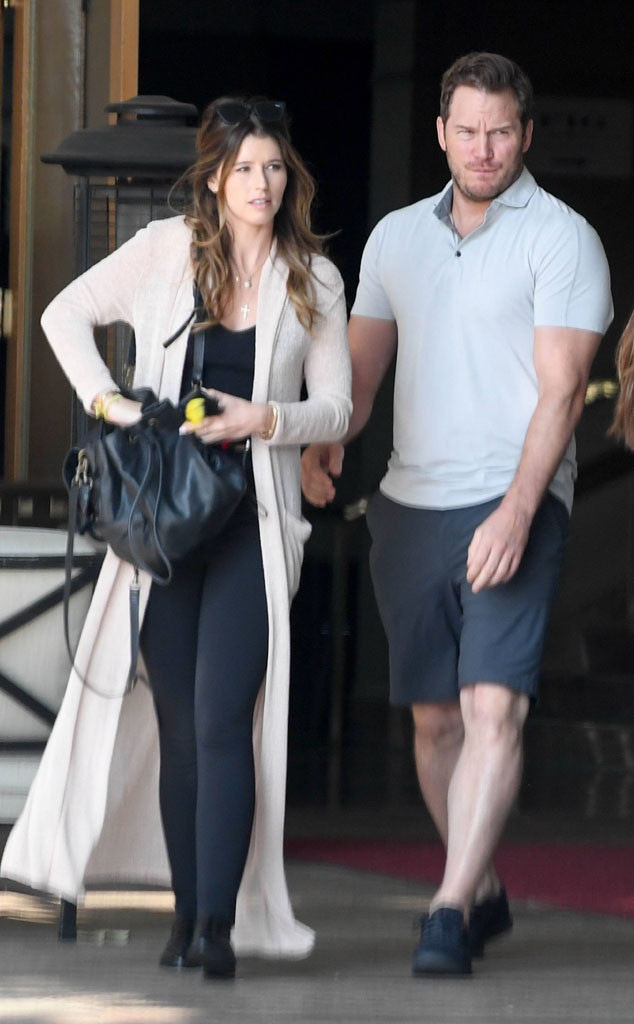 MEGA TheMegaAgency.com
Chris Pratt and Katherine Schwarzenegger were spotted on a double date with her dad Arnold Schwarzenegger over the weekend.
The Guardians of the Galaxy actor, 39, enjoyed breakfast at the Fairmont Miramar Hotel & Bungalows in Santa Monica, Calif. with his author girlfriend, 28, her famous father and Arnold's girlfriend Heather Milligan on Sunday. This is the first time cameras have spotted Chris meeting his girlfriend's dad since their romance was revealed earlier this year, though he has spent time with her mother, Maria Shriver, and brother, actor Patrick Schwarzenegger.
If this sighting of the family outing is any indication, it seems as though the couple is still going strong. And though they haven't been together very long, a source tells E! News that everyone around them is "rooting" for an engagement.
"Everything seems to click with them and works. They have the same values, lifestyle and priorities," the insider tells E! News, adding that Katherine is "very bonded" to Chris' son Jack, who he shares with ex-wife Anna Faris. "She has always been good with children, but she really shines and has stepped in to this role perfectly. She knows her place with him and is there to have fun and support him."
"From the moment they met, it just seemed different for Katherine," the source continues. "This is definitely the most serious relationship she has had."
The insider adds, "They haven't been together that long but everyone is rooting for an engagement to happen soon."
Chris and Katherine first sparked relationship rumors in June when they were photographed having a picnic together near Santa Barbara, Calif. Since that time, Chris and Katherine have been spotted out and about, enjoying dates and attending church together.
It was just over a year ago that Chris and Anna announced their split after eight years of marriage. The exes have both since moved on, with Anna dating cinematographer Michael Barrett. It was just weeks ago that Chris and Anna reunited to celebrate Halloween with their son, with their dates Katherine and Michael also in attendance.
"Katherine and Chris stopped to kiss a few times and weren't shy about being affectionate. Anna and Michael were holding hands and holding hands with Jack," an eyewitness shared with E! News. "They all seemed like very good friends and had a lot of laughs and good times."