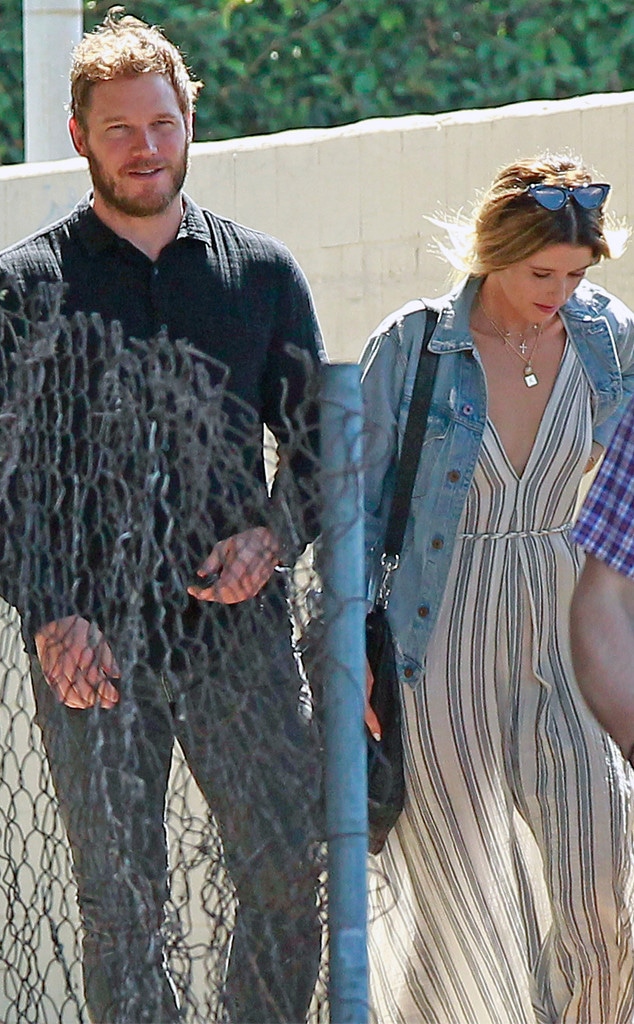 SplashNews.com
Chris Pratt and Katherine Schwarzenegger are going strong.
The couple were photographed leaving a church service in L.A. at 10:30 a.m. yesterday. The Jurassic Park: Fallen Kingdom star, 39, and Maverick and Me author, 28, were all smiles as they said goodbye to friends, then drove to the Montage Hotel in Beverly Hills for a romantic (and private!) two-hour lunch. Later, while getting Chris' car washed, an onlooker saw him "teasing her with the vacuum" so that it "would suction her." Katherine enjoyed the playful prank, the onlooker says. "He's a total goofball she was giggling the whole time. She's really into him; you can tell. They aren't trying to hide anything. It looks like they're really enjoying one another." Next up, the couple joined Katherine's family for a meal at Maria Shriver's home; her brother, Midnight Sun star Patrick Schwarzenegger, shared a brief clip of the duo on Instagram Stories.
Before dinner was served, the couple spent some time riding Bird scooters around Maria's neighborhood. As Chris passed the paparazzi, he joked, "It would be funny if we ate s--t right now, right?" According to an onlooker, Katherine "laughed hysterically at that as they passed."
It was Maria who played matchmaker for her daughter and Chris, according to sources. The couple was first seen together on Father's Day at a romantic picnic in Santa Barbara, Calif., al though they'd been on "multiple dates" before then and had been "talking consistently" for about "two months or so." Chris and Katherine "both really like each other," a source told E! News at the time. "Chris is smitten by Katherine and is super happy about how it's going so far."
As time went on, Chris even introduced Katherine to his 5-year-old son, Jack Pratt.
"Maria is very excited for Katherine. Everyone has their fingers crossed that this is going to work out long term. They think Chris is an amazing guy and a great catch," a source said. "They are really perfect together and have similar goals and values. They have gotten serious quickly."
Indeed. The Avengers: Infinity War actor "was taking things slow with Katherine at first, but overall, he is not seeing anybody else and considers what he has with Katherine as exclusive. He's not afraid to show his affection for her in public. Chris is doing things differently by not putting too much pressure on anything, but they are very happy so far," another insider revealed to E! News. The feeling is mutual, the source added: "Katherine really likes Chris, too."
Today marks exactly one year since Chris announced his split from wife Anna Faris. "Anna and I are sad to announce we are legally separating. We tried hard for a long time, and we're really disappointed. Our son has two parents who love him very much and for his sake we want to keep this situation as private as possible moving forward," he said in a statement at the time. "We still have love for each other, will always cherish our time together and continue to have the deepest respect for one another." Anna later began dating cinematographer Michael Barrett, while Chris stayed single a little longer. "Divorce sucks," he told Entertainment Weekly. "But at the end of the day, we've got a great kid who's got two parents who love him very much. And we're finding a way to navigate this while still remaining friends and still being kind to one another. It's not ideal, but yeah, I think both of us are actually probably doing better."