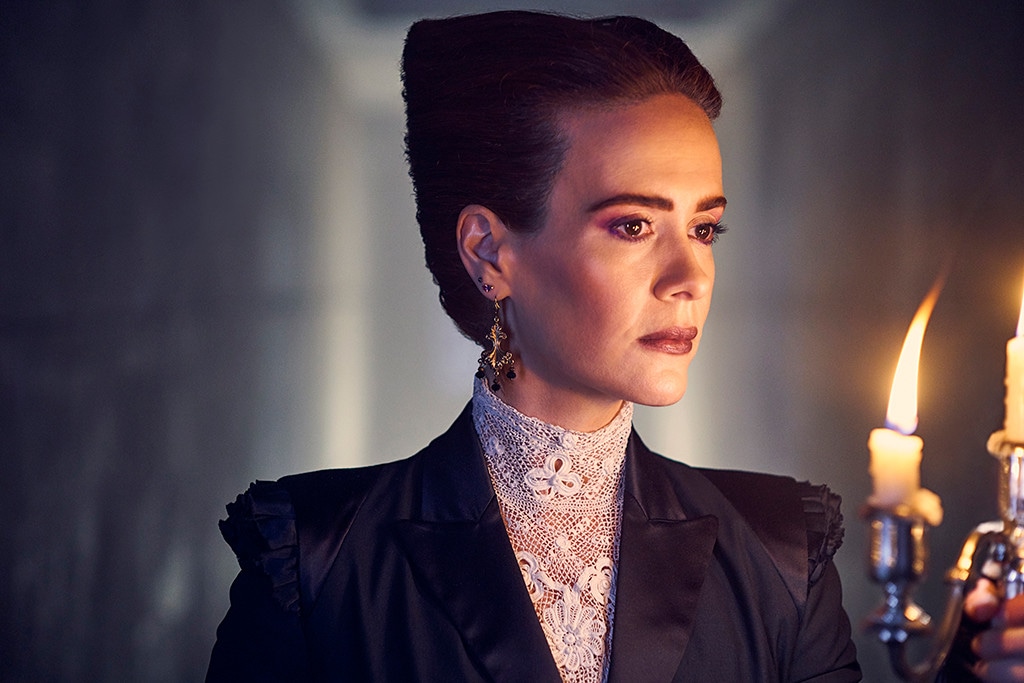 FX
Badass women with power. Glorious wigs. Hilarious one-liners. Enviable fashion. Familiar faces. Fun characters. A streamlined story that makes sense. American Horror Story: Apocalypse has all of that and then some, making it one of the franchise's best seasons yet.
Using characters from American Horror Story: Coven and American Horror Story: Murder House, characters that are familiar to fans, the series immediately presented an open door to both lapsed viewers and those who have been in it for the long haul. The appeal of seeing witches Cordelia Goode (Sarah Paulson), Madison Montgomery (Emma Roberts) and Myrtle Snow (Frances Conroy) battle the Antichrist, Michael Langdon (Cody Fern), was just too good to pass up for some (including this author).
Over the years, writers peppered (pun intended) clues and connections through American Horror Story seasons, like Pepper (Naomi Grossman) being in Elsa Mars' (Jessica Lange) troupe in Freak Show before going to Briarcliff in Asylum. And this year is the biggest crossover yet. Cordelia visited Hotel Cortez from AHS: Hotel, Madison's connection to the home in Murder House was confirmed when she arrived there, and even more familiar faces returned, like Connie Britton, who returned for first time since the show's debut season. Who didn't delight in seeing Lange throw some f—ks around and sass it up with Roberts' Madison?
However, even if you hadn't seen either AHS: Murder House or AHS: Coven, the show remains accessible. There are new characters, like Billie Lourd's impressive witch Mallory, Leslie Grossman's hilarious gluten-detecting witch Coco St. Pierre Vanderbilt and Adina Porter's talk show host/voodoo queen Dinah Stevens. Even Fern's Michael Langdon is sort of new, since the character debuted at the end of Murder House, but only as a child.
The setting of the season—after the end of the world—works well too. It connects the two seasons in a surprising way, and Ryan Murphy and the writers get to play on real-world fears. It's something that got Leslie Grossman's attention.
"The thing that freaks me out about Ryan is he's sort of a soothsayer. So, when he did bring up the nuclear war thing to me, I was like, 'Oh god.' [Laughs.] I think it's fair to say it's on the top of everyone's mind. I think what you saw in Cult that was so interesting is, while Cult was airing, stuff had been written months prior, was sort of unfolding on the national stage. And it was freaky…Then towards the end of Cult was when the whole #MeToo thing really exploded. Cult really addresses that stuff head on. It really became about female empowerment. I've always said that Ryan is definitely psychic, so when he first told me this thing about nuclear war I was like, 'OH GOD!' That is terrifying…Ryan seems to really be able to—he has his finger on the pulse of the zeitgeist at all times and then take that feeling and just explodes it," she previously told E! News.
This season is about women with power (Cordelia's witches), and men who want that power (the group of warlocks who are eager to do anything to get Michael Langdon in Cordelia's spot as the most powerful being on Earth) who will stop at nothing to get it. Sound familiar? Having women of various ages, ethnicities and backgrounds on TV, wielding power over men has been a delight to watch, especially in the era of #MeToo and Time's Up.
"I'm happy and glad to be subservient to the women. It's fun," Billy Porter previously told E! News about his less powerful warlock character. "It's really fun to be on set with those ladies too. There so strong and so powerful…"
The empowered women aspect was taken a step forward with so many females directing episodes, including Paulson. Murphy entrusted Paulson to direct one of the show's most anticipated and illuminating episodes yet, "Return to Murder House." The episode featured Lange's first appearance on the show since season four, as well as the returns of Britton and Dylan McDermott as their Murder House characters.
While there hasn't been that much typical "horror" in American Horror Story: Apocalypse—aside from some blood and guts here and there—the show has placed the "horror" in the underlying messaging and themes of the season, all the while being wildly entertaining. In addition to established and beloved characters, Coco St. Pierre Vanderbilt is a hilarious one-liner machine, Mallory is an enigma and Fern is turning in a haunting and conflicted portrayal as the man-child who would be the Antichrist. Of course there's Joan Collins as a wealthy actress/witch. Need you hear more?
It's no secret that AHS seasons tend to start strong. However, along the way things often get muddled, mostly with the introduction of too many story elements, like the aliens in AHS: Asylum, but by the end of a typical AHS season the show is usually back on track. AHS: Apocalypse is different. Aside from the eighth episode, "Sojourn," which could've been edited down to a few simple flashback scenes or character dialogue for exposition, the Apocalypse story has been easy to follow and fairly streamlined.
Did we really need an entire episode sans witches that focused on how Michael came to have an android version of Kathy Bates' goth character, featuring characters played by Billy Eichner and Evan Peters with bad bowl-cut wigs? No, we didn't, but it happened and we're moving onward to finish out one of AHS's best seasons yet.
American Horror Story: Apocalypse airs Wednesdays, 10 p.m. on FX.