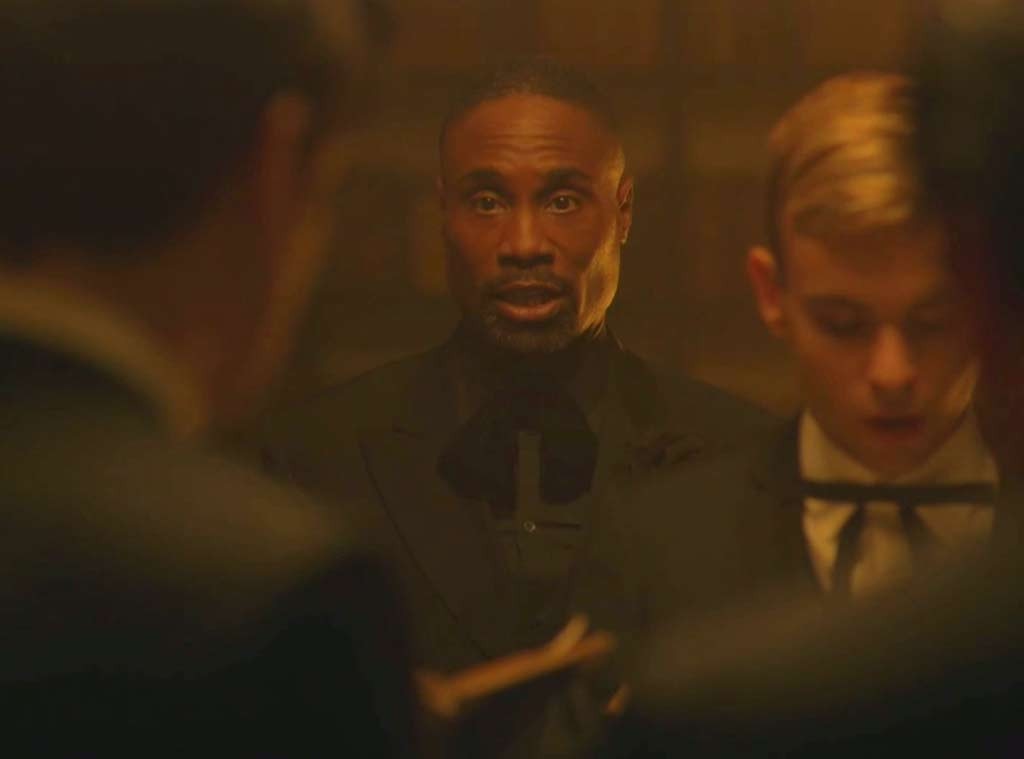 FX
Billy Porter officially entered the troupe of actors who work with Ryan Murphy across a number of shows thanks to his American Horror Story: Apocalypse debut. The Tony winner is part of the series regular cast of Pose, and said he got a very simple call from his boss.
"He just said, 'I need you here yesterday,'" Porter told E! News with a laugh. That was the pitch from Murphy to get Porter on AHS. "When Ryan calls, you just go," Porter said.
Not much is known about Porter's character, Behold Chablis, aside from the fact that he's a warlock teacher and incredibly fashionable.
"Well, it's a Ryan Murphy show, so you'll always stylish and you'll always fashionable," Porter said with a laugh.
Porter made his debut in AHS: Apocalypse's fourth episode alongside Cheyenne Jackson, BD Wong and Jon Jon Briones as teachers at a school for warlocks. In the episode, the Grand Chancellor, played by Briones, brought the powerful Michael Langdon (Cody Fern) to the attention of the other warlocks. He mistook Michael, who is the Antichrist, as a powerful warlock known as the Alpha. In new American Horror Story mythology, the Alpha would supplant the witch Supreme, Sarah Paulson's Cordelia Goode in the series, as the most powerful being. In the newly-introduced AHS lore, warlocks are second class to the powerful witches.
"The men aren't really revered as women," Porter said. That new layer of mythology goes along with the overall theme of the series, he said. It took the election of Donald Trump for Porter to get the metaphors of the series, he said, noting the current #MeToo movement as awakening something in the public.
"In the #MeToo movement, this women movement, all this s—t going on with [Brett] Kavanaugh and stuff…I would consider myself, at this point if I wasn't before, a feminist. I'm glad to be subservient to the women. I'm happy and glad to be subservient to the women. It's fun. [Laughs.] It's really fun to be on set with those ladies too. They're so strong and so powerful and I got to work with all of them except Kathy Bates. She's the only one I didn't get to work with," he said.
In his first episode, Porter shared scenes with many AHS veterans, his "ladies." At the mere mention of Frances Conroy, Porter said "Oh my god. Oh my god," and noted he was a fan of her sine Six Feet Under.
"I got to work with Frances Conroy, I got to work with Sarah Paulson, and I was in the episode that she directed, which is so great because I got to work with Jessica Lange. You know, the divas. I was there getting a master class, honey. I was there getting my PhD," Porter said with a laugh.
Porter's character will be around for a handful of episodes, he said, so maybe viewers will see more of his powers. So far, viewer have only seen him make a book fly across the room and fill wine glasses with the wave of his hand.
"My powers are just regular…regular, everyday powers. If I had a power…I don't know right now. It would have something to do with politics right now," Porter said. "How could I shut these people up? [Laughs.] How could I shut it down? How could I shut that down and nobody know? I would love to have a power to fix our government."
Porter will return for Pose season two, though he knows nothing about the plot, because he said he wouldn't be able to keep it a secret. The biggest difference between Pose and AHS: Apocalypse is the heightened energy.
"The difference is, this is real heightened work and finding a way to sort of acknowledge the heightened energy of it while grounding simultaneously," he said about AHS. "I mean, I guess Pray Tell is heightened in a way when he's at the balls, and I get to drop into really something real, in my other scenes. This like you have to do both at the same time, you have to be heightened and real at the same time. It's very stylized too. It's funny, because we'd do that thing where something happens and then you take a look at somebody else, and then look at somebody else—a dramatic look—and then they yell, 'Cut!' and we all laugh [Laughs.] because it's so dramatic and funny…It's fun, it's very fun."
American Horror Story: Apocalypse airs Wednesdays, 10 p.m. on FX.