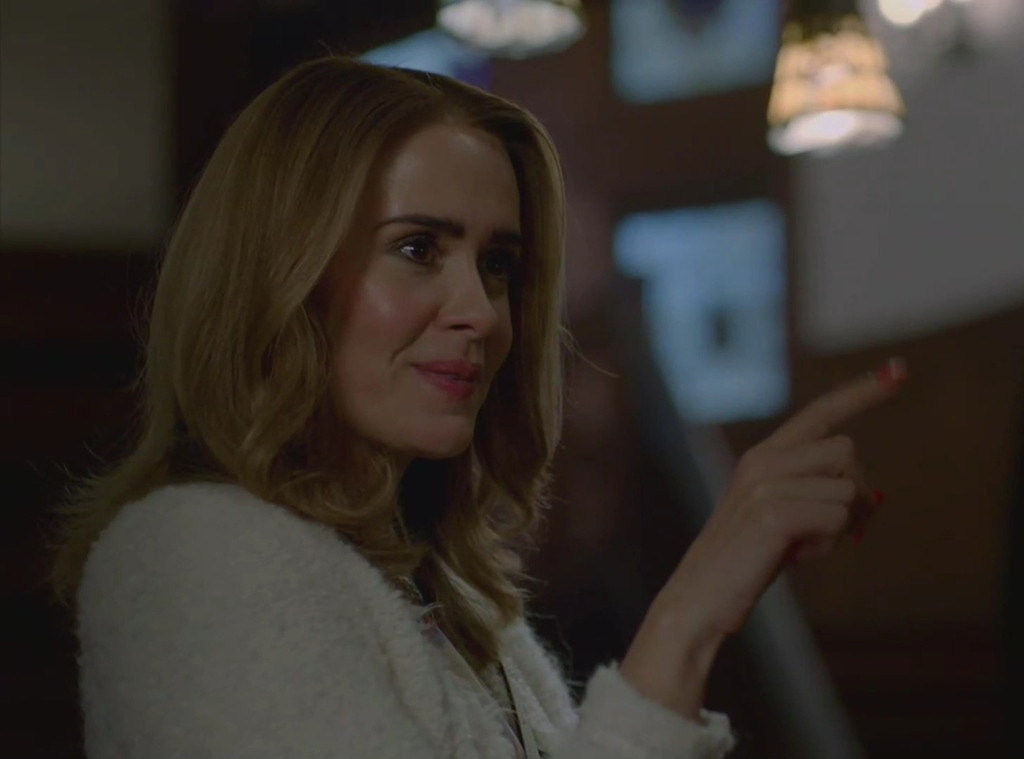 FX
Now that was the crossover episode we've been dreaming of.
American Horror Story: Apocalypse just gave us pretty much everything we could have asked for during its trip back to the Murder House. With help from Madison (Emma Roberts) and Behold (Billy Porter), we saw Vivien (Connie Britton) and Ben (Dylan McDermott) rekindle their marriage! We saw Violet (Taissa Farmiga) and a now evil-free Tate (Evan Peters) find their way back together. We saw Moira (Frances Conroy) move on, to be with her mother, who forgave and thanked her for pulling the plug on her. We also saw Ben cry while staring into the sun and masturbating, which is not something we were particularly asking for, but we got it anyway!
Most importantly, we got the return of Jessica Lange in a sequence that can only be described as "And the Emmy for Best Supporting Actress in a Limited Series or Movie goes to…Jessica Lange." She took the sad tale of Michael's childhood and burgeoning serial killer-ness and turned it into its own little movie, with help from director Sarah Paulson, of course.
"I mean, it's not hard to get a lot of out Jessica Lange," Paulson tells E! News. "I could watch Jessica Lange read the phone book. She could read the white pages and you'd give her an Academy Award for doing so."
Lange did a lot more than just read the phone book tonight, however. She told Madison and Behold the story of how she tried her best to raise Michael, believing it was her duty and her calling to be a mother. But he had a tendency to murder, and when he grew a decade overnight, Constance began to worry he was going to kill her. So that he wouldn't ever get the chance, Constance took it upon herself to have one last little dance party all by herself with a cigarette, some alcohol, and a whole bunch of pills. Paulson says the death scene was her favorite scene to shoot. 
"I shot it in slow motion, and I shot it in different steady-cam sizes and passes, and we just did it for a couple of hours, and it was a really extraordinary thing," she says. "But the crew clapped almost every single take."
Lange performed her little dance over and over again, each time from a different angle for with a different effect.
"It's cut together from different pieces of what we did, but we let the entire song play in its entirety, and by the end of the song, she has killed herself," she explains. "Our camera man, as soon as we were done with the first take, had tears in his eyes and was like, that's just so sad. So you know, that's when you know you've got gold. But it's not hard to achieve that when Jessica's the star." 
Paulson and Lange have been friends and coworkers for a long time, though Paulson has never directed Lange before. She ended up finding there wasn't much directing she had to do.  
"I just think she's so beautiful in this episode. I think it's incredibly moving. And the thing about Jessica is you just put the camera on her and the rest is done, it's just done for you, because she brings so much to the table," she says. "But I gave Jessica Lange a note or two, and I never thought I'd ever find myself in a position where somebody would want me to do that. […] It was intimidating, but she made it so easy." 
Paulson says that all of the actors made her directorial debut very easy, especially considering the episode they were a part of.
"I I think they were all as excited as I was to be part of that particular episode, because they know how meaningful it is for the franchise and what it means to all those people. This is how they fell in love with the show to begin with, and to take them back there felt very very exciting and I felt sort of empowered by the responsibility I was given to do it," she says. "Because Ryan was basically saying, I'm giving you the biggest episode of the season, and I'm doing that because I trust you. And I think that's a big vote of confidence, especially for someone who's never done that before, and he gave me a hefty load to carry, I will say."
A big part of that "hefty load" involved bringing a sense of both reunion and closure to a bunch of ghosts and their dedicated fans.
"It was not scripted that Madison closed the gates at the end of the episode, but I had Emma do that, and we rigged the gate so it would close when she did it," she explains. "Now that Tate and Violet were reunited, Madison is sort of closing it and saying, let them have peace, let's let all the residents in there have peace. The theme through a lot of the episode is closure and freedom, you know, with Moira's character and her mother, and the end of Jessica's character's life, and Violet and Tate finding their way back to each other. And they are locked in that house together 'til the end of time, and now I think we have a little bit more resolution in terms of where they all are and what that looks like for them."
While a second return to the Murder House isn't out of the question this season (since we don't yet know how the house or its ghosts fared in the apocalypse), Paulson wanted the story of the ghosts in the house to feel somewhat complete.
"I wanted to have that feeling of closing the gates and having a tiny bit of—as much as it's horrible, the things that have happened in that house, you have a tiny sense of hope for them in there."
With the fan reaction in her mind, there were also little moments she was careful to include, like the look that Tate and Violet shared as the gates closed.
"There's a version of things in one edit pass where it wasn't as long between them when they finally look at each other, and I just said I need to have those beats back in there, because the audience has been waiting for this for so long," she tells us. "Like let's give them an extra moment for them to look at them looking at each other. It will hold. I think people will want to see it. Sometimes it's good to have the thoughts of the fans in my head, because I want them to be happy too. The reason we're still here eight seasons later is because of what that season was to people, so there's a responsibility to try to get that right, for them."
So at least for now, the residents of the Murder House are as happy as they're ever going to be, and this crossover season has officially fulfilled its promises...and we're not even halfway through. 
American Horror Story: Apocalypse airs Wednesdays at 10 p.m. on FX.