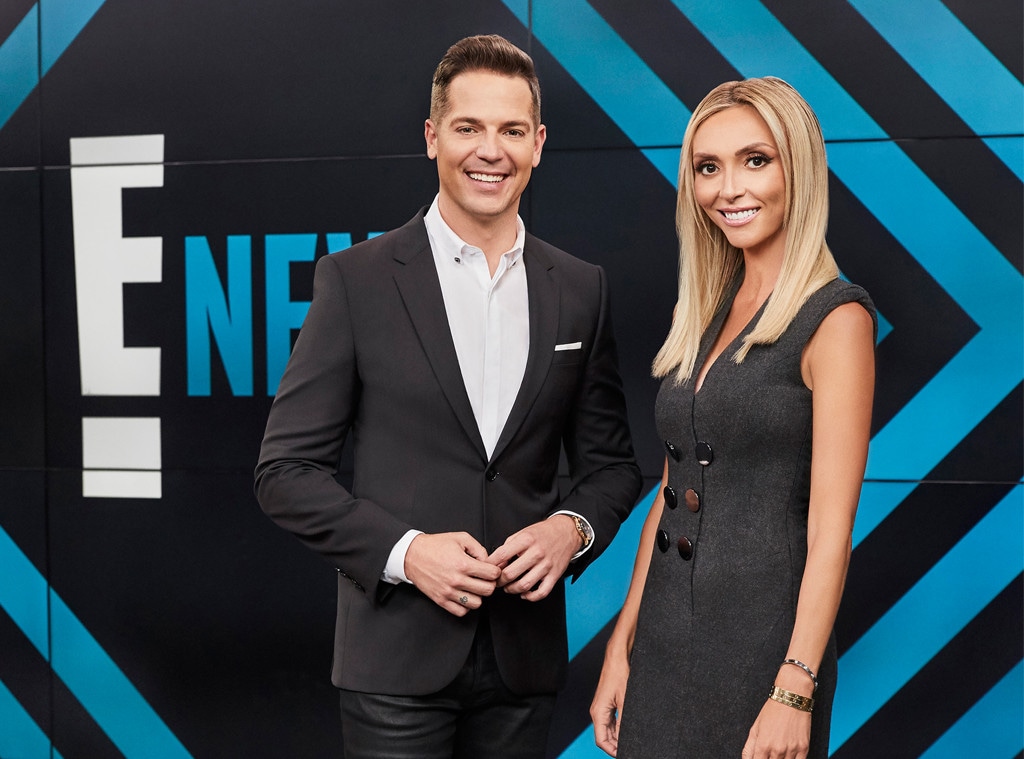 E!
Are you getting excited for the 2018 E! People's Choice Awards yet? Because, we sure are!
On Wednesday, E! announced that Giuliana Rancic and Jason Kennedy will be co-hosting the Live From the Red Carpet special for this year's People's Choice Awards.
The dynamic duo will be on the red carpet at Barker Hanger in Santa Monica ahead of the special ceremony on Sunday, chatting with the night's biggest stars from finalists and presenters, to performers and any other celebs that strut their stuff on the PCAs carpet...which will actually flow directly into Barker Hanger!
They'll even be giving out a couple awards on the carpet...before the PCAs even start.
"With the acquisition of the E! People's Choice Awards, combined with our signature Live From the Red Carpet coverage, we have an exciting opportunity to create a seamless and celebratory show that is truly for the people," Jennifer Neal, Executive Vice President of Marketing and Executive Producer of Live Events at E! said in a press release.
When the popular personalities hit the carpet this weekend, they won't be alone when it comes to coverage. They'll be joined by Nightly Pop co-host Nina Parker, The Real co-host Jeannie Mai, and E! Style correspondent Zanna Roberts Rassi.
Sounds like a great group, don't you think? We are so ready for this red carpet squad!
"For the first time, we'll be incorporating fans on the red carpet for a more immersive experience," Neal explained peaking our interests even more. "Plus, viewers can expect plenty of fun celebrity interviews, innovative multi-platform entertainment and fashion coverage, and lots of surprises for the fans, bringing them even closer to their favorite stars than ever before."
Surprises, huh? Who doesn't love a good surprise?
Anyway, fans should be thrilled to know that they get to be so close to their fave celebs, because we are totally pumped and we aren't even the lucky fans who will be in attendance.
To amp up the excitement, E! News' The Rundown host Erin Lim will be live from the "Fans' Walk", where she'll hang out with fans who will get the chance to say hi to the A-listers they idolize.
E! also announced that YouTuber James Charles, who is a finalist for Beauty Influencer of 2018, will be giving surprise makeovers to two lucky fans!
Live From the Red Carpet will also feature the fan-favorite "E! Glambot", helmed by creative director Cole Walliser—the director behind music videos for stars like P!nk, Katy Perry, and Miley Cyrus—who will give viewers an even better look at all of the unique red carpet moments.
For even more killer coverage, E! is partnering with Snapchat to live-stream two big moments. For starters, they will be handing out the night's first award during Live From the Red Carpet, then later in the night there will be a surprise in-show event!
Plus, Daily Pop co-host Carissa Culiner and E! News correspondent Will Marfuggi will be all over Twitter and the E! News app, giving followers and viewers funny live commentary, as well as glimpses of everything going on behind-the-scenes from start to finish.
But don't fret, you don't have to wait until Sunday to get the party started.
At 7 p.m. on Friday, Nov. 9, E! News will feature special coverage of the 2018 PCAs, even giving viewers a sneak peek at the red carpet and Barker Hangar.
E! News will also go inside all the excitement of the big event, celebrating nominations with finalists like Selena Gomez, Tiffany Haddish, and Mariska Hargitay.
The special will also feature category highlights and exclusive access to some of the biggest fan-favorites as they get red-carpet ready.
To make fans even happier, the show will also have another PCAs special on Monday night at 7 p.m., featuring highlights and interviews from the PCAs winners themselves.
Plus, during Live From the Red Carpet, E! will also be getting exclusive content for Monday's episode of The Rundown. So, be sure to mark your calendars!
Don't forget: Live From the Red Carpet will start at 7 p.m. and run right up until the People's Choice Awards begin at 9 p.m. on E!
(E! and NBC are both part of the NBCUniversal family).