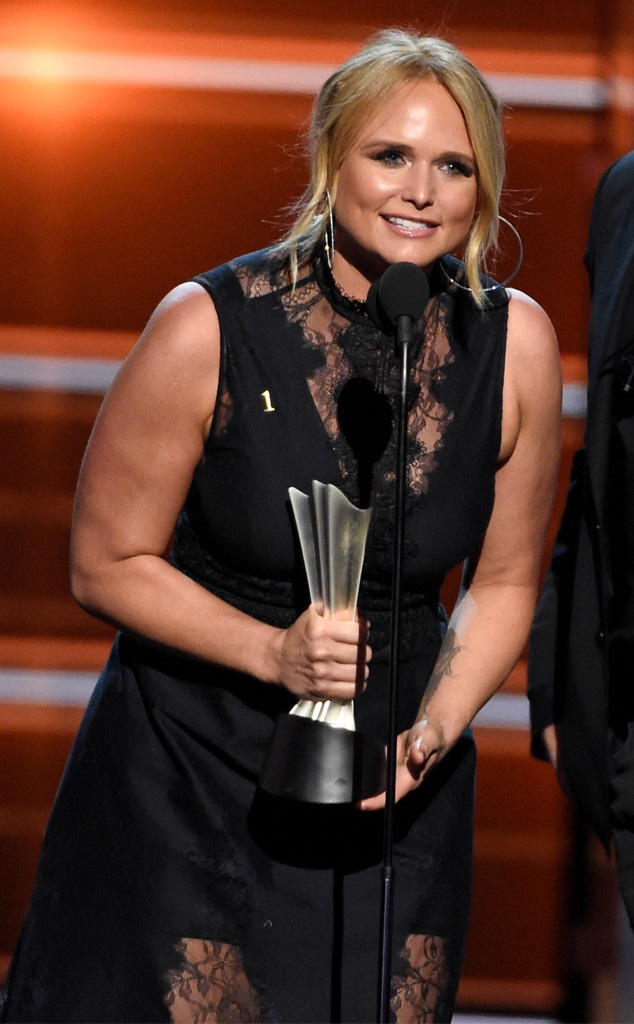 Chris Pizzello/Invision/AP
Miranda Lambert is one of the most celebrated country singers of the past 10 years, the most honored artist of all time by the Academy of Country Music Awards, possessor of six platinum albums and winner of two Grammys.
And now she's free to really enjoy it.
Even as the record sales piled up and her shelves got increasingly packed with shiny statues, the spotlight was always shared with whomever her romantic partner was at the time, whether that was during her eight-year relationship with Blake Shelton, the two years she spent with Anderson East or, more recently, her brief, scandal-shadowed romance with Evan Felker.
Now single for the first time in a good long while and recently reunited with her fellow musical hellraisers in Pistol Annies, the 35-year-old star is basking in her own glow for a change—and the "Tin Man" singer is sounding as if she's ready for anything, no additional armor required other than good, old-fashioned life experience.
"When we're with each other, we make each other stronger and we're more courageous, and it's because we can be vulnerable," Ashley Monroe told Entertainment Weekly recently in the middle of Pistol Annies' special three-date mini tour in support of their first new album in five years, Interstate Gospel.
"We stay in touch, we're obviously friends outside of work, but sometimes we know it's time for business," Lambert added. "When we know we all three have something really important to say, we have to go with it."
Reuniting to write together—some of which is done via text message these days—felt like "a raging cozy fire," Angaleena Presley said cheekily during a Pistol Annies sit-down on The Bobby Bones Show in October.
Rick Diamond/Getty Images for CMT
The "two divorces, a marriage, two babies and one on the way" that Lambert frequently references with regard to the Annies' combined life experience (sometimes she adds "25 animals" to the tally, as well) comprises her divorce from Shelton; Presley's pre-fame divorce; Presley marrying Lambert's former tour manager, Jordan Powell; the baby they're expecting in January, which will be Presley's second child; and the son Monroe welcomed last year with husband John Danks. 
So yeah, that's a lot of miles on the odometer of life.
"See, one of us is drinking, and one of us is smoking, and one of us is not taking her pill," Lambert quipped in revealing Presley's big news onstage in August during a show in Shreveport, La., featuring a surprise appearance by the rest of the Annies, making a play on their song "Takin' Pills."
The insular world of country music tends to be a little incestuous, in that everyone's done a duet with somebody else's wife or husband, friendships are made and, even in the case of a rift or, ahem, a messy divorce, then you have to figure out who can still be friends with whom after the dust settles. 
Blake Shelton, for instance, officiated at Ashley Monroe's wedding back in 2013, and Monroe maintained her loyalty to both him and Lambert when they split up in 2015. And the exes could at least agree on one thing—supporting the album Monroe was releasing at the time. 
Rick Diamond/ACM2015/Getty Images for dcp
"I'm in touch with her every day, and him," Monroe told ET about a week after Lambert and Shelton confirmed they had separated (and, as it turned out, divorce proceedings were well underway). "All's well in our world." She also appreciated "being in the crossfire of that press when they're talking about my album," Monroe cracked, referring to the instant headlines that arose when Miranda and Blake were kinda communicating post-split, via complementary tweets about Monroe's album The Blade.
"They both love me so much and they wanted to use something that it's obviously a world wind right now, so I think they wanted to use that to bring attention to something they both loved and wanted to work," Monroe told FOX411 Country at the time. "I think it was pretty clever and it also showed they have sense of humor and they're really good people."
That being said, the ladies' bond was extra-special.
"[I've known Miranda] for about 10 years and she's always supported me and my music," Monroe said. "And then we became best friends, we have a sister connection...it's amazing to watch her as a businesswoman and how she reinvents herself and as a singer and as a performer. I really do look up to her a lot."
As the months went by in 2015, most of the oxygen was sucked out of the room by Shelton's suddenly serious relationship with Gwen Stefani, whom he had met on The Voice in 2014 and who that summer was also memorably going through a marital implosion, having filed for divorce from Gavin Rossdale after 12 years of marriage.
Jeff Kravitz/ACMA2017/FilmMagic for ACM
But as it turned out, there was still plenty of headline real estate available for Lambert's own burgeoning romance with up-and-coming artist Anderson East, whom she met at the Live at the Green Music Festival in Nashville that September.
Lambert also left Oklahoma, where she had made a life with hometown son Shelton and opened several businesses, and has since settled down on a 400-acre spread just outside of Nashville.
"When I first got here I was runnin' wild in midtown, but now I've calmed down," she told Bobby Bones in April 2017. Asked if she could actually have a night out without being approached constantly by fans, Lambert credited her "what do you call it—'rbf'?" (aka resting bitch face)—for not making her that much of a target for selfie requests and chit-chat. "I just do my thing, and drink Miller Lite and hang out with my friends," she said. "But Nashville's awesome. Anybody who's my hero lives here." 
And when she happens to see one of her heroes, "I don't bug them." (Though in all likelihood, they'd be just as delighted to see Lambert.) 
All the while, however, Lambert was busy putting the pieces back together—and most of that rebuilding process took place in the studio.
In November 2016, she took a major step forward in publicly exorcising the lingering demons with the release of her critically acclaimed double album The Weight of These Wings—which she was not shy to confirm was full of references to her divorce and what was ultimately a painful end to her marriage. Which, because she first met Shelton when he was still married to his first wife, was never entirely free of the cloud of their questionable origin story no matter how adorable they were together.
"It's very much a story of my last couple of years and all the things you go through in life," Lambert said onstage when the emotional effort went double platinum last year.
And there was no way to whittle The Weight of These Wings down to a single album, she recalled last month to Bobby Bones. "Girls have a lot of personalities, so it took 24 songs to show all of them," she quipped.
"And I don't try to justify the reason i'm not living right / I wear my sadness like a souvenir / I drink too much to fall apart that's how I fight this broken heart / So what, if I feel comfortable in here," she sang on "Ugly Lights."
And on "Keeper of the Flame," her hard-won resilience was on display: "I'm bent, but I'm not broken / I'm stronger than I feel / I'm made of flesh and bone / Not made of steel...I've been burned out to ashes / Waiting for a wind to carry me and start a fire again / Sometimes I'm just a flicker, a candle in your eye / But I swear to God I'll never let it die."
Through it all, she kept racking up industry props—she's been named Female Vocalist of the Year at the ACM Awards every year since 2010 and the WOTW singles "Vice" and "Tin Man" earned her four more Grammy nominations—and she's been out on tour every year, including twice this year as a solo headliner and with Little Big Town.
Rick Diamond/Getty Images
She and East bonded over a shared love of music and rescue animals ("anybody that's friends with me knows they have to love my dogs," Lambert, whose MuttNation Foundation helped rescue dozens of dogs after Hurricane Harvey in Texas, said last year) but by early this year they had called it quits.
"I make it my mission every single time I step on the stage that no matter what, no matter where I am, I want to make you feel everything you could possibly feel," Lambert told an audience in Knoxville, Tenn., in March. "I want you to feel sad, mad, happy and nostalgic and really pissed sometimes. That's my favorite."
She continued, "And part of feelings is also heartbreak unfortunately, but fortunately for me, I can use it for my art or whatever. I like to write sad songs. I like to listen to sad songs, so I want to sing y'all one."
That's exactly what happened leading up to the new Pistol Annies album. Lambert was at home, writing by herself, when the seed for "When I Was His Wife" popped into her head and she sent it off to Monroe and Presley. "Within five minutes they both texted me back a verse," she told Bobby Bones last month.
"It was so hard to write," Presley cracked.
Getty Images, Shutterstock
And Lambert had plenty of gas in the tank, having just split up with Evan Felker after a few months of dating. They had been dating since at least April, which was a couple months after Felker's band the Turnpike Troubadors joined Lambert on tour, and right around when Us Weekly reported that East and Lambert had indeed broken up after some months of speculation.
Adding to the tangled web, Felker was still in the process of getting divorced—news that his wife Staci Felker received from a friend after the friend read about it.
"Their divorce isn't finalized yet," a source told E! News in April. "Things are still being worked out but things are taking a while because Staci and Evan are not talking very much at all right now. Stacy was devastated at first but now she's getting by just fine." 
So, somehow that one didn't last, and Lambert seems to have taken it as her cue to focus on herself for awhile. She told the Tennnessean in August that she was "happily single."
"Love is a hard road sometimes and it's been a roller-coaster ride for me, but I'm definitely thankful for all the ups and downs because I've had some really good songs come out of it," Lambert said. "You've got to take the bad parts and put them on paper and then move on to the happy parts."
The Pistol Annies' new album is full of odes to the empowerment that ideally comes after a heartbreak or other potentially traumatizing life event, including the sage and wistful "When I Was His Wife"—which, Lambert has noted, could be interpreted as three women talking about the same man or three women's separate but shared experience—and the bouncy "Got My Name Changed Back."
Which is pretty self-explanatory.
"Sometimes the music is so honest that it's like, 'Oh, that kind of hurts a little,'" Lambert said in August. "But, it's good. We just want women to understand that we're all doing the same thing. We're all just living our lives and having the same struggles and the same joys and the same outlooks."
The trio, who performed on GMA and The Talk this past week, also give each other that little extra boost of confidence that allows them to say—or sing, at least—exactly what's on their minds, figuring there's safety (and room to speculate) in numbers.
"We can say a little bit more than we would be willing to alone because it is all of our story," Lambert shared. "And, we can blame it on the other one, too."
Then who's responsible for "Sugar Daddy," off the new album?
That one's about "like, if we had never left our hometown and we married the rich old guy that moved in," Lambert, who's celebrating her 35th birthday Saturday, explained. "I'm still in for that! I just want a cowboy with a jet."
Bobby Bones suggested Toby Keith as a potential suitor who met those qualifications, but she politely declined (which is fine, since he's a married grandfather and all).
"I've done the Oklahoma thing," she said, laughing. "I'm gonna move on from that."