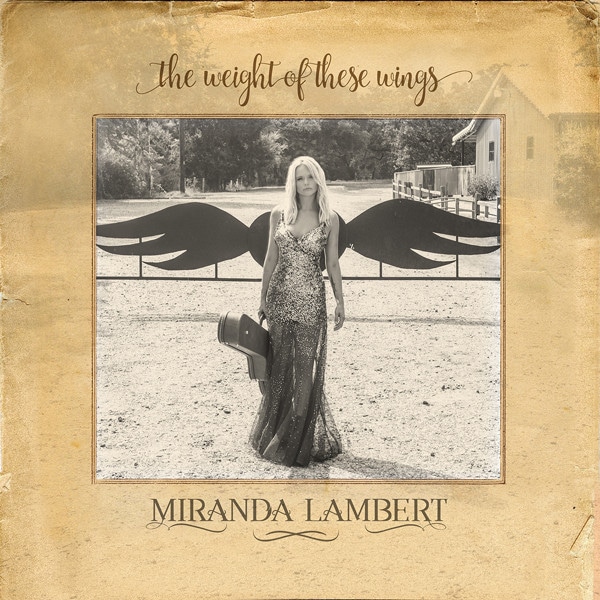 Vanner Records/RCA Records Label Nashville
Miranda Lambert's highly anticipated double album, The Weight of These Wings, has arrived, and fans will very pleased with the country songstress' work.
Using her personal life as inspiration for her new record, Lambert sings about her divorce from Blake Shelton, the subsequent process of moving on and her new romance with Anderson East. The final product, as expected, is an incredibly emotional journey that will have listeners reflecting on their own personal losses and triumphs.
Here are the most emotional lyrics from The Weight of These Wings:
"Runnin' Just in Case"—"I carried him around with me, I don't mind having scars / Happiness ain't prison but there's freedom in a broken heart," Lambert sings. It's clear that the country singer isn't totally letting go of ex-husband Shelton, but she is ready to move on.
"You Wouldn't Know Me"—"I told her / You wouldn't know me if you saw me here / Im changing day to day thats right / You'll never know me by askin' how I been / You'll never keep up that way." The message here is clear: both Lambert and Shelton have moved on with their significant others, and while they wish each other the best, their lives are very separate now.
"Ugly Lights"—"And i don't try to justify the reason i'm not living right / I wear my sadness like a souvenir / I drink too much to fall apart that's how I fight this broken heart / So what, if I feel comfortable in here." The song tells the story of an alcoholic handling a heartbreak, and while that isn't necessarily similar to Lambert's situation, the lyrics do capture the heartache Lambert felt when first splitting from her country crooner ex.
"Getaway Driver"—Co-written with Lambert's boyfriend, this song is one of the first that indicates Lambert is moving on and finding her happiness (although it's told from the male's perspective). 
Evan Agostini/Invision/AP
"So I keep the engine running / She'll be my gasoline / She treats my heart like a stolen car / All the while she had the keys / Standing in the line of fire I'll be standing right beside her / I'm her getaway driver."
"Vice"—The first single off her new album, "Vice" features very revealing lyrics: "Another vice, another call, another bed I shouldn't crawl out of," she sings in the song. "At 7 a.m, with shoes in my hand said I wouldn't do it, but I did it again / And I know I'll be back tomorrow night."
"Use My Heart"—Lambert has a lot of skills, but handling heartbreak again isn't one she's willing to try out, according to the lyrics in this song. "I can't throw a line but I can reel it in / I can't throw a dart but I can make it stick / The thought of loving you just makes me sick / I don't have the nerve to use my heart," she sings.
"Things That Break"—Still in a fragile state from her divorce, Lambert lets her fans know in this song that moving on isn't so easy; she even debates staying away from love altogether. "I leave it all in ruins / 'Cause i dont know what I'm doing / I'm hard on things that matter / Hold a heart so tight it shatters / So I stay away from things that break," she sings. 
Michael Loccisano/Getty Images
"Me, I don't ever wanna get too close / Or be held responsible for the pain that you can't see / Somebody once broke me."
"Keeper of the Flame"—Long story short, this track is Lambert's fight song. "I'm bent, but I'm not broken / I'm stronger than I feel / I'm made of flesh and bone / Not made of steel," she sings. "I've been burned out to ashes / Waiting for a wind to carry me and start a fire again / Sometimes I'm just a flicker A candle in your eye But I swear to God I'll never let it die  Lambert is going to keep fighting and move on with her life.
"Six Degrees of Separation"—In this song Lambert sings of the pain of trying to escape someone (Shelton, perhaps), only to find them creeping up everywhere you go. "Six degrees of separation / You're all over this damn nation / But I'm out of your reach geographically / But you still find a way to get a hold on me."
"I Got Wheels"—This is the song that reveals Lambert finally has moved on, even though she still faces difficulties. "Sometimes these wheels get a little heavy / And I can't stay between the lines but I'm rocking steady / When I can't fly, I start to fall / But I've got wheels I'm rolling on," she sings.
Have you listened to Lambert's new album? Sound off in the comments!