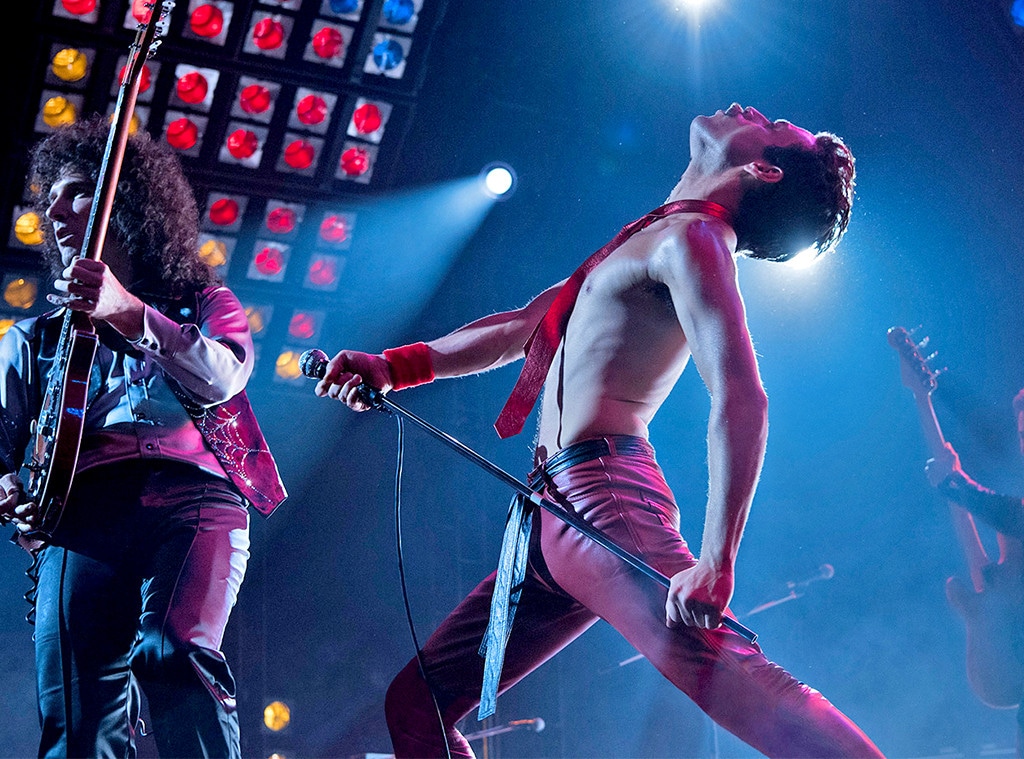 Twentieth Century Fox
"What Freddie Mercury revolutionized was this idea that you can be your most authentic self."
Just like that, Rami Malek, the actor tasked with bringing the late rock icon back to life on the silver screen, perfectly summarized what it was about the Queen frontman that made him an everlasting figure—on stage and off. 
Nearly 27 years to the day since the world lost the one-of-a-kind musical force, the story of Mercury and the band he helped create will roll out in Bryan Singer's aptly-titled biopic Bohemian Rhapsody today. 
And much like including the band's unforgettable hits and performances, the movie could not be complete without representations of the group's fearless fashion leader and his ever-evolving, rule-breaking style.
"I have fun with my clothes onstage; it's not a concert you're seeing, it's a fashion show," Mercury has long been quoted as saying. "I dress to kill, but tastefully."
With words like confident, exuberant, flamboyant and grandiose as natural descriptors for Mercury, it didn't matter if he was wearing head-to-toe sequins or a simple white tank top—he turned everything into a fashion statement. Needless to say, when it came time to translate that to the big screen, it was the perfect medium. After all, who better fit for cinematic heights than a larger-than-life rock star? 
But, as the film's costume designer Julian Day understood well, if they were going to depict Mercury in a movie, they had to hit all the right notes—the clothes, of course, included. "I think representing Queen by the clothing was a fantastic opportunity and they were a very enigmatic band," he told E! News. "They have their own unique style, which hopefully I represented on film." 
Equipped with a 38-person team, roughly 40 fittings and ultimately thousands of costumes (hundreds for the Live Aid scene alone), Day left very little to chance. "I made sure everyone was very, very happy with what they were wearing," he said, noting he likes to make sure everything is prepared when he works on a film. 
However, the degree of sartorial exactness varied depending on the moment in the movie and how much documentation was behind it. "We're not doing a documentary—it's a drama, so therefore, there were some things that we had to make up," Day noted. 
One thing that required no making up was the band's legendary 1985 Live Aid performance, prominently featured in the film. "The one I couldn't mess with at all was Live Aid. That's completely an exact replication of what Freddie and the band wore," the designer said, noting they had Adidas remake Mercury's exact shoes and Wrangler do the same for his jeans. "Everything was recreated to the letter for Live Aid as the whole 20-minute set is recreated in the film...That's something that we couldn't take license with."
They were so exact about the original looks for that supreme performance that Malek called in a request at the last minute. 
"Rami rung me and he said, 'Look, I've been looking at Live Aid and I think the vest that we've done needs to be scooped out a little bit more,'" Day recalled to E! News. "We altered it by like half a centimeter—minimal, minimal, minimal amount, but it made him happy and he was right."
Much like the film's lead star, Day did his research, including visits to the Queen archives for photo references and May's private clothes collection. "Brian May kindly invited me to his archive and lent me two big suitcases of clothes," the costume designer said. Some of those clothes, including a red dressing gown embroidered with May's name on the back, can be spotted in the final footage. "I think Gwilym [Lee] really loved the idea that he was wearing Brian May's own clothes," Day said. 
Watch:
"Bohemian Rhapsody" Cast Talks Doing Queen Justice
Day also went straight to the source for Mercury's iconic white butterfly-sleeve blouse—designer Zandra Rhodes, who crafted a simplified replica for Malek to wear in the film. As Rhodes explained to E! News, Mercury first laid eyes on the now unforgettable top in her attic studio near Paddington Station in the '70s. After learning who they were from her team (she admittedly didn't know much about popular music), Rhodes invited the group to her studio after one of the members called inquiring about possibly making costumes for them.
"I said, 'Lets look at things on the rail. Try things on. Run around the room how you would when you're on the stage,' so that they could work out how they wanted to play," she remembered. "They picked what was really a top to a wedding outfit with huge pleated sleeves." While they didn't work together much after that, that top remains a signature of Queen fashion history. 
"When he died, it always seems to be that costume of mine that he's remembered in, which is rather fabulous really," she said. "It makes me feel very honored."
Still, some things are bound to come up at the last minute. For Day, it was a sequin catsuit with a mask. Producers notified him that they were shooting a scene that needed the look, so he had to source the right fabric and have it made in just one day. 
"They're really tight-fitting garments. They have to be sort of engineered to fit the person exactly, so that was a little bit of a last-minute thing, but apart from that, everything else was fairly organized," he said. Crisis averted!
While accuracy and craftsmanship were priorities, Day also kept the fans in mind. "You want to make sure the fans are happy with what they're seeing because, ultimately, it is for the fans. It's for the people that love Queen and have gone to see Queen and bought their records."
With Day and his team focused on getting the looks just right, viewers of all ages will now have the opportunity to relive Mercury's extraordinary—and boundary-pushing—aesthetic on the big screen. 
"He wasn't a follower of fashion, he created fashion or allowed people to dress in a flamboyant way," Day said. "He made it acceptable to do that—dressing up in women's clothes…I think they had their own distinctive style and I just think it allowed people to look at it and go, 'Well if Freddie can do it, I can do it.'"
As the designer concluded, "It's beyond even influencing fashion—I think they influenced society and what was acceptable."
Bohemian Rhapsody is in theaters now.